Mascara launches come thick and fast these days, each with increasingly bold (and sometimes ludicrous) claims. There is so much "technology" in the category these days that it can be dizzying to keep up, and the find one that you really love. We were sent a few recently so I decided to pit them against each other, and see if any lived up to their marketing message. Here they are in order of preference from the mascara I liked the most, to the one I liked the least. You might as well be warned – this is not a gushing post full of positive thoughts!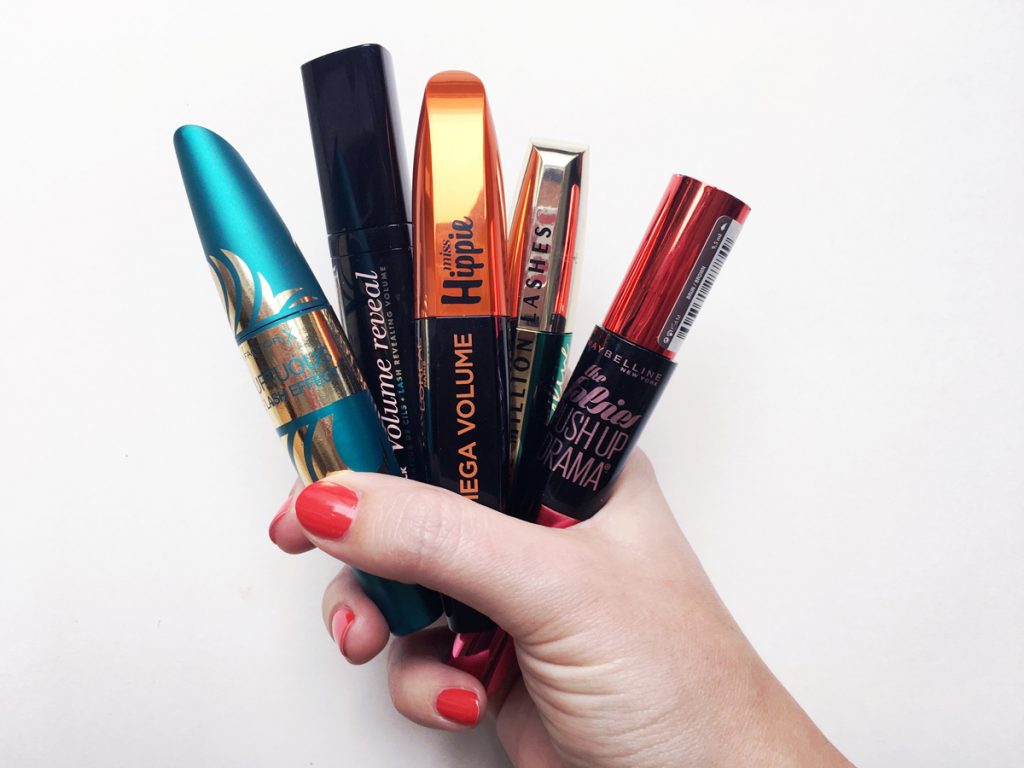 Some notes:
All eye pics are unedited, using two coats of mascara on the upper lashes (MAC Extended Play used on the lower lashes) and tested for 8-10 hours each, without any other eye makeup.
My hooded eyelids make it hard to tell the difference between them just by looking at the photos so I've included a detailed description of my experience with each too.
Everyone's lashes are different and it's one of the most subjective makeup products out there, so just because I don't like something, doesn't mean it won't work for you, especially if you have different lashes.
My lashes are fine and quite sparse, but they're also quite long and have a natural curl that holds well. I look for lots of fluffy, even volume (not chunky, clumpy lashes), a formula that doesn't flake, smudge or transfer, and prefer a texture that's on the dry side (although this isn't a deal-breaker for me).
Ok, let's get started:
L'Oréal Mega Volume Miss Hippie
Claim: "Turn up the volume with festival ready lashes. Feathery mega volume on top and bottom lashes. Our mega fuzzy brush with kaleidoscopic bristles [*rolls eyes*] coat your lashes, layer by layer, for a feathery lash look. The mega impact formula instantly volumises and thickens the look of your lashes for a festival-ready look."
Reality: I seriously love the Miss Manga version of this mascara so I hoped they would be similar, and they were, but Miss Manga is still better. I like the chunky bristle brush (although I don't have a preference between "traditional" brushes and plastic ones) and it definitely added a decent amount of thickness and volume without being clumpy – although I wouldn't call it "feathery". It unfortunately transferred to my brow bone but I think I over-curled my lashes that day so they were touching the upper eyelid more than usual.
L'Oréal Volume Million Lashes Feline
Claim: "The legendary millionizer brush is now arched, capturing every lash. The arched shape perfectly fits the eyelid, resulting in intensity, curl and volume on every lash from root to tip. The wild shiny black formula dresses your lashes in an intense black. Together, they create our ultimate feline flicked eye look."
Reality: This one was a bit "meh" for me. Again, it performed well in terms of being long-lasting and avoiding smudges and flakes, but it didn't excite me. I like the curved brush, although something about the shape makes me bump the wand onto the bridge of my nose so I get a black smudge there – weird. I certainly didn't notice any curling or "feline" effect.
Bourjois Volume Reveal
Claim: "Ingenious and easy to use, the Volume Reveal lash-catching brush draws a thick and velvety fringe of lashes from the very first stroke. The x3 zoom reveals every lash whilst the lash catcher brush with gripping bristles ensures all lashes are volumised without exception! The specially designed brush catches even the shortest of lashes for lash by lash volume without clumps."
Reality: I've generally seen positive reviews about this mascara but it really didn't blow my hair back. It was fine, it just didn't do enough for me that I would rush out and buy a tube for myself. On the positive side, it didn't clump, smudge or transfer which is good but it didn't pump up the volume as much as I would have liked. Not terrible, but not amazing.

Maybelline Volum' Express Falsies Push Up Drama
Claim: "Mascara that will take your lashes to the heights of big drama. Lift and look-at-me volume for days. Dramatic lift and volume for the Falsies push-up effect. Our first cup-shaped bristles scoop and lift lashes from root-to-tip. Creamy, washable formula." [<– Huh?]
Reality: The least volumising mascara of the bunch! The bristles are more like stubby little plastic teeth but they offer no grip so you just land up coating your lashes in loads of product, which weighs them down. It made my lashes stick together in clumps like spider's legs, which is not the look I'm going for. And it doesn't get better as you layer because there are no smaller/thinner bristles to comb through the lashes. Not a fan.

Max Factor Voluptuous False Lash Effect
Claim: "Introducing the NEW Max Factor Voluptuous False Lash Effect Mascara; a breakthrough innovation with a next-generation Wonder Brush that instantly lifts lashes for a fuller, more voluptuous and glamorous lash look. The revolutionary Wonder Brush design lifts lashes for 5x more volume, thanks to its unique helix-shaped dimensions. Composed of alternating fins and bristles, the brush catches and grips each individual lash, lifting from the base, then coats and combs every single lash. The clever lash-tool innovation results in lifted, volumised and separated lashes to frame and open the eyes glamorously."
Reality: The wand is just way too big, and for something so over-engineered it has next to no effect on my eyelashes. The only thing it does is make my lashes look darker, it offers no discernable volume at all; if anything it makes my lashes look thinner! The brush is also quite "spiky" so I find it stabs me in the eyelid when I use it (same reason I don't like Benefit They're Real) so not only is the formula lacking but it hurts to use it. No thanks.
***
The short version of the review is: I don't love any of these. In case you are wondering, my favourite drugstore mascaras are still Revlon Volume & Length Magnified Mascara and Max Factor False Lash Effect. I use MAC Extended Play Gigablack Lash on my lower lashes.
All products are PR samples, except for the Max Factor Voluptuous False Lash Effect Mascara.