On 8 April 2014 I will be making my way to America for the very first time, and boy oh BOY am I excited! My boyfriend and I are starting with Coachella, followed by a glorious road trip to San Francisco, and ending off with a couple of days in LA – bliss! But besides the sights and sounds of California, there is something even more spectacular coming my way: SEPHORA. Aaah yes, the hallowed isles of Sephora, packed to the brim with much-coveted beauty goodies…forget Disneyland, Sephora is the happiest place on earth.
It goes without saying that I have been trawling the site for months now, earmarking all the goodies that must be mine. I will acknowledge that the list gets amended on a fairly regular (weekly) basis, as I am rather a fickle creature. But for now, these are some (the full list is, um, extensive) of the beauty bits that will definitely be coming home with me…
First up, the Be MATTEnificent Amazonian Colored Clay Matte Eye & Cheek Palette. This exquisite palette contains eight new limited-edition eye shadows and one blush – all perfectly neautral and incredibly flattering. Right up my alley. It better not be sold out by the time I get there! Can we also just take a moment to admire the gorgeousness of the packaging?
Next up, the Discover The Amazon 3-Piece Kit, which contains the Amazonian Clay 12-Hour Full Coverage Foundation, Gifted Amazonian Clay Smart Mascara and Pure Maracuja Oil Rollerball – three of Tarte's best-selling products. The Maracuja Oil is packed full of essential fatty acids and vitamin C to hydrate the skin so that it looks brighter, firmer, and smoother – ideal for a 30 hour flight home, don't you agree? And you all know how much of a sucker I am for anything that promises a flawless complexion, so it's only natural that I would gravitate towards the foundation…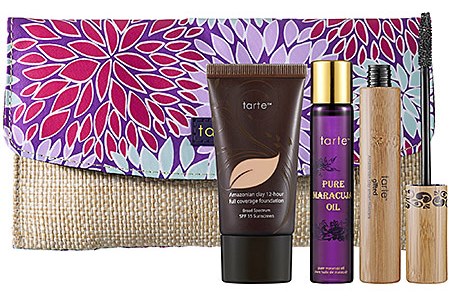 Lastly, the Amazonian Lip Butter, which contains very fancy sounding butters (cupuacu and murumuru) to leave you with the softest, smoothest lips imaginable. I'm fine with that. Again, love the packaging.
I have heard that this product is somewhat of a miracle worker and can tame even the most unruly hair. Now that I have cut my hair, I find it a lot more difficult to manage, so anything that promises to deliver straight, smooth, healthy-looking hair is going straight (pun intended) to the top of my list! As well as taming frizz and flyaways, this doubles as a heat protector, and it's sulphate free to boot. By the time I get back from America we'll be well into autumn and my fuzzy little head will be in dire need of this magical elixir.
Did you know that butter LONDON nail lacquers are hand-crafted by angels? Not really. But you'd swear they were, considering the amount of praise they get. Of course I want in on the action, so I'll be picking up a couple of these…all in the name of research, of course. I am particularly enamoured with this shade, Trout Pout:
There has been massive hype surrounding this product, and it was Anna's latest video that prompted me to put it on my list. This lip polish uses sugar crystals to obliterate the dry, flakey bits and leaves soft, kissable lips in its wake.  Not only does the formula exfoliate the lips, but it contains various oils and butters to ensure long-lasting moisturisation and nourishment. Jackpot.
Be still my beating heart. Hourglass have gone and combined their much-loved Ambient Lighting Powder with a range of gorgeous cheek colours to create this exceptionally beautiful range of blushes. Apparently they have made use of Photoluminescent Technology (me neither) to create depth and dimension, thereby ensuring that your blush never looks flat or lifeless. Each blush is hand-made to create the perfect mix of pigment and powder, so no two blushes are alike. There are six shades, ranging from soft coral to cool pink, and they promise to deliver a radiant, natural finish and "to imbue the entire complexion with an otherworldly glow". My purse-strings are itching already.
Images via