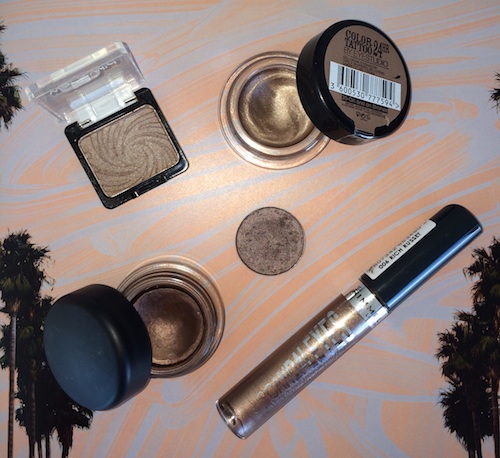 I seem to always gravitate towards taupe and bronze shades, despite the fact that I have more than I could get through in a lifetime. I like to play up my eyes as opposed to my lips, and I find that taupe and bronze shades really compliment my eyes and make them look super blue. These are my favourite five:

MAC Eye shadow in 'Satin Taupe'
This is one of MAC's best-selling eyeshadows and it's easy to see why. MAC describes it as 'taupe with silver shimmer', which makes it sound rather ordinary, but I can assure you it is anything but. In addition to the silver shimmer (very subtle), there are some brown and purple undertones which, when the shadow is blended out, create the most gorgeous effect. The finish is frosted, but again, it's very subtle so you don't have to worry about looking like an 80's nightmare. Satin Taupe is the perfect 'everyday shade' and can be worn alone or paired with other shadows – it is a very complimentary colour and works well with a wide range of shades. I suppose my only criticism would be that it disappears quite quickly if you don't use a primer, but that problem is easily solved: use a primer. Done.
Maybelline 24 Hour Color Tattoo in 'On and On Bronze'
This shimmery-bronze cream shadow is just dreamy – the colour is really rich and full, and it makes my blue eyes pop (surely the worst expression in the world…forgive me). The formulation is soft and creamy so it's really easy to blend, and it has rather impressive staying power. I have been using it without a primer, and it stays put all day long without any creasing, but the colour does fade a little bit during the course of the day. I usually wear this shadow all on its own – the colour is so gorgeous that I don't want to detract from it by using anything else, so I usually just tightline my eyes and pop on some mascara and that's it. Jules also raved about this in her December Favourites, which you can read here.
Rimmel Scandalise Shadow Paint in 'Rich Russet'
This creamy metallic shadow is impossibly beautiful. The formulation is a liquid-cream hybrid, and it comes in a tube with a doe-foot wand for easy application – I like to pat it on and then blend out the edges using a fluffy brush. However, be warned: it is an incredibly thick, wet formulation so apply sparingly and add more if needs be – I would advise against just slapping it on and trying to blend. Despite being a wet formulation, it dries quickly and once it's set, you will be left with a gorgeous shadow that will.not.budge. I'm serious – I have never known an eyeshadow to last as long as this one does without a primer.
MAC Paint Point in 'Constructivist'
When Temptalia gives a product full marks in every catagory, you know it's going to be good. MAC describes it as a 'metallic brown with a red pearl' – a dark, shimmery bronze-brown with warm red undertones. Magnificent. It can be worn quite sheer, as a simple, light wash of colour over the lid, or alternatively you can build it up for a bit more of an impact – this is my shade of choice when I want to create a smokey eye. It works well with other shadows, both cream and powder, and is incredibly long lasting. This is also my favourite winter shadow –  the colour is so warm and rich and it really enhances the colour of my eyes.
Wet 'n Wild Color Icon in 'Nutty'
This single eyeshadow from Wet 'n Wild might be the cheapest of the lot, but that is by no means an indication of the quality. Wet 'n Wild are renowned for creating affordable, high quality eyeshadows and nail polishes, and whilst I haven't tried a nail polish yet, I can vouch for the eyeshadow. This shadow has quite a strong silver undertone so when the edges are blended out it creates quite a frosted effect, but I kind of like it. As with most the shadows I have mentioned in this post, it is very long lasting and I get a solid days' wear even without a primer – no creasing, no fading, no nothing. Simply brilliant.