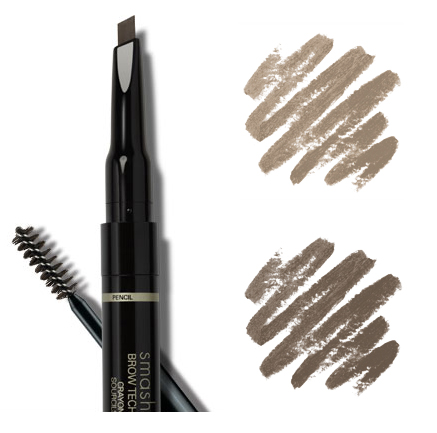 I have the sad misfortune of owning the world's most useless eyebrows. They're fine so I have very few hairs plus they're blonde so you can hardly see them. I cottoned on to this fact fairly early on and have been getting them tinted religiously for many, many years. It's a tedious but necessary process I'm afraid.
As a result, I'm extremely picky about what I use to pencil them in (mere tinting is not enough since there is so little hair to begin with!) and I've spent a large portion of my life searching for the perfect product. And after seeing this in a recent Lisa Eldridge video, I decided that I needed to try it – and I'm so glad that I did! I think it's a great eyebrow tool, and  although I still prefer my beloved Anastasia Brow Wiz, since you can't get it in South Africa, this stuff runs a very close second.
Shade: Taupe (for blondes; the other shade is Brunette)
Look & Feel: It's a retractable pencil with an angled tip so no need for sharpening, and the product texture is nice and waxy i.e. it's waterproof and won't fade on you. The colour is ever so slightly red for me (a common problem for blondes) but I can definitely get away with it. Application is a breeze and the end result looks really natural.
Longevity: Stayed on all day and didn't smudge
Value for money: It's not cheap but if you struggle with your brows like I do then it's completely worth it (see next point)
Other comments: My favourite thing about the product is that it also includes a built-in brow gel on the other end of the pencil, so you're effectively getting two products in one
Overall rating: 9/10
Price: R240
Availability: Woolworths
Image via.