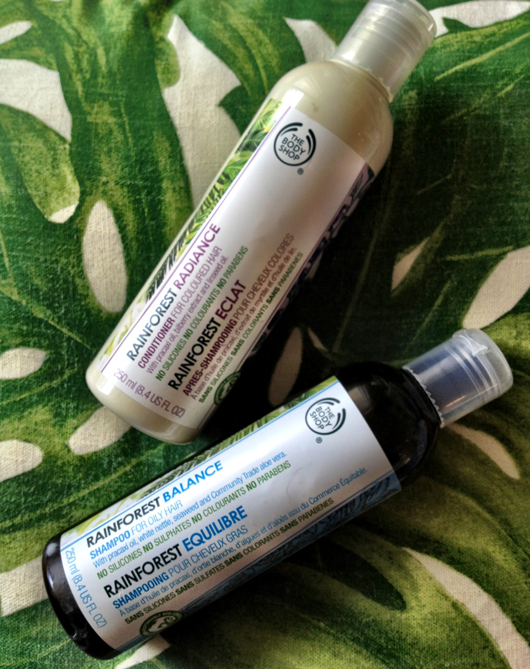 I recently decided to try a few more products from The Body Shop, a brand that I feel dwells in the limbo of being established and well respected, but maybe a little bit forgotten as new, more exciting eco-friendly brands become the norm.
The Body Shop is the original, natural and ethical beauty brand, and really were light years ahead of their time when they launched in 1976. Since then they've become synonymous with fair trade, environmental friendliness and cruelty-free beauty. Even though most new brands claim to have these values (since it's so very fashionable these days!), few truly embody them with the commitment that The Body Shop has shown and that's why I like it.
Their products have also recently been repackaged, making them trendy and relevant once again, so I decided to put their haircare to the test. Here's what I thought:
My hair is a wonderful combination of fine, thin, flat, processed and oily (aren't I lucky?!). I have to wash it every. single. day. so it's important that my shampoo is gentle but effective, and that my conditioner nourishing but not heavy.
For this reason, I chose a combination of the Rainforest Balance Shampoo (which cleanses to reduce excess oil) and Rainforest Radiance Conditioner (which moisturises, protects shine and prolongs the radiance of colour-treated hair).
Rainforest Balance Shampoo (R75)
What I liked: It contains no silicones, sulphates, parabens or colourants – or SLS!
What I didn't like: For all it's angelic ingredients, I struggled to like this shampoo. It lathered up ok and certainly cleaned my hair but it just didn't add any extra oomph. It doesn't smell particularly good and it didn't appear to prolong my wash – if anything, my hair started to look more lifeless than usual by the end of the day. Honestly, it's just a bit meh.
Final score: 4/10
Notes: If your hair isn't super oily and perhaps has some of its own texture, and you're looking for an affordable sulphate- and SLS-free shampoo, then I think this is a good option. Just because it didn't work for me (I think my hair type is quite extreme), doesn't mean it won't work for you.
Rainforest Radiance Conditioner (R75)
What I liked: On the other hand, I really liked this conditioner! It's very thick and reminds me of the consistency of the Ojon Dry Recovery conditioner which I absolutely LOVE! It does everything that I want from a conditioner – it's rich without weighing down the hair, smooth my dry, highlighted ends, detangles and softens. I can't say whether it truly protects my colour though – I find that very difficult to tell (with ANY hair product).
What I didn't like: There's nothing in particular that I don't like about this product – except maybe the smell which is a little non-existent.
Final score: 8/10
Notes: Also contains no silicones, parabens or colourants. Both products are also available in a mini travel size which is great if you want to try before committing to the full size bottle.
You can read our cruelty-free beauty series to find out which other locally-available brands don't test on animals, and visit The Body Shop SA website for more.