One of the beauty categories that seems to have improved most in terms of its offering over the past few years – especially at more affordable price points – is facial sunscreens that work well under makeup. Ten years ago, it was impossible to find a high SPF facial sunscreen product that wasn't thick and greasy at Clicks or Dischem; the good ones were all from pricey, high-end dermaceutical brands. These days, French skincare brands like Vichy, Bioderma and La Roche-Posay are nailing it with their huge variety of lightweight sunscreens, giving all different skin types tons of choice well under the R500 mark.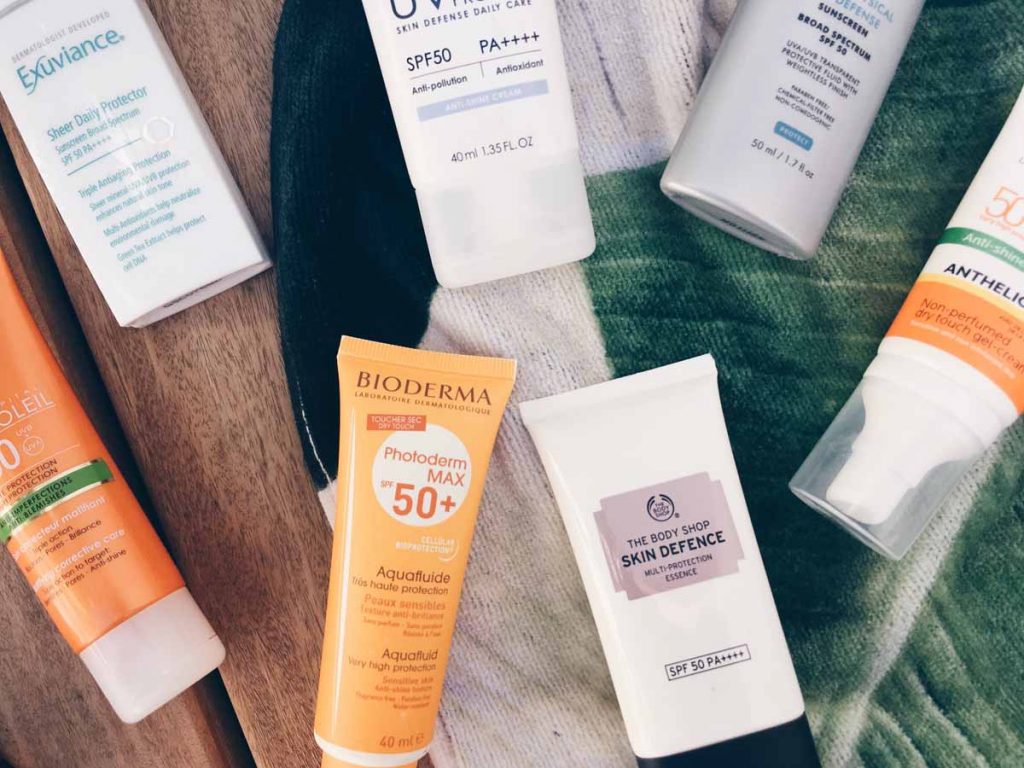 As the title would suggest, the products I've recommended below all layer discreetly under makeup and don't get greasy through the day.
I've divided the list into chemical and physical (mineral) sunscreens because a) they're very different, b) some people have a preference and c) there is a school of thought that chemical sunscreens is potentially harmful. I don't personally subscribe to that theory but I'll leave you to research and decide for yourself. The most important thing to know is how they differ: physical sunscreens contain active mineral ingredients (typically broad spectrum zinc oxide and/or titanium dioxide) and work by sitting on top of the skin and deflecting the sun's rays. Chemical sunscreens contain ultraviolet filter that absorb UV radiation, preventing them from penetrating the skin. Some formulations use a combination of both (like the Vichy Idéal Soleil SPF 30 mentioned below) but are dominated by either chemical or mineral sun-blocking ingredients.
Whichever type you choose to use, there are now quite a few options to choose from that make it easy to get the necessary sun protection we need every day without compromising our makeup: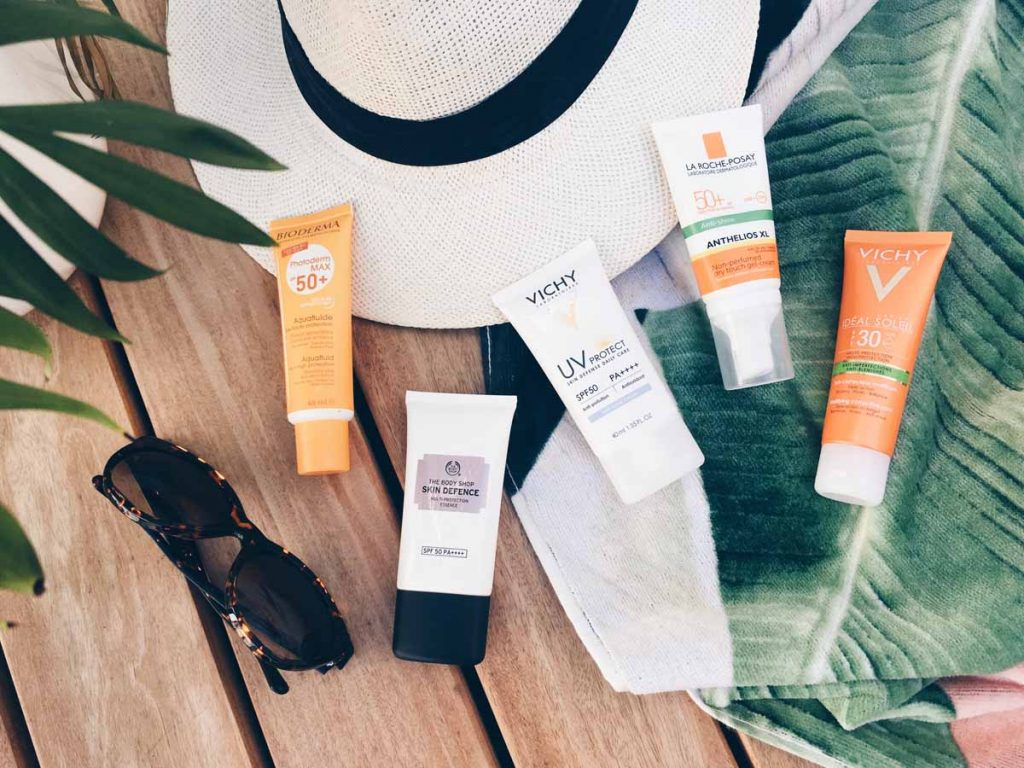 Chemical sunscreens
For skin like mine that tends to get shiny in the T-zone and can be quite oily in warmer weather, I like to use feather-light lotions or gels that sink away into nothing. My first love was the The Body Shop Skin Defense Multi-Protection Essence SPF 50 (R220) but lately I get a lot of use out of the Vichy UV Protect Anti-Shine Cream SPF 50 (R230) which is slightly more of a gel texture and leaves the skin with a really healthy-looking sheen that forms a great base for a glowy skin day. If you're very oily then I would recommend Vichy Idéal Soleil Mattifying Corrective Care SPF 30 (R285) because it's very matte and will help to control shine. It also contains niacinamide and salicylic acid so it's good if you're acne prone too. Similarly suitable for those with over-active sebaceous glands is the Bioderma Photoderm Max Aquafluid SPF 50+ (R250) which is super-lightweight and has a completely dry-touch finish, and La Roche-Posay Anthelios XL Anti-Shine Dry Touch Gel-Cream SPF 50+ (R245).
For drier skin types, slightly richer formulations are usually more comfortable and provide your face with some added moisture throughout the day. I can't seem to find my Heliocare Gel SPF 50 (R350) but I also love this one – it works particularly well on dry skin (but is also fine on my more combination complexion), making it look wonderfully juicy.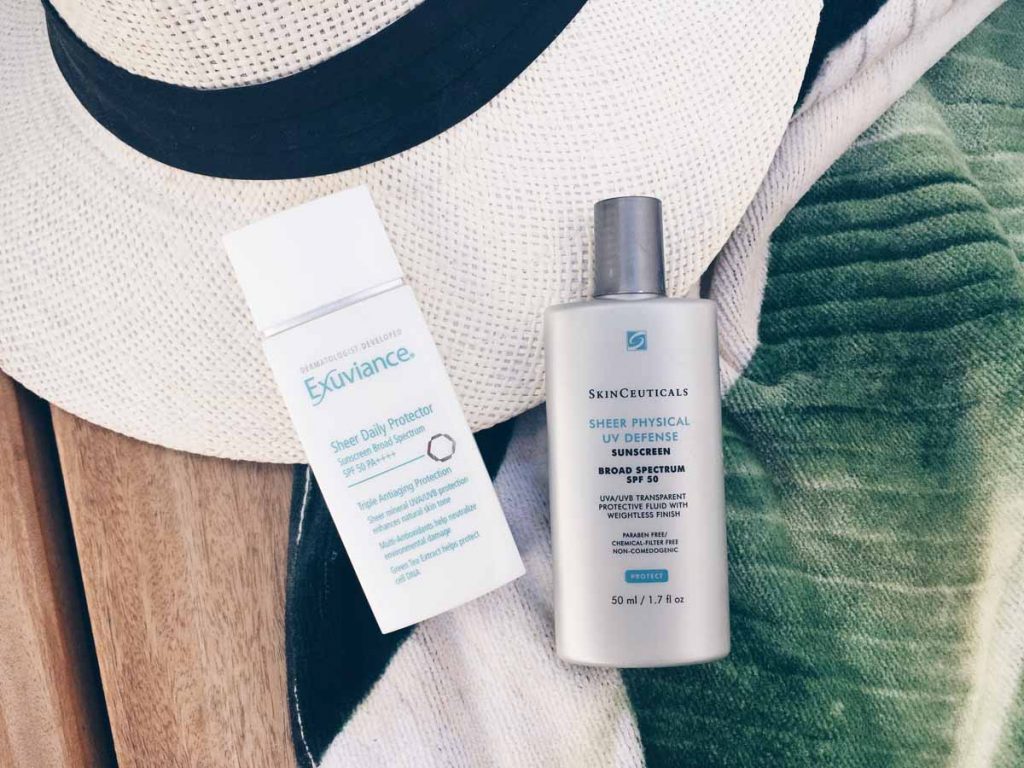 Physical sunscreens
In my experience, physical sunscreens tend to be much lighter in texture and more mattifying on the face, which makes them especially suitable for oilier skin types. All the ones I've tried leave an ashy cast on the skin so I would only wear them under makeup otherwise you'll look rather pale and sickly, or downright crazy if you have darker skin! Luckily they are ideal for this purpose because they create a very smooth, non-sticky base for makeup and don't tend to interfere with foundation products, as long as you leave them to dry down properly (which I would recommend for the application of all facial sunscreens – I always leave them to absorb for at least 2-3 minutes before putting on my base). The two I would recommend are essentially the same price (R1 difference!), perform very similarly and come from extremely high-quality skincare brands: Exuviance Sheer Daily Protector Sunscreen Broad Spectrum SPF 50 (R536) and SkinCeuticals Sheer Physical UV Defense Broad Spectrum SPF 50 (R535). The downside is they're more expensive than chemical sunscreens so if you have any drugstore recommendations in this category, please let us know!
NB: You need to use at least a quarter of a teaspoon of sunscreen in order for it to be effective so don't skimp. This is also why I leave mine to absorb for a couple of minutes (because there's quite a lot of it on my face) otherwise it could cause pilling when you go in with your base products. And don't rely on sunscreen in primers or foundations – you usually don't use enough of it on your face for the product to offer the full protection indicated by the SPF number so don't fool yourself!
Leave your recommendations for other sunscreens that work well under makeup below 👇