If you're anything like us and you spend a lot of your time devouring beauty content from bloggers, YouTubers and magazines then you've probably already heard of The Ordinary Skincare; DECIEM's latest functional beauty range. DECIEM also make the Hylamide Low Molecular HA Booster, my favourite hydrating serum, as well as the NIOD range, known for their sophisticated, next-generation face serums and formulations. The Ordinary has been getting a lot of attention recently because of its heritage (the DECIEM team are highly respected for the effectiveness of their products) and the price point – everything in the range costs under £15, in fact most of the products hover around the £5 mark. Camilla and I were both very keen to give the range a try so we bought some goodies from ASOS – here's the haul: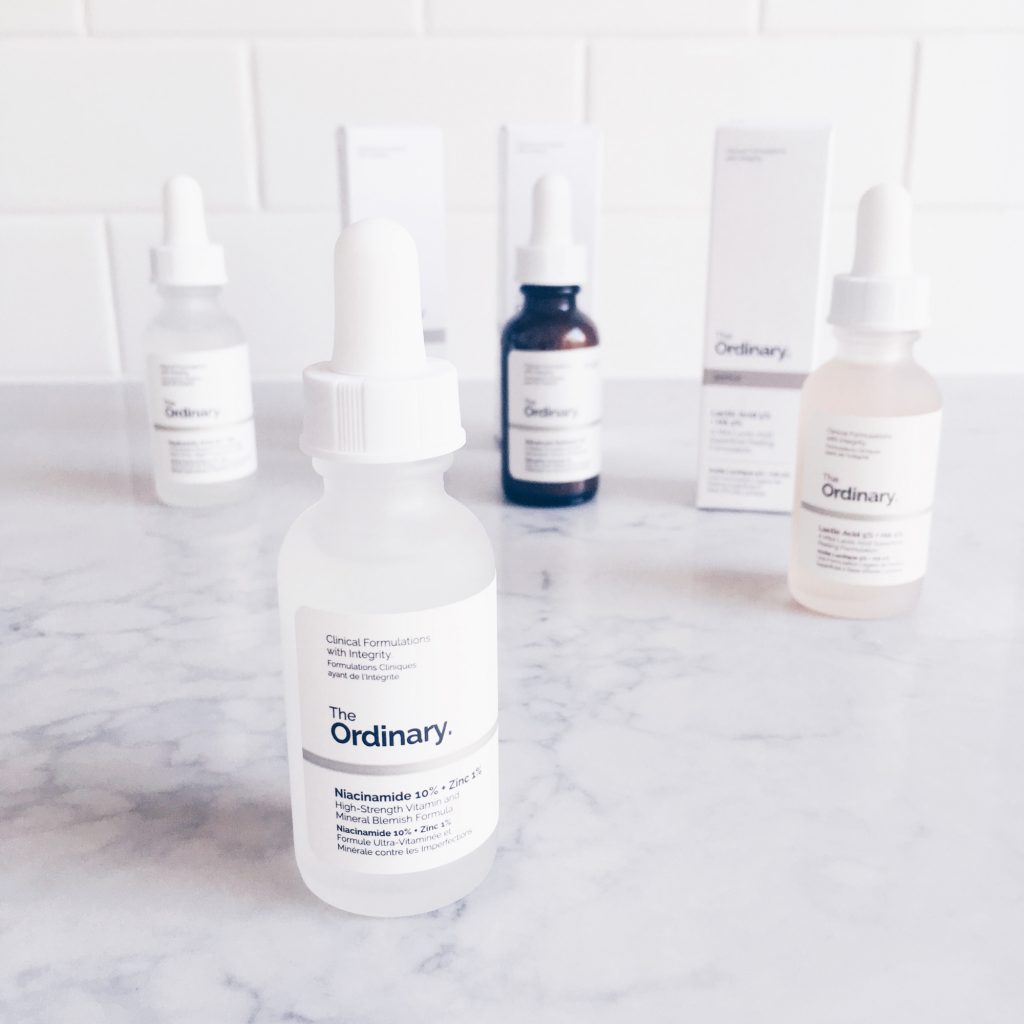 Brand overview
The Ordinary positions itself as being all about integrity, essentially turning the industry standard of selling "breakthrough" and "revolutionary" technology at high prices on its head: "Commonplace technologies are referred to as groundbreaking and insensible pricing strategies confuse the audience, disguising commodity technologies as advanced." It's a highly refreshing approach and one that I think will earn them a large and loyal following with women who are sick of being marketed to by ruthless mega-brands who clearly have no intention of offering consumers any real value. As with all of DECIEM's brands, The Ordinary Skincare is cruelty-free and does not contain parabens, sulphates, mineral oil, methylchloroisothiazolinone, methylisothiazolinone, animal oils, benzalkonium chloride, coal tar dyes, formaldehyde, mercury and oxybenzone.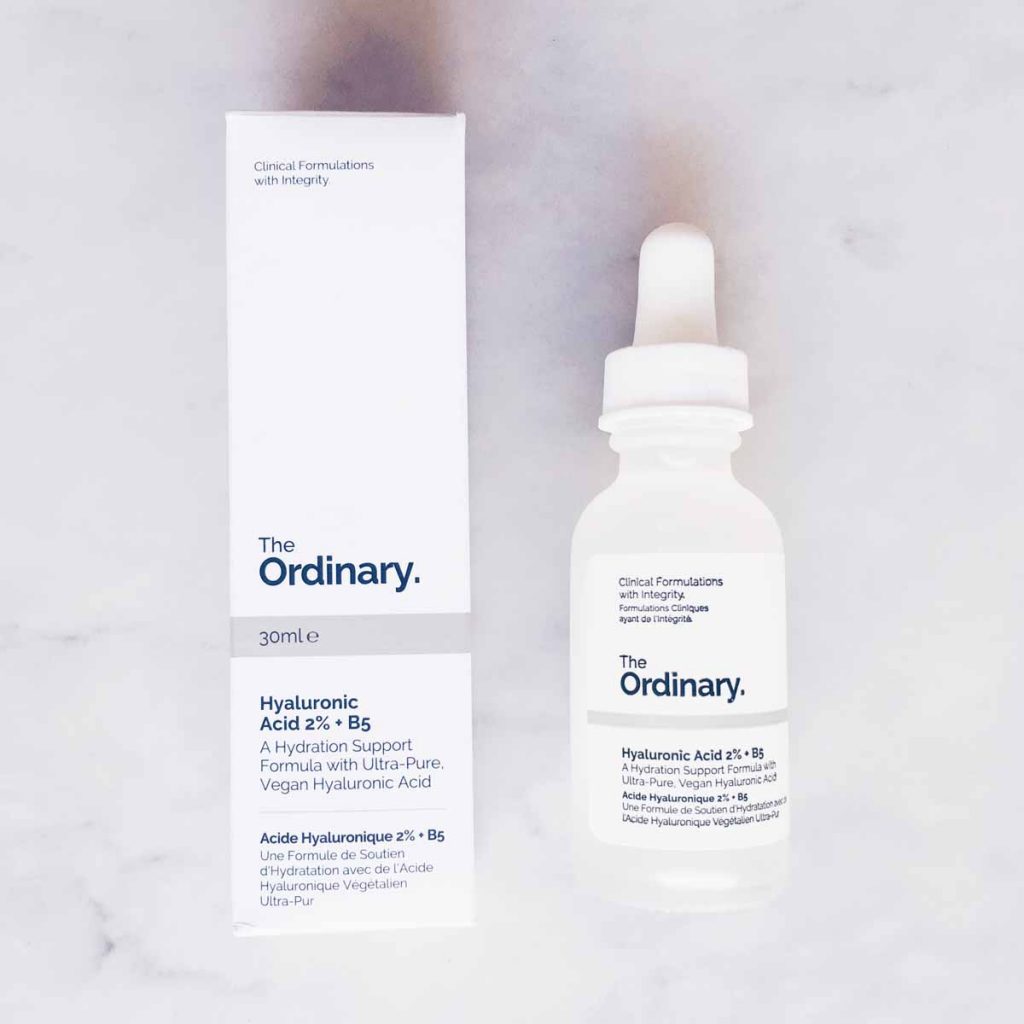 Hyaluronic Acid 2% + B5
They had me at "Hyaluronic Acid"! I could quite literally bath in the stuff. Unlike Hylamide, which is a low molecule HA serum (so it penetrates deep into the skin), The Ordinary's formula combines low-, medium- and high-molecular weight HA to treat the skin on multiple levels. The addition of Vitamin B5 helps to enhance surface hydration (like hyaluronic acid, it's also a natural humectant) and plump up the surface layer of the skin. Like most other hydrating serums, this is best layered under a moisturiser and can be used day or night, as well as in conjunction with other serums.
Price: £6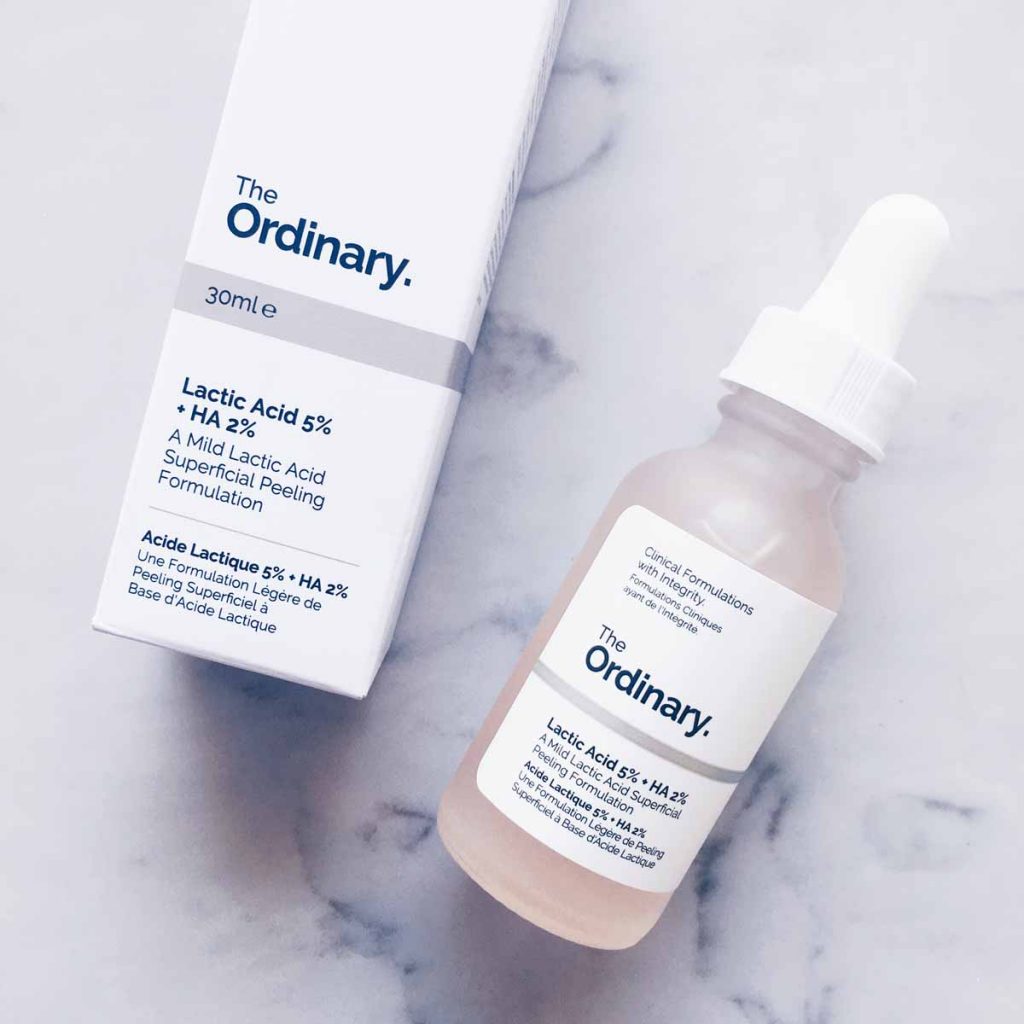 Lactic Acid 5% + HA 2%
The Ordinary Skincare range contains a bunch of different AHA and BHA exfoliators in various strengths but I've always wanted to try Lactic Acid because of its hydrating properties (are you sensing a theme here?). This 5% formulation is very mild (there is a strong 10% version available too) and is supported with a "purified Tasmanian pepperberry" (whatever will they think of next!) which is designed to sooth any related inflammation and sensitivity. I am busy having a series of professional peels so it might not have much of an exfoliating effect on my skin but I think it'll be a good way to maintain my skin smoothness between treatments.
Price: £5.50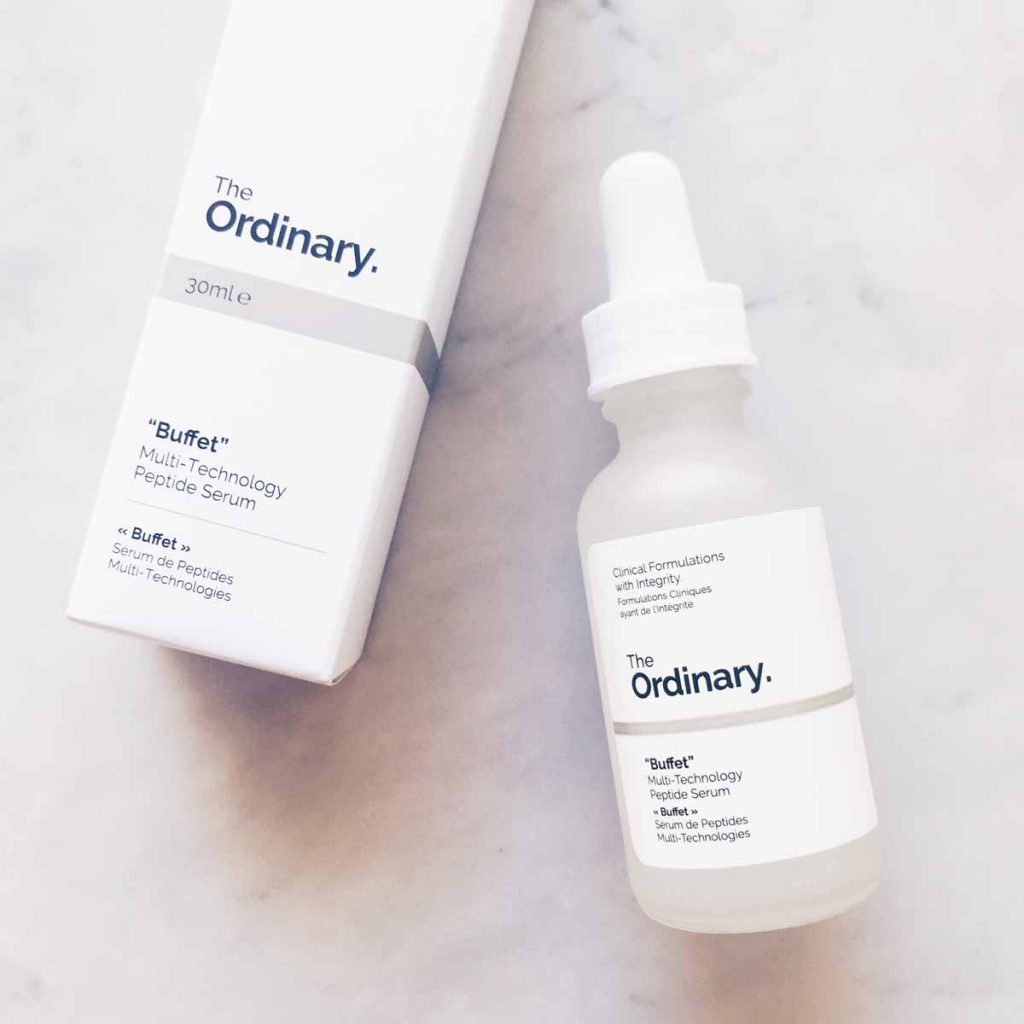 "Buffet"
This product is a multi-tasking peptide serum designed to tackle various signs of ageing at once. Peptides combine to create proteins (like collagen), which are the "building blocks of the skin" i.e. they contribute to firmness, suppleness and general skin health. This particular blend contains peptides that will boost collagen production and reduce the look of static and dynamic wrinkles, plus good old hyaluronic acid because… hyaluronic acid.
Price: £13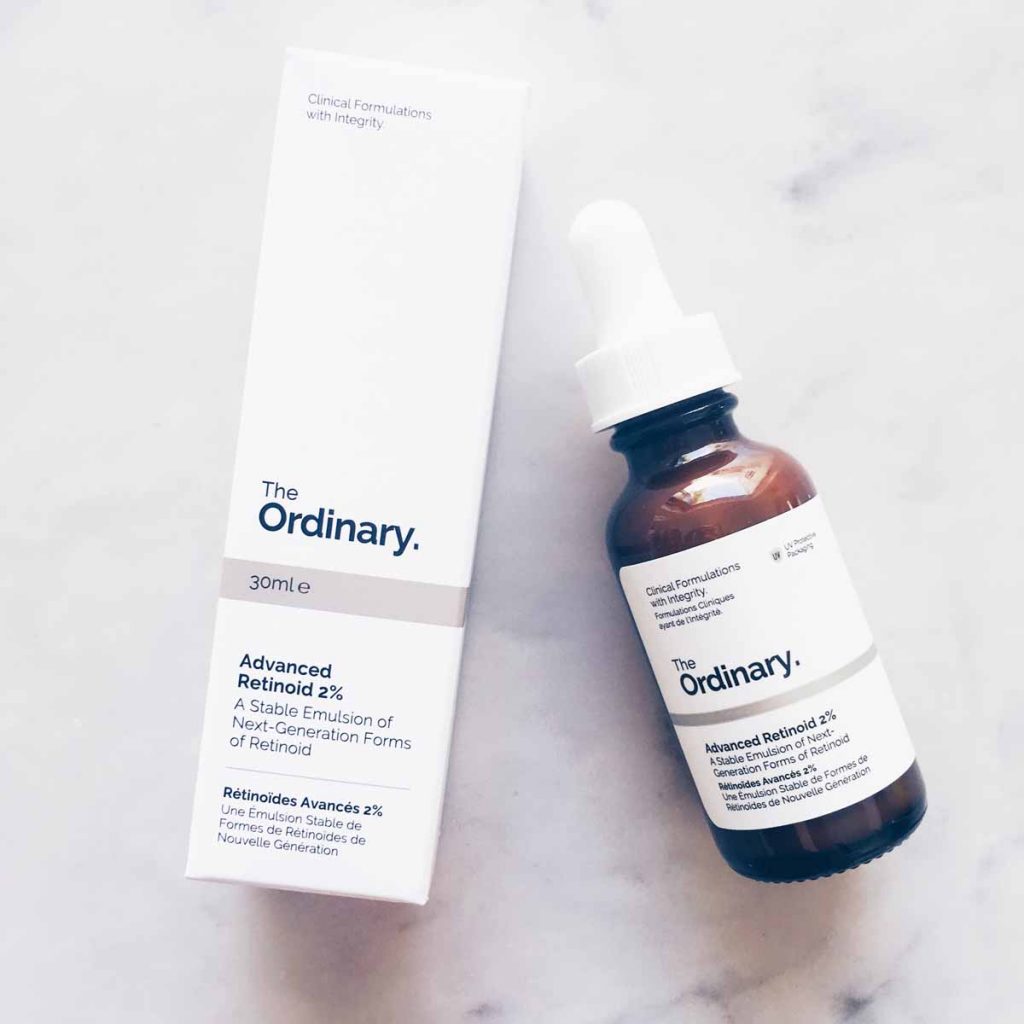 Advanced Retinoid 2%
I love a good retinol and have been using the Exuviance Super Retinol Concentrate for a while, which is a 1% concentration that I haven't had any adverse effects from. I initially thought that The Ordinary Advanced Retinoid 2% was just a stronger concentration, but it turns out that they can't actually be compared because it uses a different form of the ingredient*. This product contains two forms of "retinoid actives"; one to tackle sagging and lack of firmness and the other, "a sustained-delivery form of pure retinol in a protective capsule system." Both forms of retinoid used avoid irritation while delivering better visible results against signs of ageing.
*The Ordinary's Retinol 1% product is comparable to my Exuviance one as they use the same form of pure retinol in the formulation. Advanced Retinoid 2% achieves better visible anti-ageing results than Retinol 1% with less irritation but Retinol 1% is suitable if you are looking specifically for a pure Retinol formula. If you want to know more about retinol/retinoids, read this.
Price: £8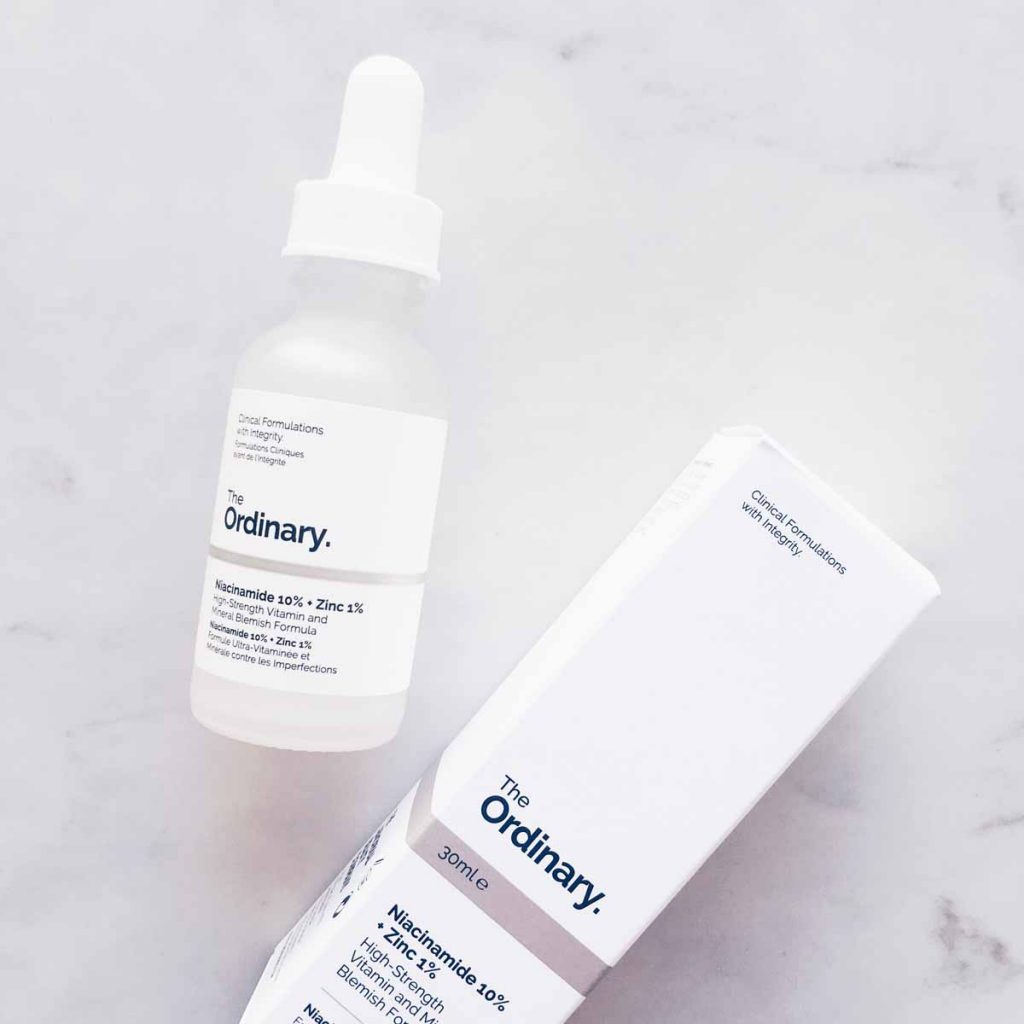 Niacinamide 10% + Zinc 1%
Pigmentation is one of my bigger skincare concerns these days (along with wrinkles, skin tone, elasticity and dehydration – yay!) and niacinamide is known as a wonder ingredient for treating sun damage. It also happens to be able to visibly improve the appearance of enlarged pores, uneven skin tone, fine lines, dullness, and a weakened skin surface. This formulation is specifically designed to "reduce the appearance of skin blemishes and congestion" while the zinc in the ingredients list helps to manage oil production. Sounds like a win-win for my T-zone!
Price: £5
You can buy The Ordinary Skincare from the following websites that ship to SA:
ASOS
Look Fantastic
Amazon
UPDATE: Apparently you can also order directly from the brand's website or locally from Samika.
Also check out the brand's website to see the full range, FAQs and a regime guide.