This post is basically taking the place of a monthly favourites post because not only have I loved using these products this month, but they're all products that I owned already but hadn't been in rotation for a while. I've been enjoying quite a natural, tonal look – bronzy skin and brown eyeshadow, with a natural, flushed cheek and matching pink lips. Here are the makeup items I've been using to achieve it: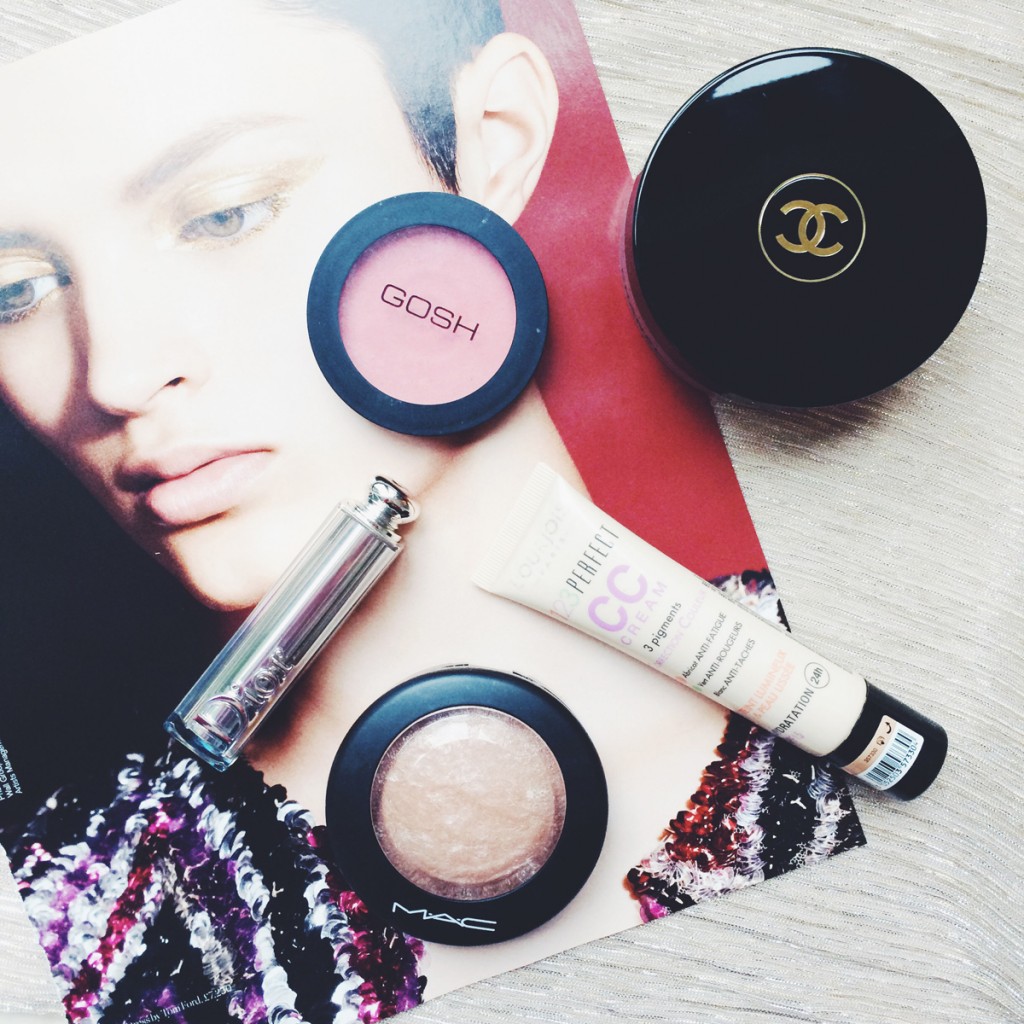 Chanel Soleil Tan de Chanel
This is one of those products that has achieved cult status in the beauty world, although it's only actually suitable for those with a golden/medium skintone – you can forget about it if you're particularly pale or dark! Luckily for me, I fall into that in-between category and it gives my skin a completely believable sun-kissed glow without looking too orange (as it tends to do on more porcelain skins). Cream bronzer definitely requires a little more patience to apply which is probably why this tends to languish in my drawer but every time I rediscover it, I remember why I love it so much. It blends out beautifully and is basically undetectable on the skin, so it's great if you don't want to look like you're wearing makeup, or prefer cream formulas to powder bronzer. Yes, it's Chanel and yes, it costs a bomb, but it's massive and will last you forever. Even longer than you're meant to keep it. Ahem.
MAC Mineralise Skinfinish in Soft & Gentle
I am on a major highlighter streak these days – my last two monthly favourites have included highlighters, but can you believe I hardly used to wear it! I'm sure it's something to do with the whole strobing trend, but I find that my skin is also more balanced these days because I've got a handle on my dehydration so I'm less oily. I find that a well-placed highlighter can take my complexion from looking OK to awesome, and I'm loving the extra glow. MAC Soft & Gentle is an absolute classic, and it's not just for your cheekbones. I've been dusting it over MAC's Groundwork paint pot to give my lids a bronzy sheen and it looks gorgeous, if I say so myself.
Bourjois 123 Perfect CC Cream
We constantly get asked for foundation recommendations and this one is always on the list. It's also one of the few skin products that we agree on! I'm not sure how, but it suits both my combo/oily skin and Camilla's dry, sensitive skin, plus it has the perfect amount of coverage; not too much and not too little. It's definitely more pigmented than a tinted moisturiser but it's also very lightweight, so its the ideal everyday face base. I've suggested it to two friends in the past couple of weeks and both got compliments on their skin on the first day of wearing it. It even caught the attention of one friend's young sons who told her how pretty she looked! I mean, if that doesn't sell it then I don't know what will!

Dior Addict Lipstick in 579 Must-Have
Dior make my favourite ever lipstick formula, hands down. The Addict lippies come in the most gorgeous shade selection, are extremely moisturising and comfortable to wear, and strike the balance between creamy and glossy without sliding around on your lips. The colours tend to be semi-opaque but can be built up so they're also incredibly versatile. This particular shade is a slightly frosted (in a good way – no old lady shimmer here) raspberry colour that would suit almost any makeup look. It's the perfect everyday pink, I'm SUCH a fan. You can see a decent swatch here.
GOSH Natural Blush in Flower Power
Every make-up lover should have the perfect matte pink blush in their collection; something that perks up the complexion and looks like a natural flush on the face. They are surprisingly difficult to find – the only other one I own is Bobbi Brown Pale Pink, all the others I can think of either have some sheen or shimmer in them, or lean more dusty or bright. I discovered this version via Tati from GlamLifeGuru and I think it's one of the best blush formulas out there, especially of the more affordable brands. It's great quality, the colour is spot on and it blends out without fading or going patchy. The range includes three other super-wearable and mostly neutral blushes which I'm now a little tempted to buy (although I'm not 100% sure that they're all available in SA). Has anyone else tried GOSH blushes?
I've been thinking about doing a simple tutorial using some of these products – anyone keen to see that?
Click here if you guys want to see the other Shopping the Stash posts with more rediscovered beauty products.