Whilst I am very happy with how all of my make-up items perform on their own, sometimes combining two (or even three) of them really amps up the effect and creates something you can't get enough of. These are my current favourite combinations: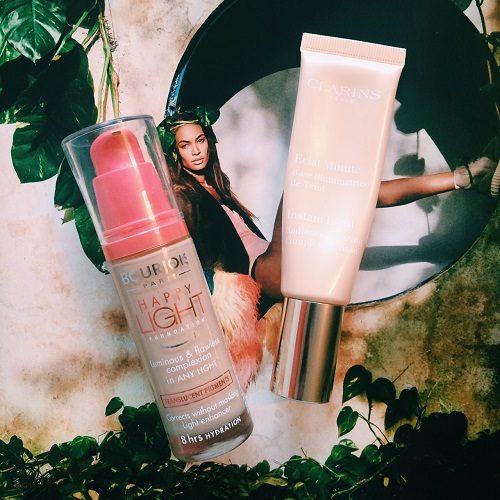 I can't take credit for this one – I got the idea from Harriet from Harry Makes It Up. She used the Clarins Instant Light Boosting Complexion Base as a primer in her Flawless Skin Makeup Tutorial, and it made her skin look so luminous! I decided to adopt the same approach, and buffed some of my new favourite foundation, Bourjois Happy Light, on top. The result is stunning, even if I do say so myself: skin is left looking dewy, fresh and radiant, and the combination wears really well too, so you won't be left with a patchy complexion half way through the day.
My love from Stila Convertible Color has been well documented. The colour 'Peony Pink' is particularly flattering and creates the perfect subtle glow on the cheeks. The wear time is good (certainly better than other cream blushers that I've tried), but I have found that by setting it with a light dusting of the Max Factor Crème Puff Blush in 'Lavish Mauve', it lasts all day and retains the colour and glow.
I am not ashamed to say I would like bigger lips, but I am certainly not about to go to the extremes that the one whose name we do not mention went to. Enter, lip pencil! 'Subculture' is a muted nude-pink, and is perfect for subtly creating the impression of a fuller pout. I like to fill my lips in completely, and then trace along the outer edge of my lip line to ensure I have a solid block of colour all over. I then slick some 'Tiramisu' on top and I am left with a glossy, juicy pout that looks a little fuller than normal.
When I use either of these pencils on their own, I'm a bit 'meh', but when I use them together: jackpot! The Soap & Glory pencil is cool-toned, while the Stila pencil is slightly warmer, and when combined they create a colour match that is spot on for my brows. Both pencils have a good consistency and last well throughout the day and leave the brows looking defined, yet natural.
You will see most of these combinations in an upcoming tutorial, so be sure to subscribe to our Youtube channel to make sure you don't miss it!