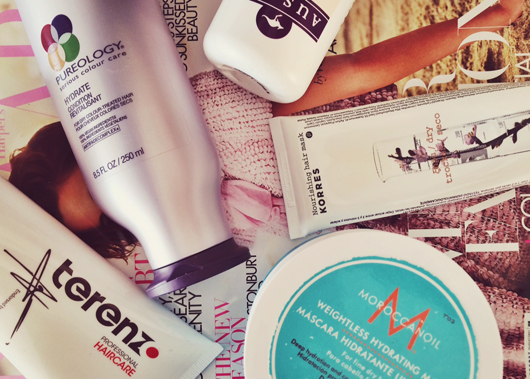 "Crispy" and "deep fried" are both words that I love when they are used to describe some of my favourite foods but unfortunately they apply all to often to the state of my hair. Although my roots are very oily, the lengths and ends can sometimes resemble straw, having been treated to years of abuse from chemicals, hot tools and styling products. You can avoid a lifetime of split ends with the right maintenance however, and this starts with a good conditioner. I leave mine in for about 10 minutes whenever I wash my hair (which is most days) so it has plenty of time to work its magic – these are my faves:
You'll notice a trend towards rich but weightless conditioners in this post and that's because my hair is fine and thin and doesn't like to be weighed down. This minty-smelling wonder is especially good for colour-treated hair because the "AntiFadeComplex" protects and moisturises dyed strands. Pureology is also sulfate- and cruelty-free so you can feel extra angelic in the shower.
The new kid on the block is this wonderfully nourishing conditioner from award-winning local salon Terenzo, and part of their brand new range of home haircare. This conditioner rehydrates and strengthens dry hair with its vitamin-enriched formula and it leaves my hair super soft and shiny.
I'm a longtime fan of this super lightweight conditioning mask because it's specially designed for fine hair like mine. It's enriched with nourishing Argan oil which helps to improve hair's texture, elasticity, shine and manageability. It has the added bonus of smelling utterly delicious.
Speaking of deliciously-scented things, this hair mask smells positively heavenly. Nut oils and shea butter help the hair retain moisture while increasing its resistance against breakage and split ends. The mask has been developed to also help control static and prevent frizzy hair. Korres is a wonderful natural Greek brand that is available at selected Edgars stores.
No one does maximum hydration for dry hair at the drugstore quite like Aussie. There are a few variations within the 3 Minute Miracle range too, like the Reconstructor Deep Conditioner, Frizz Remedy and this one for long hair. They all do a similar thing though and they really do it well – your hair is guaranteed to be tangle-free, mega moisturised and soft as silk after use. It's a unique formula with Australian Balm Mint which smoothes rough cuticles and penetrates to reconstruct damaged hair inside and out.