A few weeks ago I was invited to spend a few hours in the ELLE Beauty Closet with MAC Viva Glam; an invitation I wasn't about to turn down! The format was a style challenge, and I was asked to put together two looks (day and night) to complement the new MAC Viva Glam Miley Cyrus Lipstick and matching Tinted Lipglass.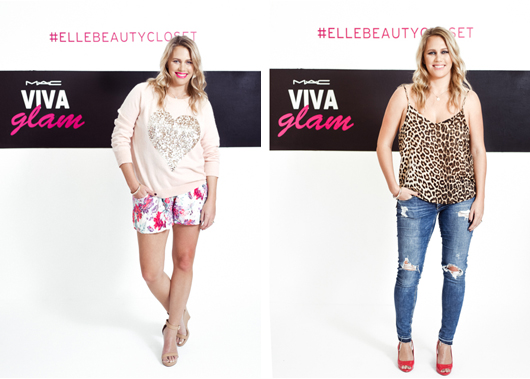 As someone who dresses for comfort rather than style, this was a little intimidating, but I stuck to what I know and pulled some of my old favourites out of the cupboard. These included my everyday ripped denim jeans, an easy-to-wear leopard print vest, my go-to heels and a much-loved sparkly jersey. The hot pink lip shade (worn in the day look) is SUCH a "me" colour, and although the smokey eye (worn in the night look) was much heavier than I'm used to, it was fun to step out of my comfort zone and try something different.
It was such a thrill to have my face done by none other than Michelle Lee Collins, MAC's senior make-up artist and a completely beauty badass. She's a complete genius and travels the globe with the brand, training staff and MUAs, designing looks and working backstage at fashion shows, shoots and events. I highly recommend that you follow her on Twitter and Instagram to see!
Every cent of the selling price of the MAC Viva Glam range goes to the MAC Aids Fund, which helps women, men and children living with and affected by HIV/AIDS. They partner with the bold, the visionary and the brave who confront the epidemic in countries and communities where people are most neglected, off the radar and at highest risk. Read more here »
Thanks for having me MAC and ELLE! Check out their blog post here. Also follow the lovely ladies at ELLE Magazine on Twitter, Facebook and Instagram and search the hashtag #ELLEBeautyCloset for more.