A few weeks ago I wrote about the launch of Dermastore, an online skincare boutique founded by the Webster family (read the post here). If you read that post you will no doubt be aware of how fantastic I think the concept is, and I really hope that you have all visited the site and, at the very least, completed a Facial Skincare Assessment.
I recently ordered a Neostrata moisturiser from Dermastore, and then Dr Webster's wife, the lovely Sandy, sent me a few bits from Exuviance to try (Sandy has worked alongside Dr. Webster for the past 22 years and has been responsible for sourcing and selecting products for his practice).  I wanted to give you some feedback on my online shopping experience, as well as a quick review of the products and how they've been working for me so far.
I'll start with the Exuviance products. Exuviance was created by the founding doctors of NeoStrata, and the range is geared towards younger people who are motivated to start an anti-ageing regimen (yup, that's me).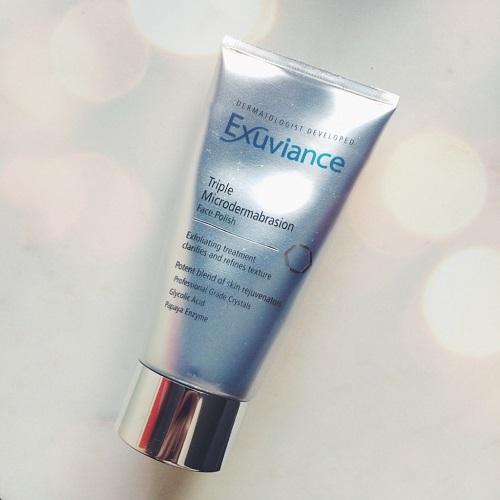 Sandy recommended this product for me as it contains a blend of exfoliators: professional grade crystals, glycolic acid and papaya enzyme –  all exfoliators in their own right but just different kinds i.e. physical (crystals), chemical (fruit acid glycolic) and enzyme (papaya). These three potent exfoliators are combined to enhance and increase cellular turnover, giving the skin a healthy glow (rather like after a light superficial peel would do) if used a couple of times a week. Sandy says she has never seen all three exfoliators in one product before – this makes for a very exciting product indeed!
With the promise of baby soft, smooth skin, I raced home and promptly got to work. I gently massaged a thin layer all over my face (there is no need for any scrubbing or rubbing to cause irritation – the formulation does all the work as the fruit acids loosen the bonds on dry, dead skin) and waited for two minutes. The beauty of this product is that because you only need to leave it on for a minute or two,  it can be slotted into even the most basic routine with ease.
I don't mean to sound dramatic, but I have never seen results like this. Ever. All my dry patches were completely obliterated and my skin looked smooth, soft and radiant.  For the first time ever, I felt like I was truly glowing. I have very generously allowed both my mother and Jules try this and they have been equally as impressed – it really does work exceptionally well.
It is designed to be used two to three times a week, but because my skin is sensitive I am still only using it once a week for the time being.
Antioxidants offer extra protection against environmental aggressors such as UV radiation and pollution and they help to prevent the breakdown of collagen and elastin in the skin, thereby keeping it healthy (if you want to learn more on what antioxidants are and why they are crucial, have a read of Jules' post on Anti-Ageing Skincare). This serum from Exuviance is rather potent, and  can be used under your daily moisturiser if your skin is on the dry side or it can be used alone if you have oily or combination skin. Don't forget: it's essential to use an SPF daily, especially if you are using antioxidants.
So far, so good. I have been using this most mornings and I find that my skin is looking fresh and healthy. It will take another couple of weeks until I see the full benefit of this product, and I am looking forward to further improvements in the texture and tone of my visage!
This product is a night cream and is part of AGE Reverse which falls into the most potent anti-ageing products in the Exuviance range. It is very hydrating and luxurious and contains a complex of patented ingredients which help to boost collagen and hyaluronic acid, which intensely hydrate the skin. As it is a rich cream, it is best suited to dry skins like mine – and I have to say, it's just the ticket. Like a tall drink of water for your face. The texture is incredible – like a cream-gel hybrid – and it sinks into the skin leaving it looking plumped-up and glowy.
Because it contains potent ingredients, I have been easing myself into it, so I don't use it every night (note: it can be used both morning and night). I usually alternate with the Avène Tolérance Extrême – something completely neutral and comforting. I find this balance to be working so well for me.
So now for the product I bought:
I chose this day cream because  it:
reduces visible signs of ageing; and
calms irritated skin; and
reduces redness; and
contains antioxidants; and
contains an SPF.
I feel like I'me covering all my bases with this one! Although it's techincally suited to normal and combination skins, I find that it works brilliantly on my dry skin – it contains just the right amount of hydration for me in the mornings so that my skin feels moisturised but not greasy.
I was incredibly impressed with the service I have received from Dermastore – the order arrived promptly, all beautifully packaged. Sandy also includes a little 'how to use' sheet in the order – so your products are listed and there are instructions on how and when to use them, which I thought was a really nice touch. You also receive three samples with each order, which is a great way of trying out new products.
Now, my beauties, go forth and shop –> www.dermastore.co.za.