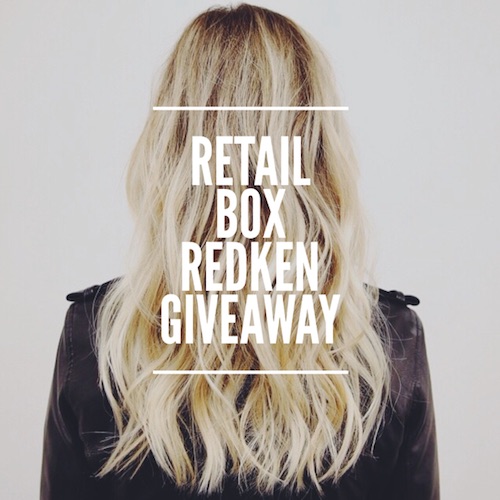 The lovely ladies at Retail Box recently got in touch with us to arrange a giveaway for All Dolled Up readers. We were told we could select a few products from the website and they would then speak to the chosen brand (we chose Redken) to see which of those products they would be willing to donate to the giveaway. Jules and spent ages trawling the site, compiling an epic list of products (on the assumption that Redken would only agree to a few) and sent it off to Retail Box. You can only imagine our delight when Redken not only agreed to donate every product we'd chosen, but they were also kind enough to send Jules and I a hamper of all the products so we could try them for ourselves!
Want to see what's up for grabs? Here we go:
A fantastic combination – the shampoo is volumising without being drying, and the conditioner has just enough moisture to add a nice shine without weighing the hair down. Both Jules and I have fine hair and we have both been blown away by how great our hair looks and feels when we use these. Both products also smell absolutely delicious.
Both of these styling products add serious oomph to the hair. I like to massage the Instant Bodifier foam into the roots and then spray the Volume Amplifier throughout the lengths and ends. I then tip my head upside down and blast the hair until it's 80% dry, and then use a round bristle brush to finish off the blow dry and create that smooth, bouncy finish.

This is the best clarifying shampoo I have ever used. It contains fruit acids which gently lift away product build-up and grease without leaving your hair feeling like you've completely stripped all of the moisture out of it. You know when you've used a clarifying shampoo and your hair is literally squeaky clean afterwards (my worst)? Thankfully this shampoo doesn't do that – your hair feels fresh and bouncy and clean, but still healthy and hydrated.
I featured this dry shampoo in our most recent Monthly Favourites video – I am obsessed with it. It leaves your locks looking fresh, clean and volumised without the annoying crunchy/tacky roots, and it's completely transparent, so it's suitable for all hair colours.
The Blow Dry Express Primer is a heat protectant which is designed to speed up blow drying time. I can't say that it really speeds up blow drying time for me (it's always approx 20 minutes), but Jules said that it definitely did for her. It smells a little bit strange, but the luckily the smell doesn't linger so you won't be able to smell it on your hair once it's dry.
Pretty incredible prize, don't you think? To enter, all you have to do is upload a picture of yourself having a bad hair day on Twitter and Instagram, tag All Dolled Up and Retail Box, and tell us which product you most want to try and why. Don't forget to include the hashtag: #ADURedkenGiveaway
Example: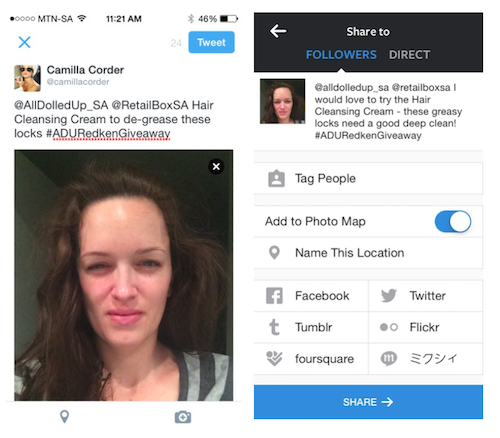 The competition will run from today, Tuesday 12 May 2015, until 12pm on Tuesday 26 May 2015. Jules and I will announce the winner on Wednesday 27 May 2015. One entry per person, open to South African residents only.
Good luck beauties!