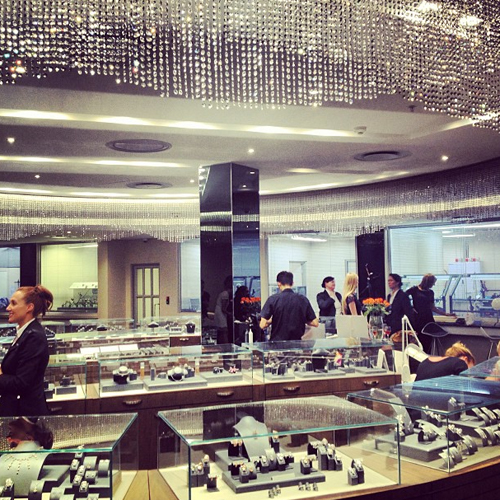 Last night we were kindly invited to spend the evening at Shimansky's showroom in the V&A Waterfront, to get pampered while sipping champagne and draping ourselves in enormous diamonds. It was a tough gig, I have to admit.
First up we were given a tour of the Cape Town Diamond Museum, which is adjacent to the showroom, and saw some mouthwatering replicas of the world's largest diamonds, including The Hope Diamond (which I have seen in real life at the Smithsonian Museum and it would blow your mind), The Taylor Burton, The Star of Africa and the 3,106 carat rough Cullinan Diamond.
With the reflection of those giant rocks sparkling in our eyes, we were shown into the main part of the store where Shimansky's beautiful collection is on display. I tried on some astonishing jewellery, including a 4ct fancy yellow diamond ring and a sparkly sapphire that makes Kate Middleton's look like it came out of a Christmas cracker.
In between drooling over all the shiny things, we were treated to manicures and makeovers which of course was my favourite part! I had my nails painted in OPI's spectacular "Swimsuit… Nailed It!" which is a bright glittery blue from their Miss Universe Collection. Next up was hair and I had my mane transformed into a mass of beachy waves, my favourite look. I didn't end up getting me make-up done (let's be honest, I was wearing enough already!) but Brandslut worked a hair bow and some liquid liner while Nikki rocked bright red lipstick like nobody's business!
On another beauty-related note, we each received a bottle of Shimansky's Limited Edition My Girl™ fragrance and congrats to Emma who walked away with one containing a diamond worth R7 200! Nice. I have to be honest, I wasn't sure what to expect from the perfume but it's actually lovely! I'm rubbish at describing scents so here's the official lowdown: "Made from natural rose oil, the My Girl™ Perfume has a fresh, flowery top note with hints of melon and peach, followed by a rose and jasmine middle note, underlined by a woody, musky and light spicy base." It's light, feminine and summery and I highly recommend you give it a sniff the next time you're looking longingly through the display window at one of Shimansky's stores.
Special thanks to all involved, including Natalie Roos of Positive Dialogue, Smudge Make-up, Scar and Sacred Care, and of course Mr Shimansky and his team. It was a Monday evening that I won't forget in a hurry!