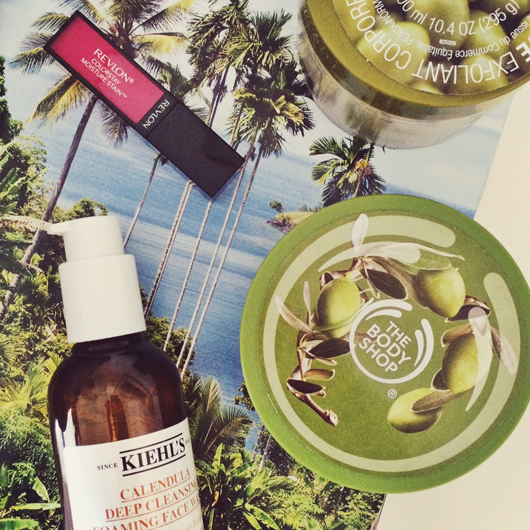 The Body Shop Olive Body Butter and Body Scrub
I know, I know, ANOTHER Body Shop body butter! I'm sorry, I can't help it – they're all so good and such great value. The flavour of the month is Olive – an earthier, more subtle scent than my beloved Almond one, it's packed with super-moisturising organic olive oil and keeps skin soft and smooth all day long.
The cream-based exfoliator from the same range uses crushed walnut shells and olive stones to slough away dead skin cells and leave the skin beautifully smooth without being too scratchy. I use it mainly on my upper arms and shins and the oil blend (olive, sunflower and carrot) makes my limbs soft without leaving any greasy residue. It's a really effective, no-fuss product.
P.S. Everything at TBS is currently on 3 for 2. Just saying.
Kiehl's Calendula Deep Cleansing Foaming Face Wash*
It's no secret that I'm a huge fan of Kiehl's (who isn't?) and especially their Blue Herbal Gel Cleanser which is my favourite face wash to use with my Clarisonic. This new cleanser, designed for normal/oily skin, is packed with glycerin which makes it really smooth and hydrating but also sulfate- and soap-free so it shouldn't irritate sensitive skin. It dissolves impurities, dirt and oil in a flash but doesn't feel stripping at all. The light lemony scent is totally inoffensive and a little goes a long way – I reckon one 230ml bottle would last you at least six months. It also gets bonus points for the pump-top dispenser.
Revlon Colorstay Moisture Stain in 001 India Intrigue
This is one of the most exciting lip products that I've tried in a while, especially considering that I don't usually like lip stains. I find that they don't wear evenly and tend to stain the outside edge of my lips more than the middle, and they make my lips feel dry and papery. Not so with this new release from Revlon; the colour is glossy and intense and the formula is truly moisturising and comfortable enough to wear all day. This shade in particular is a gorgeous berry fuchsia that's bright enough to wear in summer but also rich enough to rock in winter. It's also totally non-sticky. Definitely check out the range the next time you're near a Revlon counter – these are an absolute winner and would make a great Christmas gift for girlfriends!
I couldn't get a decent swatch so visit this site to see what the colour looks like on. The Revlon website also has true-to-colour photos of the colour on different skin tones.
*PR sample