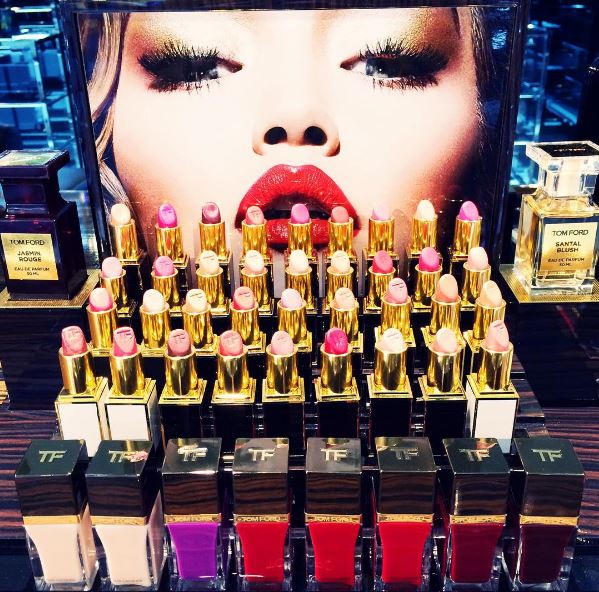 If you follow us on social media, you will have seen that I recently treated myself to some goodies from Tom Ford. They have recently relocated from the V&A Waterfront Edgars concession stand into a brand new standalone store, which is packed to the brim with all sorts of treats. If you ever visited the concession stand, you will remember that they only stocked fragrances, lipsticks and nail polishes. The new store stocks pretty much everything, from what I can see, including my beloved Cream Color for Eyes in 'Spice' (R695 – worth every penny).
The first time Jules and I popped in to check out the store, they were running very low on stock – none of the things we wanted to buy were available. However, I am pleased to report that when I went in for the second time, there was so much stock it was practically spilling out of the drawers. In the end I decided to purchase an eyeshadow palette and lipstick – two items of makeup I certainly don't need more of, but, you know, TOM FORD.
The Eye Colo(u)r Quad in 'Orchid Haze' is utterly stunning. You can see swatches over here (no one does swatches better than Temptalia). The pinky/mauve shade is probably my favourite, as it really compliments my eye colour and enhances the blue tones. I was going through my eyeshadow collection and, as it turns out, I don't actually have a shade like it, which is quite staggering! I found all of the shadows performed really well on me – the shimmers are soft, subtle and buttery, and the darker shade adds nice depth and dimension (I didn't find it to be patchy or difficult to blend, as Temptalia did).
The lipstick, 'Spanish Pink', is beautiful – a lot pinker than the nude shades that I usually tend to gravitate towards, but I can't get enough of it…it's just so pretty! The formula is creamy and glides on with ease, although I did notice that it did get stuck in the odd dry patch (winter problems, I guess). The formula contains no glitter, and has quite a neutral finish – by that I mean that it sits somewhere in between glossy and matte, the perfect middle ground. The colour is nice and opaque, you only need one application, and it wears well. Of course, there are similar colours available at a fraction of the price, but they won't be housed in the same magnificent, chic packaging, nor will they come with the very pleasing 'TF' stamp on the top of the bullet. It's definitely a splurge, but it's also definitely not one you're going to regret.
Let's  get down to the nitty gritty and talk numbers (I know you must be curious):
I paid R895.00 for the eyeshadow quad. In the UK it retails for £64.00 (equivalent to R1,286.31) and in the US for $78.00 (equivalent to R1,171.37). I paid R545.00 for the lipstick (which is cheaper than a Chanel lipstick, which currently retails for R610.00 – gross). In the UK it retails for £38.00 (equivalent to R763.29) and in the US for $52.00 (equivalent to R780.73). So actually, I think you'll find that purchasing Tom Ford locally is somewhat of a steal (I use that term loosely). I'm not altogether sure how they have managed to keep the pricing so competitive, but I suggest you take advantage of it while it lasts.
Have you tried anything from Tom Ford? If so, what are your favourites?