Smitten*
A Smitten (Smart Mitten) is a microfiber mitten that is used to deep cleanse your skin using nothing but warm water. No cleanser – just this mitten and warm water *disbelief*. I know – I was very skeptical and didn't understand how it could possibly work, but I am asking you to trust me when I tell you that it just DOES. You can use it with a cleanser, if you wish, but you don't need it – I promise.
So here is a quick run-down of how it works: the Smitten cloth is a super fine density synthetic fiber which is able to penetrate the finest, microscopic particles of oil, dirt and bacteria and actually capture/pull particles into the internal structure of the cloth and away from your skin. You will feel how it connects to your skin as you use it – there is a definite traction, a pull – and you can feel the dirt/grime/oil being swept from the surface of your face. I have been using it morning and evening for the past month and I don't see myself going back to using a traditional face cloth anytime soon – the Smitten is just so much more gentle and effective.
You must clean your Smitten using a mild hand soap after every use, and it should last you up to three months if you look after it properly. Because of my OCD I don't like to use it to remove my eye makeup (although it does remove mascara effortlessly), so I stick to using it on my face only. I cannot explain how great this is – I never expected it to work as well as it does. I am a complete Smitten convert, and I hope that after reading this, you will be too.
You can find Smitten stockists on their Facebook page.
Tom Ford Cream Color for Eyes in 'Spice'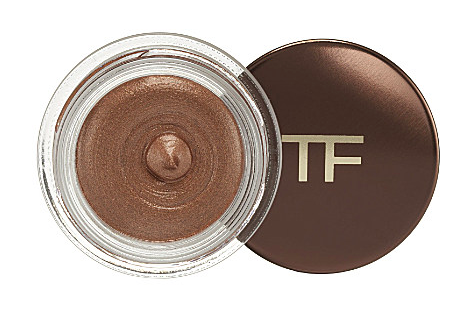 I recently rediscovered this after reading Anna's post – whilst I was reading it I thought "Wow, that's so pretty, I must get…WAIT A MINUTE I already have it!" Don't you love it when that happens? I actually used this in a tutorial before if you want to see it in action:
The consistency is incredibly creamy, so I like to use a primer first to lock it in place. I pat it on using a flat brush and then blend the edges using a fluffy brush, and then layer on maybe one or two more coats to get the full effect of the colour. It is the perfect golden cream shadow, ideal as we head into summer. Sadly I haven't been able to find an exact dupe in SA yet, but as soon as I do, I will let you know.
Clarins Instant Light Radiance Boosting Complexion Base in 'Champagne'*

I wrote about this recently, and my love for it continues to grow. I have used it every single day since I got it, and I adore the way it makes my skin look and feel. Although it is fragranced, the scent dulls down a lot on application, so you can't smell it on yourself at all after you've put your foundation on. Last weekend I actually wore this on its own all weekend (in a rare moment of my skin behaving itself) and it did a brilliant job.
Anastasia Brow Whiz in 'Dark Brown'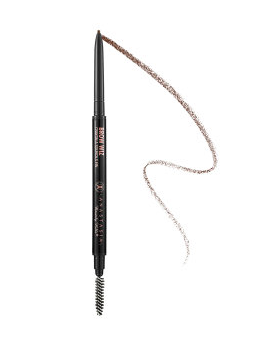 My friend Jes gave this to me earlier in the month as it was too dark for her (sorry, Jes, but score for me). We are obviously all well-versed in the amazingness that IS Brow Whiz, and I dabbled with the idea of buying one for myself when I was in the States earlier this year, but in the end I opted not to (I think I had buying fatigue by that stage). I am beyond thrilled to finally be in possession of this glorious piece of make-up – it truly is a work of art. The nib is so delicate that you are able to recreate the most life-life brow hairs I have ever seen, and the colour does not budge. Having a spoolie on the other side truly is a game-changer, and I fear I may never be able to use a brow pencil sans spoolie again. Ruined for life.
Yves Saint Laurent Black Opium*
Black Opium is the latest release from YSL, and after I read this review from A Model Recommends, I knew I had to try it. This is a very sexy fragrance – it's rich and warm and reminds me a little bit of Tom Ford Velvet Orchid. I would say that it's more of an autumn/winter fragrance, as it's quite heavy, but I love it so much that I have been wearing it every single day since I got. Absolutely delicious.
Clarins Santal Face Treatment Oil*
If any of you are trying to get your dry, dehydrated skin under control, this treatment oil from Clarins will be your saving grace. It contains essential oils of sandalwood, cardamon and lavender to tone, soothe, comfort dry, irritated or stressed skin, and hazelnut oil to reduce redness. This oil helps prevent moisture loss and can be used to protect your skin from pollution and other aggressive environmental elements. I have been using it 5 evenings a week, and it feels so luxurious and calming on my skin – I feel a mini-obsession coming on. Plus, I haven't had any reaction at all, so I can safely recommend it for those of you with sensitive skin.
Foreo LUNA Mini*
I wrote a full review about this cleansing tool earlier in the month – you can have a read of it here. I use this about three to four times a week, and I find it to be far more gentle on my skin than the Clarisonic ever was. I highly recommend this if you're looking to invest in a cleansing device and your skin is on the sensitive side.
*PR Sample