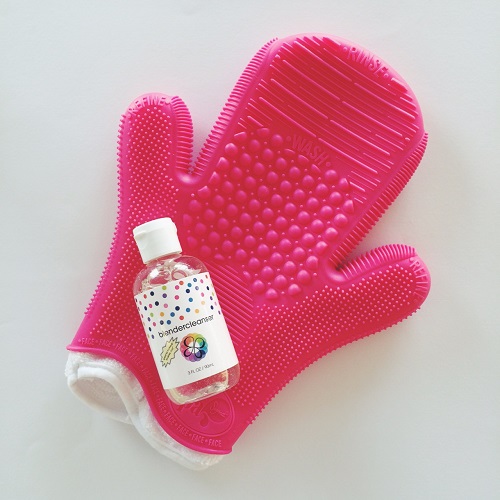 You know you're the world's biggest beauty geek when a silicone brush-washing glove excites you. I've had my eye on the Sigma Spa Brush Cleasning Glove for a couple of months now, and finally decided to bite the bullet and treat myself (I also bought one for Jules for her birthday and she literally squealed when she opened it).
The glove has two sides: one for eye brushes and one for face brushes:
There are variety of textures and surfaces which perform various functions, ie wash, refine, rinse and shape. The glove itself is incredibly soft and much more flexible than I expected it to be – it's actually very comfortable to wear. It comes with a flannel insert so your hands don't come into contact with the silicone at all (it is removable so you can wash it as and when you need to). When it comes to brush cleansers, my heart belongs to the beautyblender solid brush cleanser, which I picked up during my trip to the States in April. This is hands down the best brush cleanser I have ever tried – it leaves your brushes looking like new and it leaves no residue as it rinses out super easily. I haven't been able to track down the solid cleanser locally, but Rubybox stocks the blendercleanser liquid brush cleanser, which I can confirm is just as excellent.
I splashed a bit of water on the glove, popped on the tiniest amount of the cleanser, and got to work with my eye brushes first. In the end I managed to clean about 10 eye brushes using only that one small dollop of cleanser – that's kind of remarkable, don't you think? Next I moved on to the face brushes, and I'll admit, I had to work a bit harder to get them squeaky clean – I had to use a fair few squeezes of cleanser, but then it is always harder to shift foundations/concealers. For the first time in months, my foundation and concealer brushes are completely clean and free from those stubborn stains that I'd been unsuccessfully trying to remove – the OCD clean freak in me is thrilled.
As someone who washes her brushes on a weekly basis, this combination has been a game changer. It makes brush washing fun instead of it being a chore, and I am forever grateful to Sigma for creating this glove and saving my hands from the pruny hell that is bare-handed-brush-washing. This glove was totally worth it for me – it is expensive, yes (R 575) – but it will last me a lifetime and I will use it every week (cost per wash is practically less than zero when you do that kind of math). If you care about keeping your brushes in good condition (which I'm assuming you are, otherwise why are you here?) then this is definitely something to consider if you've got the cash lying around – you won't regret it, I promise. As far as brush cleansers go, the beautyblender option is on the top end of the scale at R159.95 for 90ml, but again, you only need a small amount and it works exceptionally well.
The Sigma Spa Brush Cleansing Glove is available from Turquoise Studios.