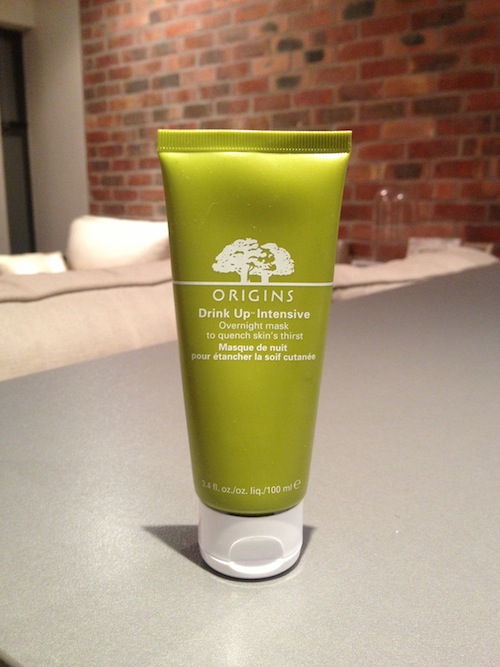 My skin is normally quite dry, but this winter has been particularly brutal – my face has been flaking and peeling as though I've been sunburnt. Additionally, my office is rather chilly so I have had to have the heater on most days, which only aggravates the dryness – but as my grandmother always said: if you are cold you are either very poor or very stupid…I'd like to think I am neither, so the heater stays! I have a de-humidifyer in my office and I drink a shed-load of water throughout the day in an effort to stay hydrated, but I have found myself relying on one product in particular to help counteract the harsh effects of winter this year: the Origins Drink Up Intensive Overnight Mask.
When Jules went to London in April, my shopping list was extensive. I asked her to bring back, amongst other things, two Origins face masks which I had been dying to try – the Mega-Mushroom Skin Relief mask and this one, the Drink Up Intensive Overnight Mask. Regular readers will remember from my rant/review that I was distinctly underwhelmed by the Mega-Mushroom mask (although I still use it occasionally as I cannot bear to let it go waste), but I am pleased to report that the Drink Up Intensive mask is very good indeed. The mask is designed for dry and dehydrated skin types (tick and tick) and works overnight to intensely replenish moisture reserves and prevent further dehydration of the skin. I like to apply it twice a week after a thorough cleansing session using my Clarisonic – the Clarisonic it helps banish some of the flaky bits before I get stuck in with the mask. The mask is lovely and creamy and smells deliciously fruity thanks to the large quantities of apricot oil, mango butters and avocado oil. It is a pale yellow colour but dries clear, and whilst the instructions say to tissue off any excess, but I don't – I apply a generous amount all over, let it sink in, and hop into bed. When I wake up in the morning my skin looks plumped up, hydrated, and (dare I say it) radiant.
I feel a bit guilty recommending this product as it's not available in South Africa and it's not stocked on any of my usual go-to websites that ship here, but it has been my winter skin saver this year and I couldn't not tell you about it. If you find yourself somewhere that stocks Origins products, do yourself a favour and snap up one of these – you can thank me later.