I don't think anyone would argue with the fact that Dermalogica make some of the best quality skincare around. Daily Microfoliant and PreCleanse have long been part of Camilla and my beauty routines, and we've never tried a product that we didn't adore. Everything in the professional-grade line is targeted, highly effective, and free of common irritants – you quite simply can't go wrong.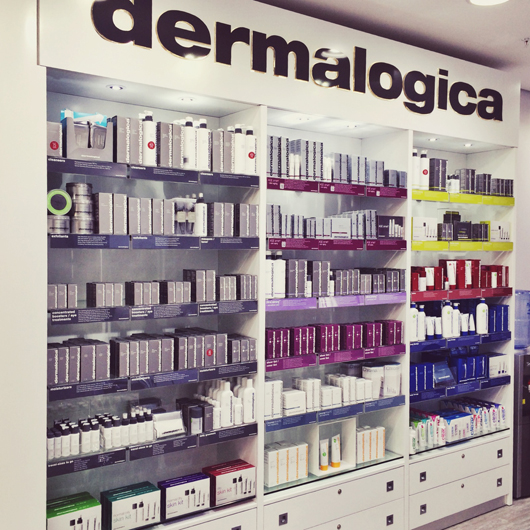 As part of the brand's 20th anniversary in South Africa, they opened a new concept store at the V&A Waterfront in Cape Town, offering the full retail experience as well as a range of skin health treatments. These include Face Mapping® skin analysis, 20-minute microZone® treatments (great for busy professionals) and longer, more intensive facial treatments (only available at the V&A branch).
I was treated to a customised facial a couple of weeks ago and I can honestly say that it was the best one I've ever had. Catherine was extremely thorough, going through every detail of my current skincare routine, talking me through the skin analysis, explaining every step of the treatment and recommending products to me afterwards. I walked away with a bunch of samples to try and not once did I feel under pressure to purchase anything. She even sent me a follow-up email a few days later to see how I was getting on after the treatment which I was very impressed by.
I consider myself to have "good skin" but the Face Mapping® was absolutely fascinating, and Catherine talked me through all the zones of my face and identified areas that needed a little extra TLC. These included some pigmentation on my forehead and the sensitised areas around my nose that she said might be aggravated by over-exfoliation. She suggested that I cut back on my daily exfoliating toner which I have done and the redness is definitely improved.
These are the key products she suggested for me, given that my skin is combination-oily but quite dehydrated, with some sensitivity, congestion and fine lines:
I can highly recommend a visit to the store, and if you do one thing then get your face mapped (it's free!). It is so interesting and I guarantee that you'll learn a lot about the face you think you know!
Dermalogica V&A Waterfront
Shop No. 7208B, Upper Level, Victoria Wharf
Email: v&a@dermalogica.co.za
Phone: +27 21 418 0789
Opening hours: 9am-9pm, 7 days a week
Treatment pricelist: PDF
Update from Catherine: "I customised your treatment completely, so I used different elements of the Age Smart, Ultracalming and Medibac Clearing Treatments to synergistically achieve the best results for your skin according to the Face Mapping results. We have the treatment names for clients to use as a guideline and also to show them that we can treat all skin conditions; in the treatment we customise according to the client's skin's needs."