Have you taken a leisurely stroll through a Red Square store recently? If not, I highly recommend that you do – there are so many fabulous new releases, I couldn't believe my eyes. Usually it takes a while for international releases to trickle down to South Africa, but lately I have noticed that they are hitting the shelves a lot quicker, sometimes within a matter of 2-3 weeks, which is fantastic for us! Last night I wandered around a bit and chatted with all the ladies working behind the counters – they were all so lovely and were happy to give me samples of everything I asked for. I am a firm believer in samples, particularly with high-end foundations – if I'm going to spend upwards of R500 on a foundation, I need to play around with it a bit first to see if it works for me. Here are the counters I made a bee-line for…
Estée Lauder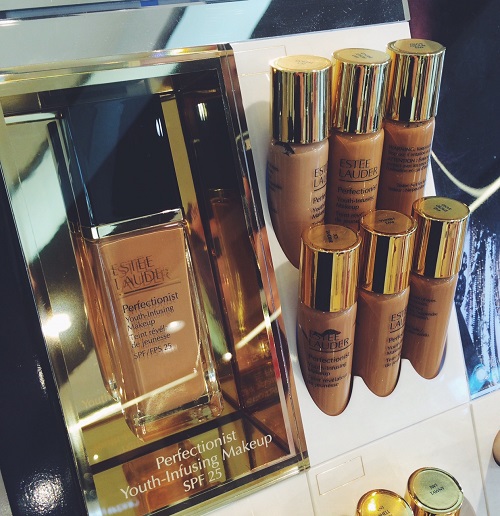 If you haven't yet heard about the new release, Perfectionist Youth-Infusing Makeup, where have you been?? This has gotten rave reviews on both of my favourite overseas beauty blogs (ie Vivianna Does Makeup and A Model Recommends) and is billed as a satin finished, medium coverage foundation that's infused with age-defying technology which helps to brighten and perfect. Sounds good, doesn't it? I will report back soon.
Retails for R585.00.
Bobbi Brown
The Christmas collections have started hitting the counters and you can always rely on Bobbi to deliver the goods. This Deluxe Lip & Eye Palette is completely gorgeous and sadly, limited edition (hurry!). It contains 8 eyeshadows and eight lipsticks – all lovely, neutral colours which would suit most skin tones. This has gone straight to the top of my Christmas Wish List (can one of you make sure to tell my boyfriend? Thanks so much!).
Retails for R1,250.00.
Dior
Another Vivianna Does Makeup-inspired must-have. When it comes to foundations, Dior know their stuff – regular readers will be well aware of how fantastic the Dior Diorskin Nude BB Cream is. I applied Diorskin Star this morning, and although it's early days, I have to say I am impressed. The coverage is good, but the finish is still sheer and luminous – jackpot.
Retails for R680.00.
Kiehl's
When we filmed our September Favourites video with our friend Shahnaz, she was telling us all about the new miracle product from Kiehl's: the Hydro-Plumping Re-Texturizing Serum Concentrate. She said that her skin has never looked better, and she believes that it is all down to this – I'll have what she's having, thank you! Leigh from Lipgloss Is My Life has also done a review, which you can read here.
Retails for R625.00.
Yves Saint Laurent
Black Opium is the latest release from YSL, and after a read this review from A Model Recommends, I knew I had to try it. This is a very sexy fragrance – it's rich and warm and reminds me a little bit of Tom Ford Velvet Orchid. I would say that it's more of an autumn/winter fragrance, as it's quite heavy, but I think you could make it work on sultry summer nights too. I must own this (I know I declared that Velvet Orchid was my One True Love about two weeks ago, but beauty is a fickle beast).
Retails for R695/30ml, R975/50ml and R1,245/90ml.
Chanel
Be still my beating heart. The Chanel Rouge Allure Glosses are just too beautiful for words – the packaging, in particular, left me feeling a little bit weak (you click the top and a gold applicator pops out of the sleek, black casing – très chic) . Lily Pebbles did a fantastic review of them here, and Shahnaz has also written a piece dedicated to Rouge Allure. These glosses come is a beautiful shade range, they contain a fantastic amount of pigment, and they aren't sticky or gloopy in the slightest.
Retails for R505.00.
So there you have it – my favourite picks from Red Square. As I mentioned earlier, I got samples of almost everything, so now I can take my time deciding whether or not to buy the full-sized versions. Don't be scared to ask for samples – that's what they're there for. Happy shopping!