Purple eye make up in winter is one of my favourite things – it suits the mood of the season perfectly, and looks pretty great on everyone. I can understand why people shy away from it though – no one wants to look like they've gone 10 rounds with Mike Tyson – but if applied correctly, it can look absolutely stunning. Here are my top five favourite purples…
MAC Eyeshadow in Sketch
I just adore this deep, plummy purple. I like to apply Antiqued (see below) all over the lid, and then apply Sketch through my socket and along my lower lashline. I then take a little bit of black liner (I am currently loving the Revlon Colorstay Eyeliner in Black) along the top lashline to break the colour up a bit, as solid purple can be a little overwhelming. These colours work really well together to create a smokey, wintery effect. Love.
MAC Eyeshadow in Antiqued
This is more of a russet colour than purple, strictly speaking, but it's so beautiful that I couldn't leave it out. The colour in the pan looks quite strong and red, but when you apply it, it creates a lovely rusty, gold colour, as you will see from the swatches below.
MAC Eye Kohl in Bordeauxline
This is not a product that I would have naturally gravitated towards, but when I saw it on my beautiful friend Rosie, I knew I had to have it. This liner is gorgeous worn on its own for more of simple look, or you can pair it with other shadows for more of a ramped-up look. For evenings out I will apply this all along my top and bottom lash lines and then apply a little bit of black lined on the outer corner of my eye just to add a little bit of definition – it works like a dream. I particularly love it on the bottom lashline as it really brings out the blue in my eyes.
L'Oreal Mega Volume Miss Manga Mascara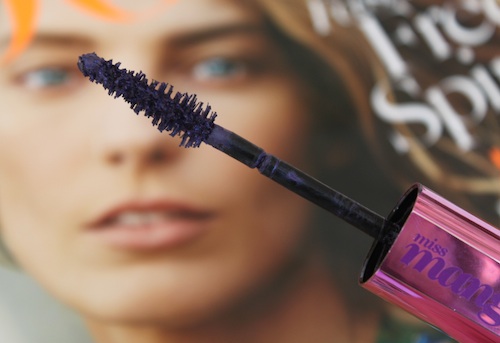 Jules mentioned this in her May Favourites, and with good reason! I had seen it in store but never for a moment thought to buy it because (a) this isn't the 80's and (b) I am not Melanie Griffith. However I have to eat my words because this mascara is RAD and I have been using it almost every single day since I bought it. Although it looks rather bright on the brush (and in the swatches below), it actually goes on quite dark, and you only really see the purple when the light catches your lashes. It's wonderful quality too – so smudging, flaking of clumping. A big thumbs up from All Dolled Up.
Sigma Eyeshadow in Russet from the 'Warm Neutrals Palette'
Jules and I both created looks using this palette, so you can see me use 'Russet' in action here. I like to wash a little of this over my lid for a more casual daytime look, or really pack it on and load on the black liner for an evening look. I find that this colour really compliments my colouring and people always comment on how blue my eyes look when I wear it.