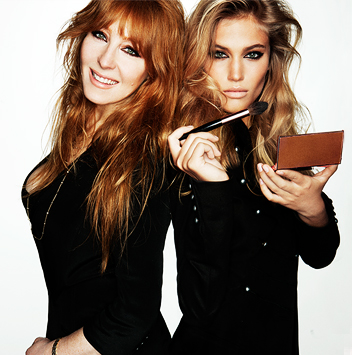 Happy Friday beauties! What would Friday be without a little product lust, am I right? Regular readers will be more than familiar with the deep love that Jules and I share for the fabulous Charlotte Tilbury, and when she announced the release of her eponymous make-up line, we both squealed with delight. Following on from her extremely successful Rock 'n' Kohl collaboration with Selfridges (which Jules wrote about here), she dazzled us with a collection so perfect, it's hard to know where to start! Instead of taking the conventional route and releasing a generic make-up line, she took a different approach: she created ten signature looks, complete with how-to videos (all of which are excellent and you can watch them here) and then formulated a tailor-made 'kit' for each look – genius! You can, of course, buy the products separately, but I think that packaging all the products you need for your look into one kit is a really clever idea (I always was a marketers dream). For example…
Have a look at the ten signature looks below – my favourites are The Golden Goddess, The Dolce Vita and The Rock Chick. In her videos Charlotte creates a subtle version of each look for the daytime, and a more ramped-up version for the evenings, which is great because you can really see how to use your products to create more/less impact…whatever your little heart desires!
Charlotte starts off every look with her acclaimed 'Magic Cream', which I have wanted for the longest time…that was until I saw that Anna from Vivianna Does Makeup wasn't a fan because it was too heavy and greasy for her. Disappointing, but also a bit of a relief because at £70 a pop, it would have been a very expensive mistake to make. Once the skin is prepped, Charlotte then proceeds to apply 'Wonderglow', her beauty flash balm. As someone constantly on the hunt for the perfect dewy, glowy complexion, this really piqued my interest. In Charlotte's own words, Wonderglow "is powered by a breakthrough Fluorescent Core Light Diffuser that cleverly steals UV light from its surroundings and re-emits it as skin luminosity to disguise and transform drab, sleep-deprived skin [note: what does that even mean?]. WONDERGLOW is a visionary new anti-age hybrid. It's a cross between an anti-age elixir and a complexion-enhancing light diffuser to give your skin an instant "spotlight" effect." Now tell me you don't want it. Go on, tell me. Yup, I thought as much. If I could buy one thing and one thing only from this line, it would be Wonderglow because, I mean, who doesn't want to look like they are lit from within? I know I certainly do.
Last but not least, Filmstar Bronze and Glow – the highlighting and bronzing duo which allows you to sculpt your features to play up what you like, a down play what you don't. Although I will continue to proclaim my love for NARS Laguna, I can't help but quietly lust after this beautiful compact that promises to fulfill all your contouring needs…
Obviously it goes without saying that I actually want everything, but it would take you until Christmas to get through this post if I went into that much detail. Please do go and have a look at Charlotte's website  and explore the range – there is so much on offer, you owe it to yourself to have a browse. Whilst you can't get the products shipped to SA from Charlotte's website, you can from Net-a-Porter! This is almost unheard of, especially considering that Net-a-Porter won't even ship these products to the States! I'm not sure if this is an oversight on their part, but I'm not asking questions – go forth and shop, pretties!
Images via