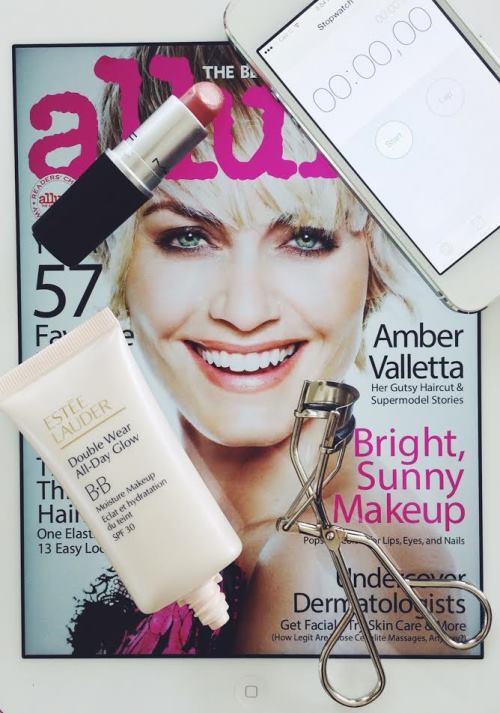 Following on from a post I read recently on Lily Pebbles' blog, I decided to time myself to see how quickly I could do my makeup. It usually takes me about 15-20 minutes each morning, but that's mainly down to the fact that I absolutely love the ritual of applying my makeup – I never rush. However, in the interest of getting out of the door a little quicker today, I decided to see how long it would take if I streamlined my routine a little. Here we go…
Foundation // 1:27
I applied my new Estèe Lauder Double Wear All Day Glow BB using a dampened Beauty Blender. I am trying to find a way to make this foundation work for me – I have tried brushes and fingers, but neither of those worked particularly well. So far it seems that applying it using the Beauty Blender gives the best results.
Under-Eye Concealer // 0:56
I used my NARS Radiant Creamy Concealer to minimize my under eye circles – I applied it using the doe foot applicator and blended it in using my Beauty Blender.
Blemish Concealer //1:10
My chin has been exceptionally spotty recently and unfortunately nothing seems to be helping  – my only real option is to cover the blemishes as best I can. I applied my trusty Laura Mercier Secret Camouflage Concealer using a small concealer bush, and blended it in using my (you guessed it) Beauty Blender.
Eyebrows // 2:32
I never realized I spent that much time on my brows! I use the Soap & Glory Archery Brow Tint & Precision Shaping Pencil (truly fantastic product) to fill in the gaps and elongate my brows, and then I set them in place using MAC Brow Set.
Eyeshadow // 0:40
I popped on a bit of MAC Paintpot in 'Groundwork' using my fingers and then blended the edges using a MAC 217 Blending Brush.
Eyeliner // 1:10
I lined my top lash line with the Revlon Colorstay Eyeliner in 'Black' and smudged it out using my No 7 Smokey Eyeliner Brush. I then applied a little of my MAC Technakohl Liner in 'Photogravure' along the bottom lash line and blended it using the same brush.
Mascara // 1:07
One coat of my Estèe Lauder Sumptuous Volume Lash Multiplying Volume Mascara followed by a second coat using the purple L'Oreal Mega Volume Miss Manga Mascara. I also used Miss Manga on my bottom lashes.
Lips // 0:12
Quick swipe of lip balm: I am loving the Blistex Nurture & Nourish Lip Protectant (it smells like strawberry Nesquik – delicious), then lashings of MAC Patisserie – my new favourite 'my lips but better' lipstick.
Total time: 9:51
So tell me, how long does it take you to do your face in the mornings? I think a sub-10 minute time is very impressive (well, for me, anyway)!