It's no secret that Camilla and I like to shop. Like, a LOT. We're also huge fans of online shopping and you should be too – it's efficient, convenient, offers more variety and is often cheaper than fighting with the hoards in the mall. So we're always pleased to hear about new online beauty stores, especially when they're local.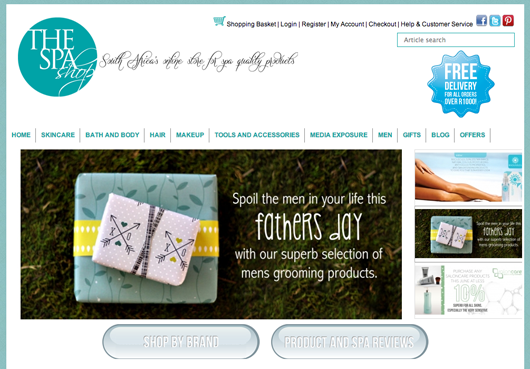 The Spa Shop sells spa-quality products (think Dr Hauschka, RapidLash and SpaRitual) for both men and women along with complimentary skin and beauty advice, lots of special offers, free samples, product reviews and free delivery for orders over R1000. You can also buy gifts and hampers which makes a nice addition to the usual product line-up. Owner Sarah, a self-confessed beauty junkie with 15 years of experience in the industry, shared her best-sellers with us:
1. BeautyBlender
Honestly our top seller, this little pink sponge works wonders for even foundation application. You use it wet, and actually waste less foundation than on usual foundation sponges. You can also purchase the cleanser to keep it clean and free of bacteria. Shop now »
2. RapidLash
Especially for lash extension wearers, this is great to use whilst having lash extensions or when they are taken off or just on its own. Stimulates hair growth and increases length and volume. Can also be used on eyebrows.
Shop now »
3. OYA Mama Preggie Balm
For our glam preggie ladies this affordable locally produced product to help with that stretch, but without the stretchmarks. Preggiebalm can also be used on dry skin, cuticles, eczema, etc.
Shop now »
4. Kimberly Grace My Miracle Root Nutrition
Another locally produced product, this is a fab hair treatment is ideal for black hair especially those wearing braids and weaves, but also for all hair types as a hair treatment.
Shop now »
5. Balm Balm
Balm Balm is an organic brand from the UK and great for sensitive skins – for body and face, but also for moms and babies. They have a wide range of balms.
Shop now »

They are also running a competition on Facebook until the end of this week where you can win a R500 gift voucher. Well, what are you waiting for? Enter now!
This is not a sponsored post.