So, I'm off to the States in a few weeks and I've obviously been compiling a Sephora shopping list for months. The best part is all the Christmas gift sets that come out at this time of year so there are quite a few of those on the list, along with some cult favourites and recommendations from other bloggers that I'm keen to get my hands on. Here are the products I'm lining up: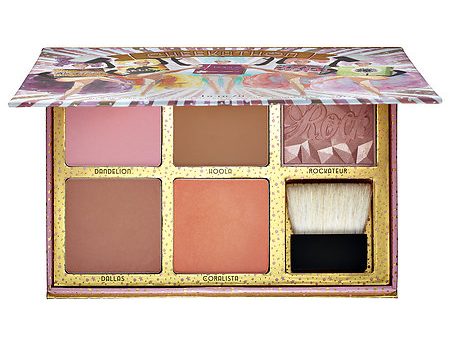 I've had this in my sights for a while now because it's insanely good value and they don't stock it in SA. The pans in the palette are all full size, so you're essentially getting five bestselling Benefit blushes and bronzers for the price of two. Of the five shades, I already have Coralista and Dallas (although the latter is almost finished), and have always wanted Rockateur, Hoola and Dandelion, so I feel like it's the ideal collection of shades for me.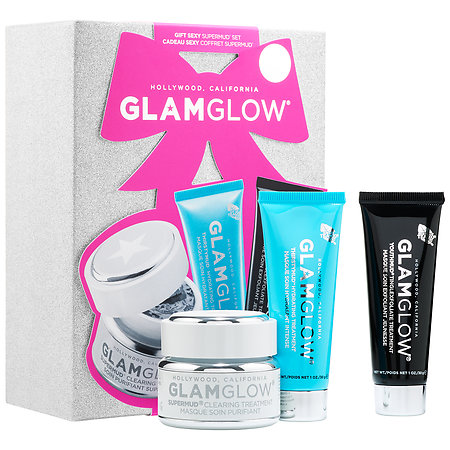 Another great value gift set, this one contains a full size SUPERMUD Clearing Treatment (my favourite of their masks) as well as deluxe size samples of the THIRSTYMUD Hydrating Treatment and YOUTHMUD Tinglexfoliate Treatment. At $69, it's the same price as a single, full size mask so again you're getting quite a lot of extra product for free. I love using face masks at the best of times, but even more so when I'm traveling and my skin needs a little extra TLC, so I reckon these will come in super handy while I'm away.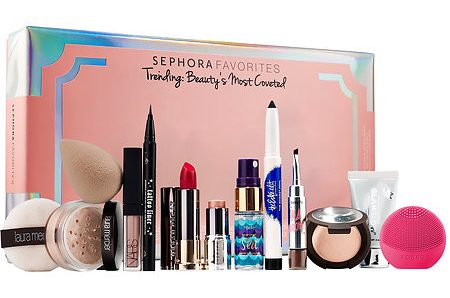 This epic Sephora Favourites kit is currently out of stock online but I'm praying it comes back in before Christmas because the products are amazing! I actually have to list every single one because it's so good: beautyblender Nude, Becca Shimmering Skin Perfector Pressed in Moonstone (my favourite shade), Benefit Ka-Brow!, Cover FX Enhance Click in Bubbly (a cream highlighter), The Estée Edit Kohl Shadowstick, a Foreo Luna Play, Glamglow Supermud, Kat Von D Tattoo Liner, Laura Mercier Translucent Loose Setting Powder, NARS Cosmetics Radiant Creamy Concealer, Tarte Marine Boosting 4-in-1 Mist and Urban Decay Vice Lipstick in 714. Insane.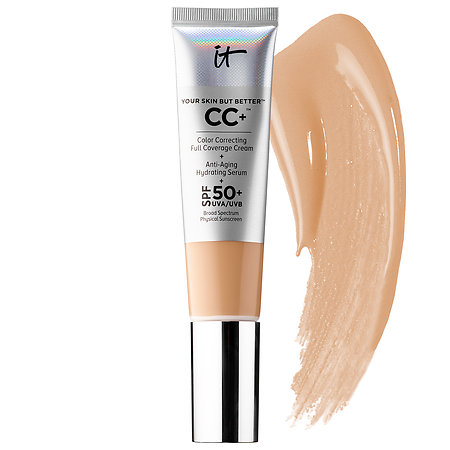 This is another product that I've been wanting to buy for a while, and Tori's recent review has done little to curb my enthusiasm for it! The finish is apparently luminous and glowy with medium-full coverage and an impressive broad spectrum SPF of 50. The formula is also designed to be hydrating so it really does tick all my boxes. Another thing I love the look of is the pump-top plastic packaging which is ideal for traveling and storage. By the way, I also have my eye on the Naturally Pretty Vol. 2 Palette, although that's only available at Ulta.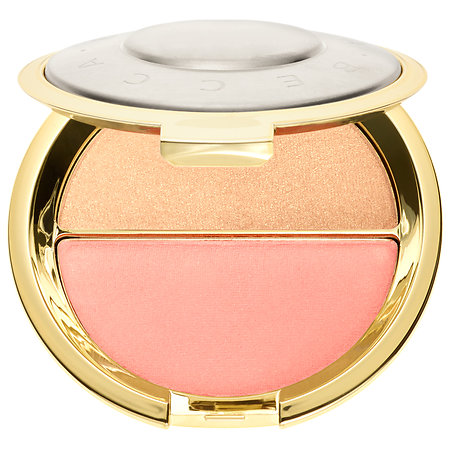 I wasn't particularly taken by the Champagne Pop hype this year, mostly because I think the shade will be a bit too golden on me, plus it's pretty expensive for what it is. My all-time favourite highlighter is ColourPop Lunch Money which is $8, so it seems crazy to spend $38 on a single shade. The Split Pans however seem like a much better option, because you get two shades (obviously each is half the size of a full pan) for that price. I'll swatch them when I get there but at the moment I'm leaving towards the Champagne Pop/Flowerchild combo because I love the look of the shades. Prosecco Pop/Amaretto also looks gorgeous.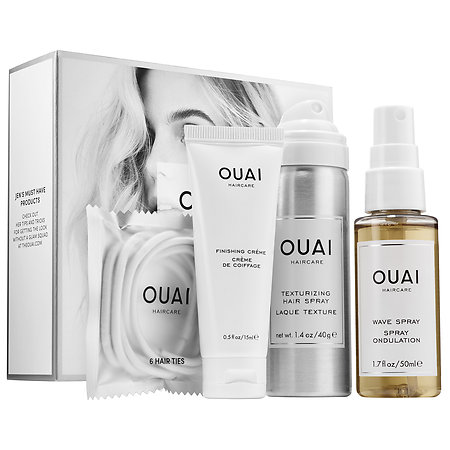 I'm all about amping up the volume and texture in my hair, so this sampler kit of Jen Atkins' new range is a no brainer for me. The set contains a travel size Wave Spray, Texturizing Hair Spray and Finishing Crème, as well as the random addition of six hair ties (which are unlikely to be used because I'm 100% devoted to invisbobble). It will also save me from trekking all of my huge bottles of mousee, salt spray, thickening lotion and hair spray all the way to America, and save me some luggage space and weight (which I'll fill with new things, obvs) in the process… Perfectly logical.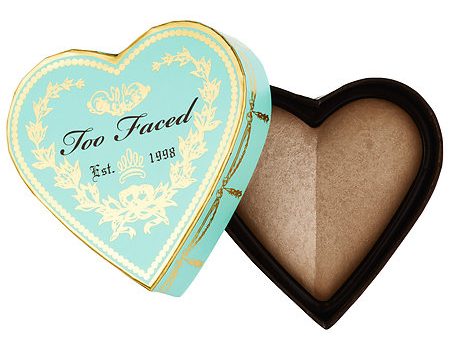 Remember what I said about never having too many bronzers?! I fully expect this one to be too shimmery for me, but the reviews I've seen and read have all said that it's not as sparkly as you think it's going to be. Too Faced make some amazing cheek products – their matte Milk Chocolate bronzer and Love Flush Blushes are gorgeous, so I remain hopeful that this will be too. I'm actually wondering if it will be similar to my Hourglass Ambient Lighting Bronzer, which gives the skin a radiant glow but without any glitter in sight.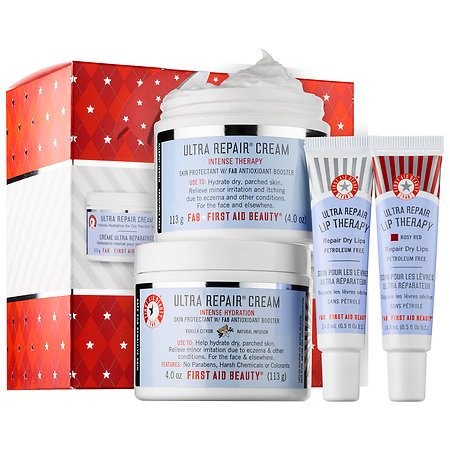 You'll know by now that I'm a die-hard fan of the F.A.B. Ultra Repair Cream, it's just the best moisturiser I have ever used. The Ultra Repair range is designed to be deeply hydrating (without being greasy) and calming, plus it contains an "Antioxidant Booster" to help fight free radical damage. Part of my trip is going to be spend skiing in some of the coldest parts of the country, so I think my skin is going to take a serious beating. Sephora has loads of F.A.B. sets but this one caught my eye because it contains some products that are essential to protecting cold-ravaged skin: body cream and lip balm. Each comes in two variants: the original Ultra Repair Cream (which I use on my face) and Ultra Repair Cream Intense Hydration Vanilla Citron (a scented version that I would use on my scaly limbs), and then the original Ultra Repair Lip Therapy and a tinted "Rosy Red" version. I'd also like to pick up the Facial Radiance Overnight Mask, a "rich gel cream that is formulated with a powerful combination of ingredients to brighten, hydrate, and deeply nourish the skin". Sounds fabulous.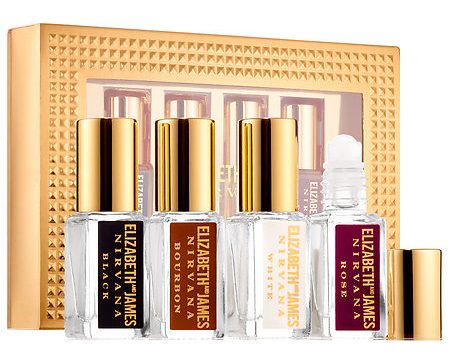 Almost every beauty blogger I follow raves about the Elizabeth and James Nirvana Black and White fragrances, and the brand has just released two new variants: Nirvana Rose and Nirvana Bourbon. This travel-size sample set contains one of each, so it's a great way to try all four fragrances and see how they respond to your skin and wear day to day, before potentially making the commitment of a full bottle. Every one of them has a seriously delicious-sounding note description, but Nirvana Rose sounds the most like something I would really like: "a provocative blend of sultry vanilla bourbon, oakwood, and a hint of tuberose for a bold, oriental-woody scent with intoxicating confidence". Yum.
Let me know what would be on your list if you were going to Sephora!
P.S. Just added this list up and it comes to $400 (R5500). LOL. *warms up credit card*