I, like many of you I'm sure, was completely inspired by Camilla's post on the Top 10 Basics last week, and it got me thinking about what the alternatives are at "drugstore" prices i.e. stuff you can buy at Clicks or Dischem. So I've put together a list of beauty essentials that are easy to find and won't break the bank. They will be split into two categories – face (today) and eyes & lips (Thursday). Enjoy!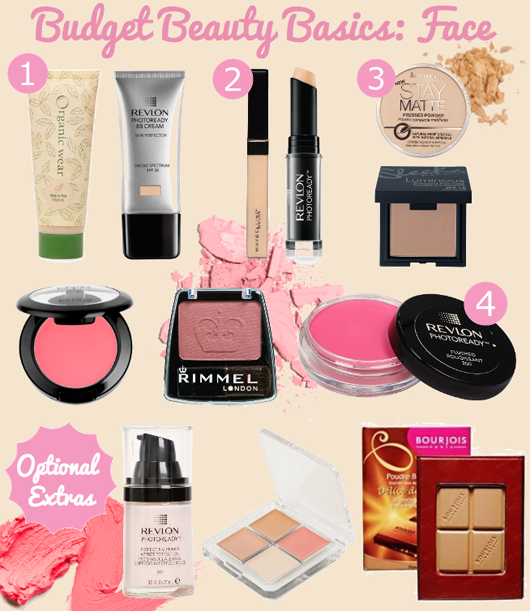 1. Tinted Moisturiser
Camilla has already mentioned two great drugstore foundations (Bourjois Healthy Mix Serum [R176] and Revlon Nearly Naked [R169]) so I'm going with some picks for tinted moisturiser. The sheer coverage is lighter and more comfortable to wear and ideal for weekends or great skin days.
Physician's Formula Organic Wear Tinted Moisturiser (R199)
Revlon PhotoReady BB Cream Skin Perfector (R149)
2. Concealer
The most important things to consider when buying a concealer are pigmentation (does it have enough to cover the darkness or blemish?) and longevity (will it crease or wear off too quickly?). These two hit the mark for me – the Maybelline one is great for under the eyes, while the Revlon stick concealer will cover unsightly spots and help even out skin tone in small areas.
Maybelline Fit Me Concealer (R105)
Revlon PhotoReady Concealer (R139)
3. Powder
Lots of us suffer from oily skin or an extra-shiny T-zone, and a good, finely-milled translucent powder can make all the difference between skin looking glowy instead of greasy. Rimmel's version is subtle and mattifying, while the Sleek option has a subtle sheen, making it perfect for the evening or those with dull, dry skin.
Rimmel Stay Matte Pressed Powder (R100)
Sleek Luminous Pressed Powder (R99) – available at Zando and Foschini
4. Blush
This is a complexion essential for me – nothing lifts a look quite like a subtle flush of colour on the cheeks. Cream blush is convenient and usually highly pigmented so a little goes a long way while powder blush is more subtle and long-lasting which means a more natural look that requires fewer touch-ups.
NYX Rouge Cream Blush (R100)
Rimmel Lasting Finish Powder Blush (R70)
Revlon PhotoReady Cream Blush (R110)
Optional Extras
Revlon PhotoReady Perfecting Primer (R170)
Topshop Face Sculpting Palette
Bourjois Délice de Poudre Bronzing Powder (R140) – available at Style36 and soon at Clicks
Do you have any budget beauty buys for the face to recommend?