Let me start by saying that I'm not really a bath girl. Don't get me wrong, I love a good wallow, but nothing beats the efficiency of a shower for me. In a world where I never seem to have enough time, I rarely have the luxury of spending half an hour unwinding in the tub. But sometimes, especially when it's cold outside and my back is aching after a long day spent at my desk, I have the house to myself and I'm in the mood to be pampered, then I'll make an exception.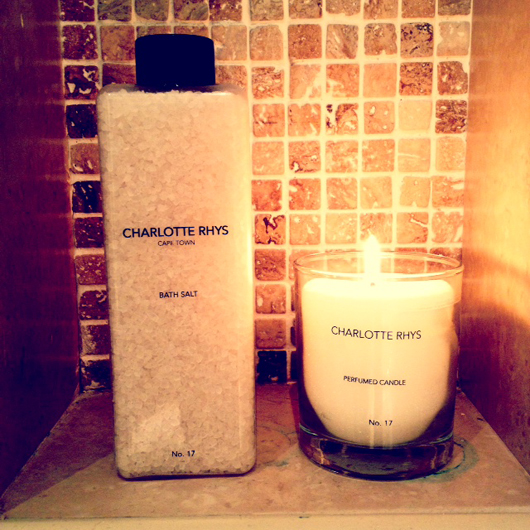 Well, last night was just such an evening and my goodness it was glorious. And it was made all the more wonderful by the addition of some beautiful goodies from Charlotte Rhys, which were given to me as a thank you present by some special friends earlier this week. The items in question were some bath salts and a scented candle with a beautiful silver lid, both in Charlotte Rhys' signature "No. 17" fragrance.
Now, I unfortunately have no idea how to explain the smell to you and it doesn't exactly have a nice descriptive name – not like some of their other ones, like "Vanilla Cream" or "Key Lime & Ginger" (*drool*). All I know is that I lit the candle and chucked some bath salts into the water, left to go wash my face and apply a face mask in the other bathroom (long story about a broken tap) and returned to find the room filled with steam and smelling like an expensive spa. DELICIOUS.
Charlotte Rhys have a handy online shop where you can browse their other lovely products, which are made from the finest natural, botanical and organic ingredients, are free of harmful chemicals and dyes, and are approved by Beauty Without Cruelty. Natural, yummy-smelling and bunny-hugging to boot – that's a beauty triple-threat right there.
Wishing you all a happy weekend! Don't forget you have until midnight on Sunday to enter our amazing Revlon competition to win a R2000 Nearly Naked hamper 🙂