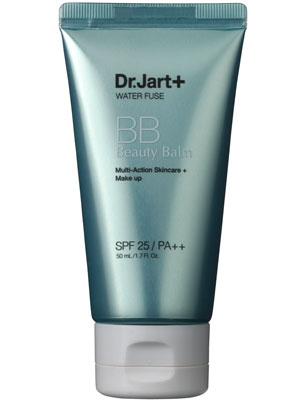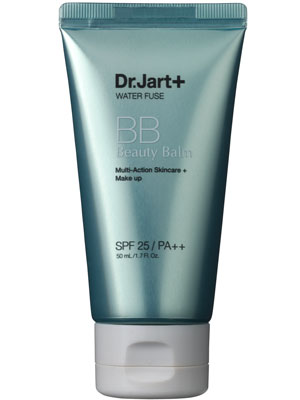 This was one of the products that arrived a few weeks ago, courtesy of our dear friend Charlotte who came to visit from London. Dr Jart+'s selection of BB creams have been bestsellers in their home country of Korea since their launch in 2004. BB creams were initially created to combine skincare and makeup  – they were designed to help improve the skin's texture and to aide the recovery of scarring following surgery. There are 4 in the range, catering to different skin types and concerns. I went for the Water Fuse which claims to be oil free yet hydrating, keeping the skin water levels balanced for a dewy, fresh look and protected with SPF 25.
Look and feel: The more authentic BB creams tend to be thicker and usually have a slightly grey tone to them. This is because the shades are chosen with Asian skins in mind,  and can mean that finding one suitable shade for western skin tones can be tricky. Dr Jart+ comes in one shade only, and whilst is does look deceivingly grey, it adapted to my skin tone and blended in beautifully. That said, I do think that those with either very pale or very dark skins would struggle with this product.
Coverage: The coverage is lighter than a traditional tinted moisturiser, but heavier than other BB creams that I've tried. It is lightweight yet pigmented, and instantly eases dullness and makes the skin look refreshed and awake. Although it is quite sheer, it is definitely buildable, so if you want a heavier finish, just apply another layer.
Longevity: Excellent – it stayed put for about 12 hours. I found it to be really hydrating without being at all greasy, and I didn't need to powder it at all.
Value for money: Definitely. It cost me £12, which works out to approximately R170. It does cost a little more than your average drug-store BB cream, but if I compare it to the Garnier BB Cream, Dr Jart+ blows it out of the water.
Image via