If you're a serious skincare addict like Camilla and I then you probably already know about Estée Lauder's Advanced Night Repair, which has long been a favourite of beauty editors the world over. It's known for being the best anti-ageing serum on the market, and it has 30 years' worth of dedicated fans who will testify that it really does leave skin looking smoother, younger and more radiant.
The problem is that, like many high-end serums, it's extremely expensive. I would argue that although it's pricey, it's still great value for money because a bottle lasts forever and the product is extremely effective, but at the end of the day you're still shelling out nearly R600 for 30ml of the stuff. To make the expense a little easier to bear, Estée Lauder periodically offer a Free Gift with Purchase, which certainly eases the pain plus you get LOADS of great new goodies to try. This month's gift includes a lipstick, lip gloss, cleanser, mascara, moisturiser and eye cream – that's a lot of bang for your buck!
This offer is currently available until 31 March 2013, exclusively at Edgars and Red Square stores. You qualify with the purchase of any two or more Estée Lauder products, one of which must be a skincare product (so it doesn't even have to be ANR).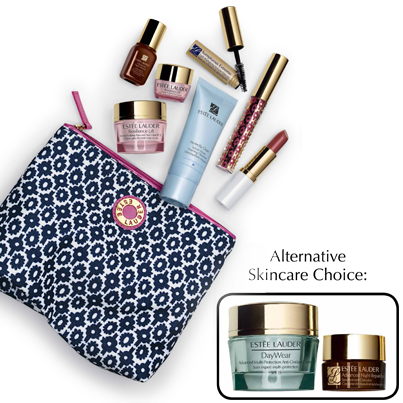 P.S. Estée Lauder have a wonderful new local website where you can shop other classic skincare and make-up products like Idealist, Double Wear foundation and MagnaScopic mascara. There's free delivery for orders over R750 plus a free sample (which you can choose) with every purchase.
Image via. This is not a sponsored post.