Anyone who has ever complimented Camilla on her skin would have heard her rave about Environ; it's a brand that she has used consistently for years and a range that has completely transformed her skin. Designed by industry legend, Dr. Des Fernandes, and researched and developed in South Africa, Environ is a professional line (which is why you can't buy it online – you need to have a consultation so the right products can be recommended for you) based on the power of vitamin A to slow the signs of ageing. You can find out more about the fascinating science behind the brand and their unique Vitamin Step-Up System™ on the Environ website but today I'm going to introduce you to their latest innovation: a targeted approach to dealing with the specific skin conditions of ageing, sensitive and dry skin.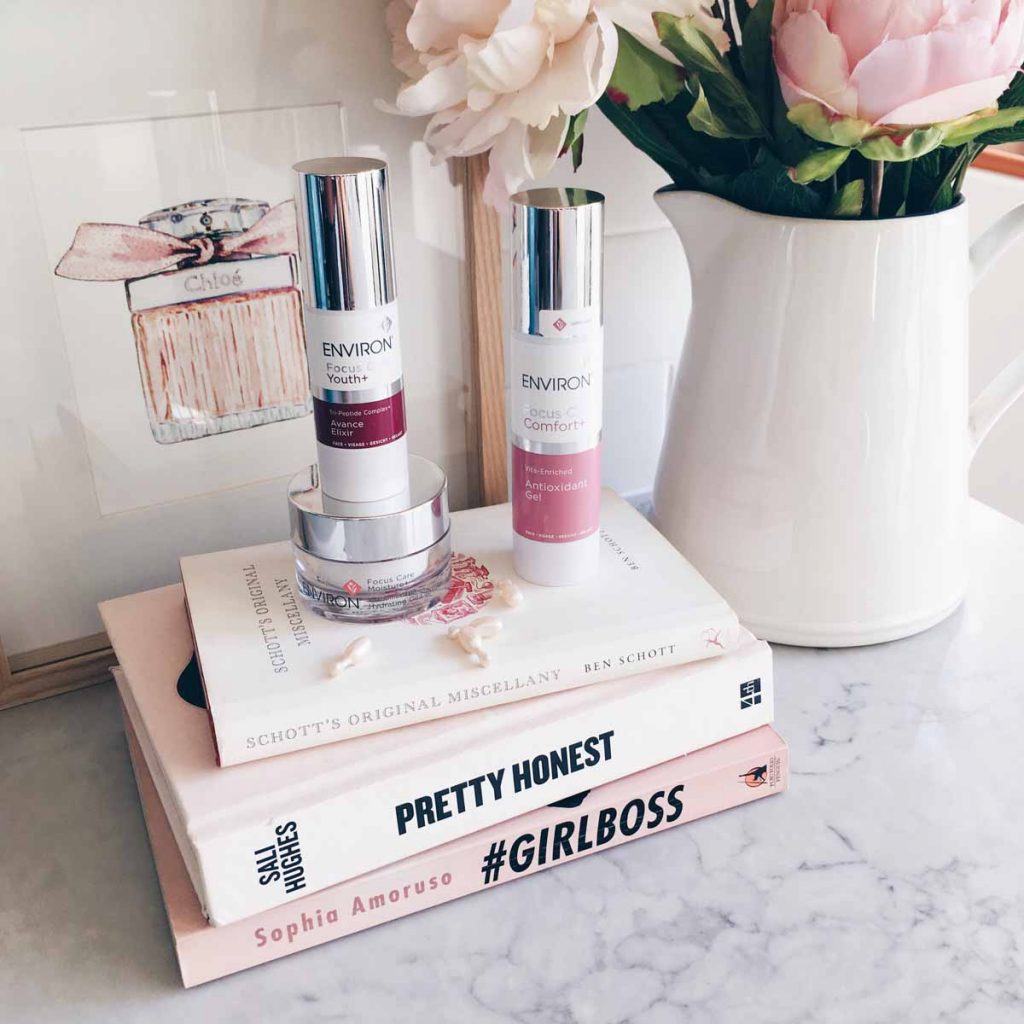 The new Focus Care™ range contains powerful formulations with intelligent ingredient combinations designed to be used in conjunction with the rest of the Environ system to achieve three (soon to be more) issues:
Focus Care™ Youth+ assists in creating the appearance of younger-looking, smoother skin
Focus Care™ Moisture+ delivers moisturising benefits to dull, dry and dehydrated skin
Focus Care™ Comfort+ focuses on relieving and soothing sensitive skin
I started using three products from the new range at the beginning of September and after more than ten weeks of testing, I am now ready to tell you my thoughts.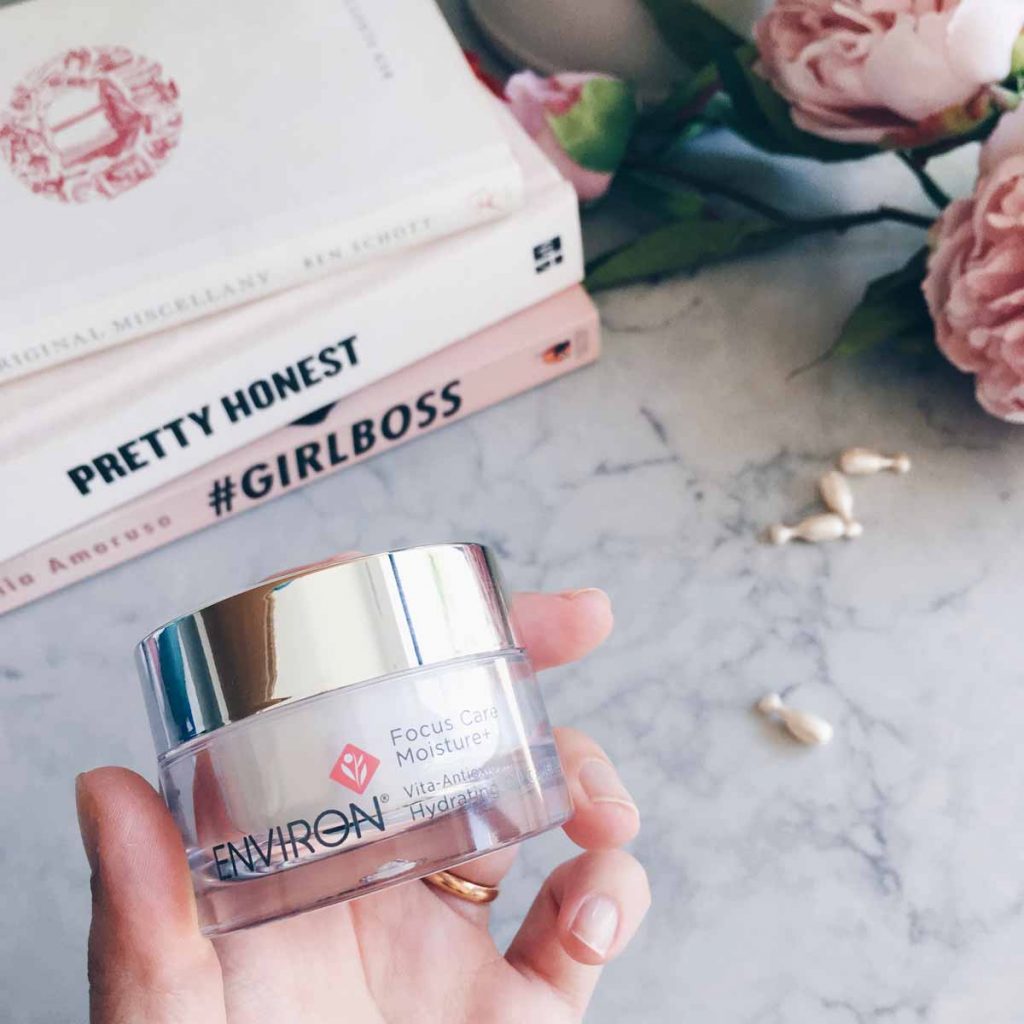 Focus Care Moisture+ Vita-Antioxidant Hydrating Oil Capsules
KEY INGREDIENTS
Retinol (vitamin A)
Ascorbyl Tetraisopalmitate (vitamin C)
Tocopheryl Acetate (vitamin E)
Dimethylmethoxy Chromanol (Lipochroman® – vitamin E)
Rosmarinus Of cinalis (Rosemary) Leaf Extract
Camellia Sinensis (Green Tea) Leaf Extract
Beta Sitosterol
This is unsurprisingly my favourite product of the three I was given to try, as it is specifically designed to soothe dehydration and even though my skin leans towards being oily more than dry, I didn't find the formulation heavy or uncomfortable. The single-dose capsules contain the perfect amount of product for one application and although the texture is that of a fairly rich oil, I find it sinks in completely after a few minutes – I can even use another moisturiser on top in the evening without my face feeling greasy. Apart from being wonderfully hydrating, the antioxidant content (namely vitamins A, C, E and green tea) also tackle free radicals which contribute to photoageing AKA pigmentation and sun damage.
RRP: R730 for 30 capsules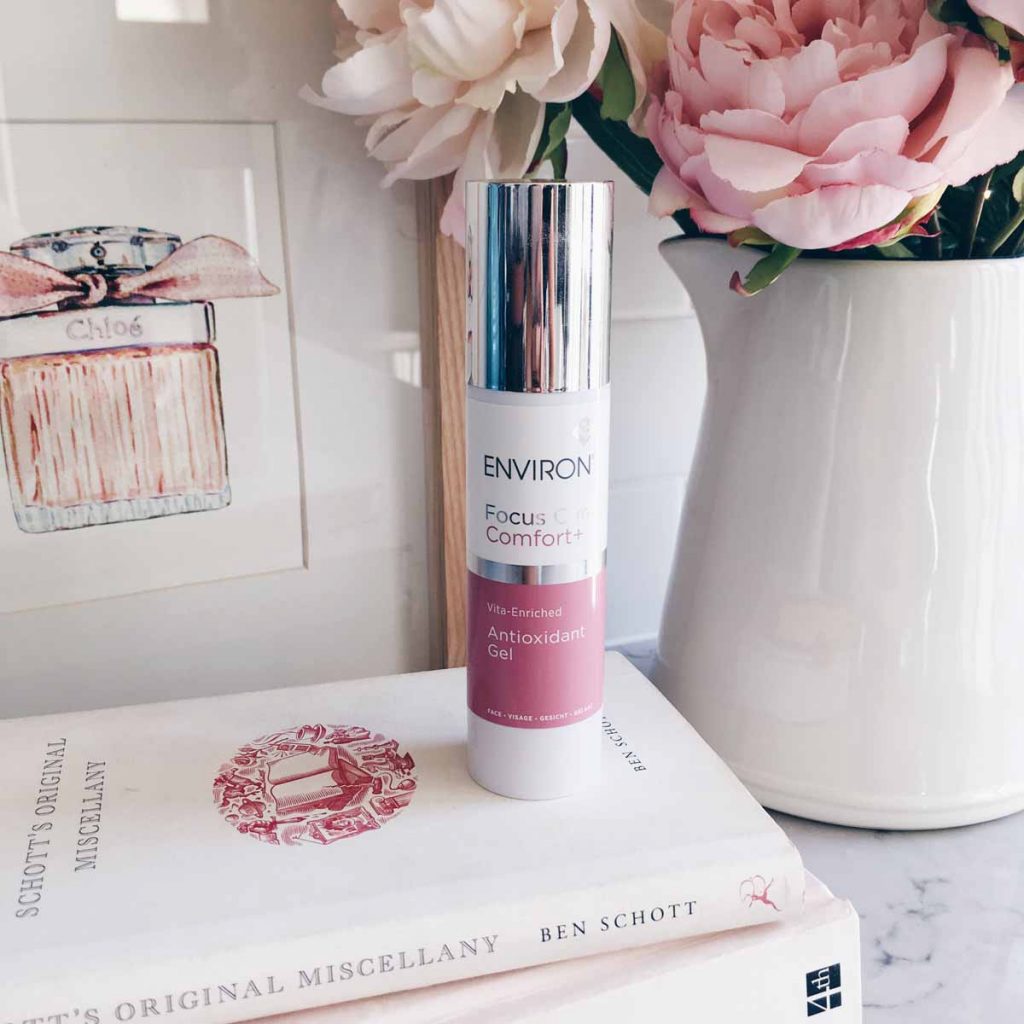 Focus Care Comfort+ Vita-Enriched Antioxidant Gel
KEY INGREDIENTS
Beta-Carotene (vitamin A)
Ascorbic Acid (vitamin C)
Ascorbyl Tetraisopalmitate (vitamin C)
Tocopheryl Acetate (vitamin E)
Panthenol (pro-vitamin B5)
As the self-appointed poster child for antioxidants, this product was also very easy for me to get on board with. It's interesting to me for a couple of reasons: firstly, it's a gel which makes it quickly absorbed and easy to sandwich between lighter hydrating serums and richer moisturisers and secondly, it uses beta carotene instead of retinol – the plant form of vitamin A which is much less likely to irritate more sensitive skin. My favourite texture for an antioxidant serum is the very liquid, almost watery formula of products like SkinCeuticals C E Ferulic and I find the rich, oily-feeling base of something like the Hylamide C25 Booster or The Ordinary Resveratrol 3% + Ferulic Acid 3% a bit heavy, but this product sits comfortably somewhere in between. It's extremely difficult to measure the effectiveness of topical antioxidants so my advice is to go for a brand that you trust and Environ is a no-brainer.
RRP: R435 for 50ml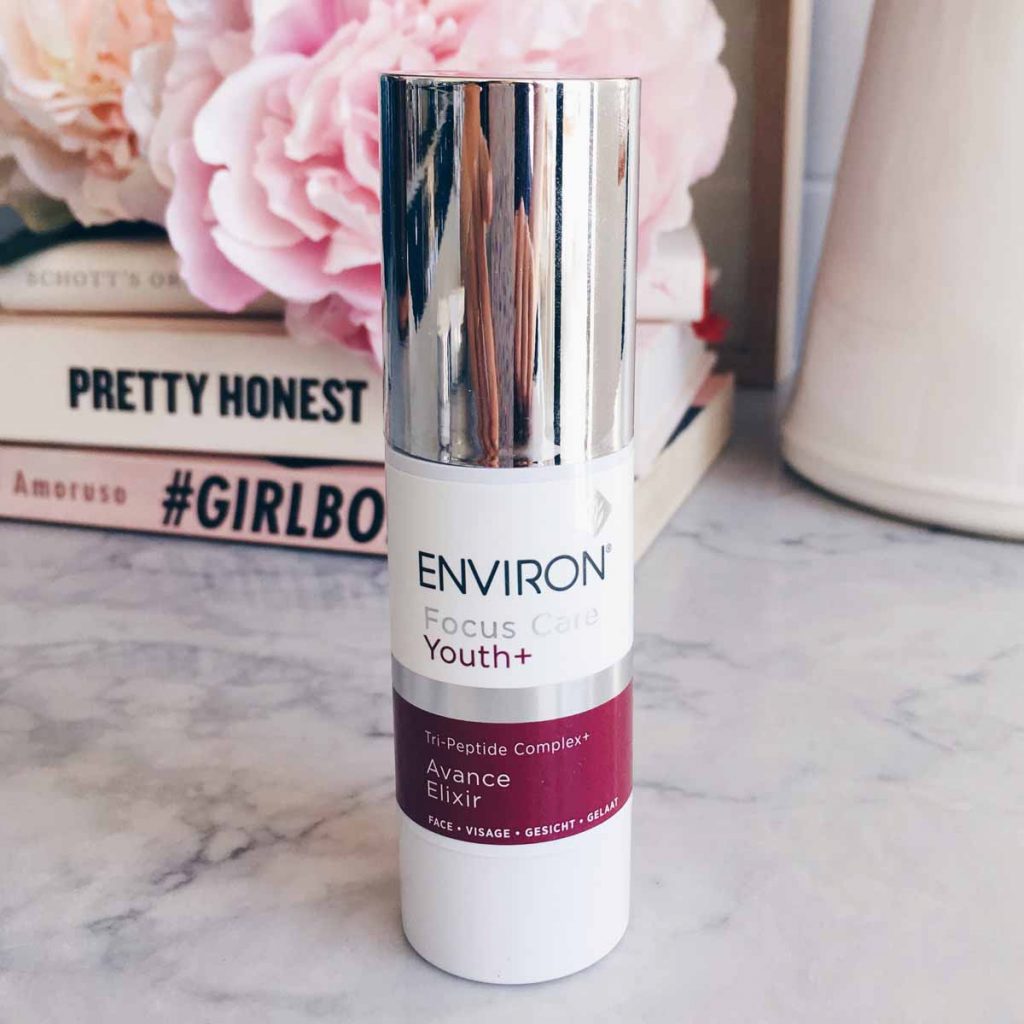 Focus Care Youth+ Tri-Peptide Complex Avance Elixir
KEY INGREDIENTS (don't worry, I don't know what any of these are either!)
Glycerin + Astragalus Membranaceus Root Extract + Atractylodes Macrocephala Root Extract + Bupleurum Falcatum Root Extract (Měiritage™)
Palmitoyl Tetrapeptide-7 + Palmitoyl Oligopeptide (Matrixyl® 3000)
Pseudoalteromonas Ferment Extract + Hydrolyzed Wheat Protein + Hydrolyzed Soy Protein +
Tripeptide-10 Citrulline + Tripeptide-1 (Trylagen®)
Hydroxypropyl Cyclodextrin + Palmitoyl Tripeptide-38 (Matrixyl® Synthé 6®)
This serum is designed to work on two specific skin problems: uneven skin tone caused by oxidative stress (UV radiation and pollution) and weakened skin structure caused by the unstoppable marching of time. Three "powerful peptide complexes" are responsible for the latter, building resistance which leads to stronger, firmer skin, while Měiritage™ (a unique blend of extracts from Chinese roots used in traditional medicine, apparently) helps to improve radiance. This is a tricky one for me to review because it's the product I'm struggling the most to find a consistent place for in my routine. I also rely quite heavily on professional peels and Dermapen to do the heavy lifting when it comes to reducing fine lines, tackling pigmentation and improving bounce and elasticity in my skin. Having said that, I've had great success with ceramides so maybe its time to start incorporating more peptides into the mix (you can read about more about these skincare ingredients and the difference between them here).
RRP: R1,360 for 30ml
You can see the rest of the new Focus Care™ range here.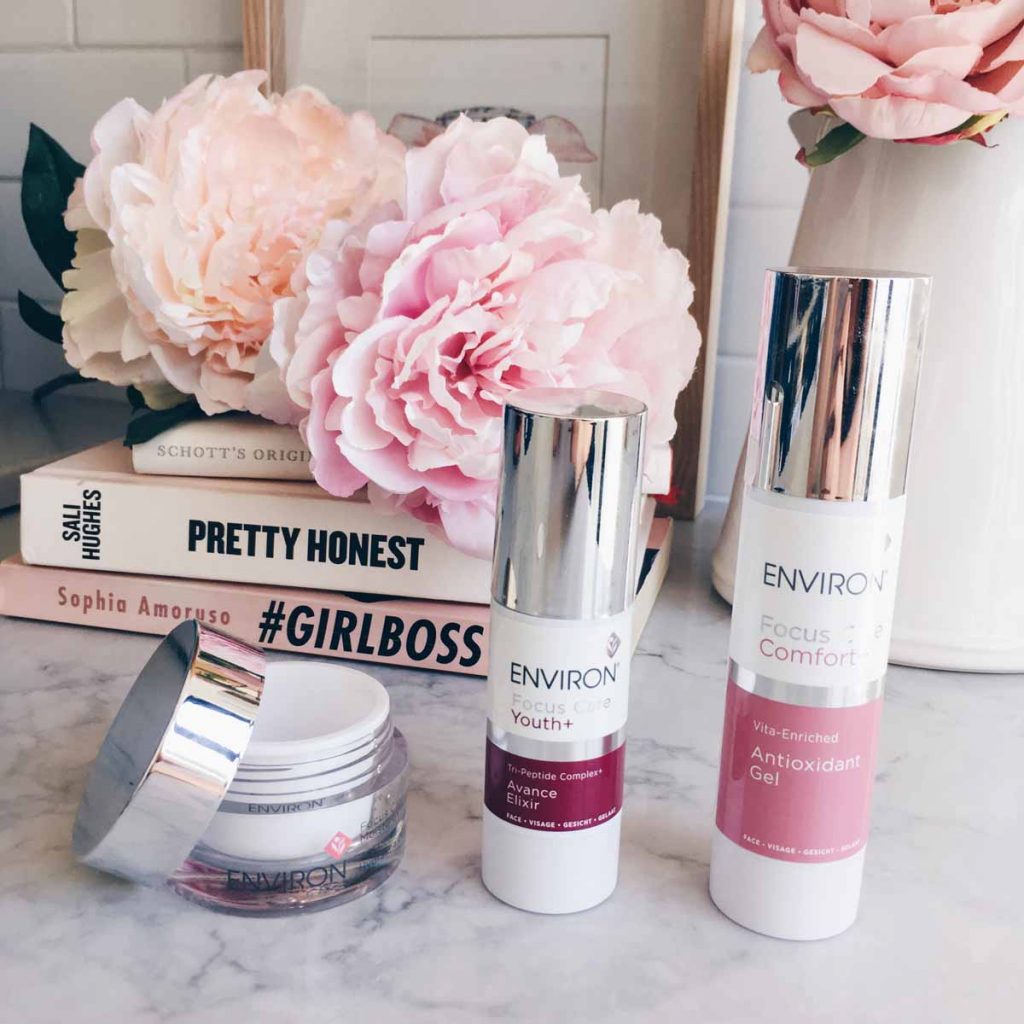 Note: Having been to the launch of these products earlier this year and seen the most mind-blowing before-and-after photos of women who have been using Environ for decades (nevermind having seen how different Camilla's skin is compared to a few years ago) I would highly recommend going for one of their professional consultations and starting to work your way through the Step-Up System. I wish I could commit to something like this because I really do believe in the brand and its products but I don't have the discipline to use the same products day in and day out – I'm too curious and love trying new things too often. So while I can't practice what I preach in this regard, I stand firmly behind Environ and its approach.