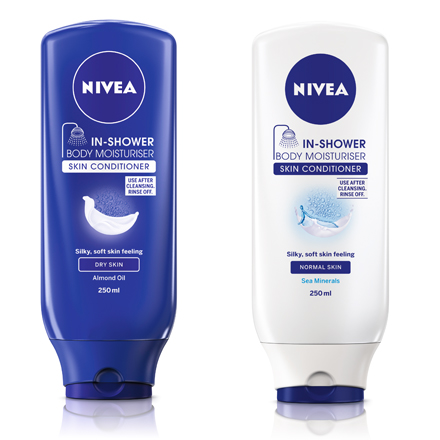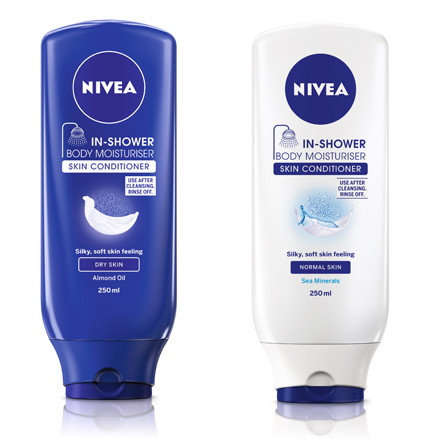 Regular readers will be familiar with my three beauty obessions: lip products, foundations and body moisturisers. Damn, I love a good body moisuriser – so much so that I struggle to stick to just one and usually have several on the go at any given time. At the moment I am rotating between Lush Dream Cream, Mama Mio OMega Body Oil, Nivea Q10 Plus Firming Body Oil, and a mixture of E45 and NUXE Huile Prodigieuse Multi-Usage Dry Oil. But I have a confession to make: this week I found something that has completely knocked my socks off…so much so that all the other moisturisers have been pushed aside for the time being. Ladies, meet the Nivea In-Shower Body Moisturiser…
This product has been on my lust-list for months – all of my favourite overseas beauty bloggers raved about it, and when Tori from Kiss, Blush & Tell gave it the thumbs-up, I knew I absolutely had to try it. Jules and I decided to hit Dischem and Clicks in Canal Walk after work on Tuesday to do some damage (we did so well – haul video coming soon) and as I walked into Dischem, there they were! Rows and rows of bottles for both dry and normal skin. I snapped up the 400ml bottle for normal skin (although I have dry skin I avoided the dry skin version as I've read that it is very rich and greasy…no thanks I'm fine) and made a point of hopping in the shower as soon as I got home because I simply couldn't wait until the morning to try it.
First and foremost: it's not a soap. You apply it after you've washed yourself – you slather it onto your wet skin, and then rinse it off straight away .You will feel that it leaves a slight film on your skin (which I really like, although it might not be for everyone), and it has that lovely, classic Nivea scent. Get out of the shower, pat yourself dry, and you're good to go. Initially it leaves my skin feeling a bit clammy, but it quickly settles in and before I know it I'm left with the skin of a tiny, soft little baby. I have also been really impressed by how long-lasting the effects are – by the end of the day I can still feel it on my skin, and everything feels silky soft and incredibly smooth. My only gripe is that it doesn't come with a pump – having to open and close the cap the entire time is a faff and a pump would be so much easier (#firstworldproblems). Think about it, Nivea.
In short, it's love. I fear this product has ruined me for life because now the thought of moisturising post-shower is almost too tedious to bear. The ease and practiciality of this has completely won me over – why did no one think of it before?! Thank you Nivea, for paving the way for what is sure to be the next body-care revolution!
I got my 400ml bottle from Dischem for R27.95 (although this was a special promotional price – it normally retails for R29.99 for 200ml and R39.99 for 400ml).