As Jules so succinctly put it: there are certain skincare brands that I feel 100% comfortable putting on my face for the first time because the brand trust is so strong, and SkinCeuticals is one of them. SkinCeuticals have spent the past forty years developing ground-breaking formulations and creating products that are unrivaled in their efficiency, firmly establishing themselves as the leaders in advanced skincare. Yes, the price points might be a little bracing, but given that all of their products are scientifically verified, you have the comfort of knowing that you are slathering your face with the best of the best.
SkinCeuticals recently sent over a Phyto Corrective Masque, together with three vials of their best selling corrective serums, for us to experiment with as part of their Art of Mixology campaign. Jules has reviewed the Phyto Corrective Masque before, but to recap: it was specifically created to neutralise temporary skin reactivity caused by certain skin treatments (e.g. IPL or superficial chemical peels), sun exposure, chlorine/salt water, certain active ingredients that cause inflammation, post-workout flushing and environmental aggressors such as heat, extreme cold which induces redness and skin irritability. It contains highly concentrated botanical extracts of cucumber, thyme and olive, a "calming dipeptide" (this is the bit that cools the skin), and hyaluronic acid to intensively soothe and replenish temporary skin reactivity. The mask is fairly intensive and cools on contact, comforts skin sensitivity and restores natural radiance and smoothness.
If you follow us on social media, you will have seen Jules' incredible before-and-after pictures showcasing the results of the Phyto Corrective Masque. These pictures were taken twenty minutes apart, post Dermapen: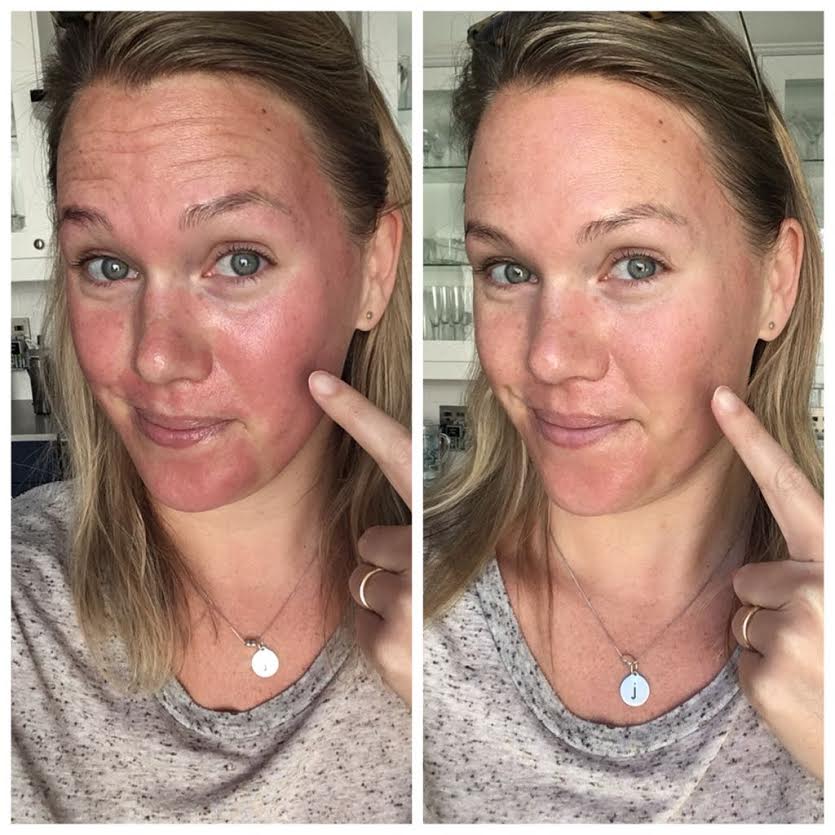 The Art of Mixology concept is designed to inspire consumers to mix and match the Phyto Corrective Masque with a choice of three hyaluronic acid serums for a unique skincare boost: the Hydrating B5 Gel, the Phyto Corrective or the Reactivating Texturiser. All three of these serums are oil free and can be used as a moisturiser (for very oily skins), or layered underneath your moisturiser for an additional hydration boost.
The Hydrating B5 Gel contains hyaluronic acid and Vitamin B5 to help bind moisture to the skin, and to replenish the nutrients the skin needs to feel smooth and appear younger. The formulation is oil free, so it provides for optimal hydration without clogging the pores. The texture is relatively light, and absorbs quickly without leaving a tacky finish on the skin.
The Phyto Corrective contains hyaluronic acid, cucumber, thyme, and other botanical ingredients to soothe sensitive skin. It also incorporates mulberry extract to help minimize the appearance of discolouration and to promote a clear complexion. This formulation is also oil free, making it an excellent choice for acneic skins. It also has a very fluid texture which works well with other products and can easily be worn during the day underneath your makeup.
Traditional chemical exfoliants and physical scrubs can disrupt the skin's barrier, often resulting in irritation and excessive dryness. The Retexturing Activator combats this problem by doing what other products can't do: reinforcing, instead of disrupting, the skin's barrier during the exfoliation process. It resurfaces the skin by stimulating the enzymes that help break the bonds that bind dead cells to the surface of the skin, whilst simultaneously reinforcing the skin's barrier for healthier, more radiant skin. This means that using the Retexturing Activator will give you brighter, more radiant skin without any of the harsh side effects like peeling, flaking and redness. By combining the Retexturing Activator with the Phyto Corrective Masque, you are helping to reinforce your skin's barrier, top up your hydration levels, and calm your skin all at the same time, which is exactly what sensitized skin needs. Bingo.
I recently went for a Clear & Brilliant laser treatment (more on that at a later stage) and a thin layer of the Phyto Corrective Masque was applied afterwards to soothe my skin and calm the redness, (which it obviously did, very effectively). My therapist then applied a light application of breathable CC cream on top of the Masque, and no one was any the wiser – I went straight back to the office and went about my day. A few days later I decided to dabble with the mixology concept and mixed in a few drops of the Hydrating B5 Gel and the Phyto Corrective into the Phyto Corrective Masque, massaged the concoction into my face, and left it on overnight. The next morning my skin was soft, plump and radiant, and the enormous spot on my cheek was much calmer, and appeared to have shrunk dramatically overnight. All in all, a great result! I had less impressive results with the Retexturing Activator combination, but I suspect that is on account of my laser treatment the week prior – I don't think I had very many dead cells left to exfoliate.
If you're someone who enjoys mixing and matching your products to tweak your skincare, then I would definitely recommend getting your hands on the Masque and a serum. I can  certainly vouch for the added hydrating effects of combining the Hydrating B5 Gel and/or Phyto Corrective with the Masque, but if you're someone who is more focused on brightening/radiance, then the Retexturing Activator is definitely something to invest in.
*PR Sample