It feels like a lifetime ago now, but at the end of November 2015 I was invited to attend an event held by Smashbox in order to learn about all the new and exciting products launching this season.  There are so many fantastic new products launching in February and March 2016 – it's time to get excited, you guys!
Lips
The Be Legendary lipstick collection is launching 19 new shades, comprising matte and cream formulations. The cream formulation contains shea butter to keep the lips hydrated throughout the day, and antioxidants to protect and perfect. The matte formulation is smooth and non-drying, and stays in place all day.
I have used Jules as my lip model as she has a far nicer mouth than I do:
Retails for R260.00 and launches in March 2016
Next, the Always Sharp Clear Lip Liner. This lip liner creates a transparent barrier around the lips that prevents lip colour from feathering or bleeding, and because it's clear, it's compatible with every shade under the sun. Clever! As with the Always Sharp Waterproof Kohl Liners (of which we are both huge fans), this lip liner comes with a tiny sharpener built into its lid, so it self-sharpens every time you twist it off.
Retails for R255.00 and launches in March 2016
Finally, the one that I am the most excited about, the Insta-Matte Lipstick Transformer. This product is the first of its kind (that I'm aware of): a lightweight gel that instantly mattifies any cream lipstick! I KNOW! Not only does it create a wearable, extremely comfortable matte, but it stays true – it doesn't feather or flake or fade. The product leaves the lips looking plush and almost velvety, and doesn't exaggerate fine lines in the slightest. Absolutely brilliant.
Please note: not to be used with glosses, lacquers or balms – cream lipsticks only.
Retails for R290.00 and launches in March 2016
Brows
The newest edition to the Smashbox brow family is the Brow Tech Shaping Powder. I have yet to find a Smashbox brow product that I didn't adore, so I had very high expectations for this one. This is another first-of-its-kind: a volumising powder for brows! The ultra-fine powder mimics the appearance of natural hairs and the felt-tip nib means you can be very precise with your placement – two essentials if you want bigger, bolder brows (I know I do). I was so excited to test this product but, I must be honest, I am finding it quite difficult to use – I don't know if perhaps I am too heavy handed, but every time I use it I end up with a scouse brow. After much trial and error, I have found that the best way to use it (for me) it to apply it over my Smashbox Brow Tech Matte Pencil to darken and add a bit more volume and definition. It's a match made in heaven for me.
Retails for R290.00 and launches in February 2016. Comes in 4 shades – Blonde, Taupe, Brunette and Dark Brown.
Lashes
The new mascara collection is designed to be used interchangeably to create different looks without removing the existing mascara, so theoretically you can layer one on top of the other and there shouldn't be any clumping.
X-Rated Mascara: If big, bold lashes are you bag, then this is the mascara for you. The formulation contains tripod fibres which twist and wrap around each lash, doubling the volume without clumping, smudging or flaking. Each lash is amplified with the unique 'Triple Threat Brush', made with three rows of bristles that isolate and coat each lash, ensuring clump-free definition.
I found that it worked well to create dramatic, bold lashes – but I wouldn't say that the formulation is 'clump free', exactly. Just make sure you wipe the wand on a tissue first to get rid of any excess before you apply.
Retails for R280.00 and launches in February 2016.
Indecent Exposure: If long, defined lashes are what you're after, then Indecent Exposure will hit the spot for you. With its spiral of wavy-cut bristles, the brush separates and lengthens each individual lash using 'curved wavelength fibres' which stretch as you apply the mascara. The micro-spiral tip makes it easy to capture the inner corner lashes too.
Retails for R280.00 and launches in February 2016.
Photo Finish Lash Primer: This can be used to prime your lashes prior to applying mascara, and, allegedly, to 'freshen mascara midday' (it's white, so…no). That being said, the formula is soft and feels very conditioning on the lashes – I have been using it a lot and I do find that my lashes look and feel considerably softer post-mascara application.
Retails for R250.00 and launches in February 2016.
Face
Photo Finish Primer Oil: When this was unveiled at the launch, we absolutely lost our minds. A primer oil?! What a time to be alive! This primer has been formulated in a lightweight, luxurious oil to create radiant, glowing skin. It contains multiple essential oils to deeply moisturise the skin, thereby creating a seamless, dewy, youthful base.
It's a very versatile product, too: it can be added to concealers to thin them out, added to tinted moisturisers for a bit more glow, mixed with powder blushers and bronzers for a more dewy effect, or it can be used on top of makeup as a highlighter!
I think this is a fantastic product, but it is important to note that it does not prolong the wear of your makeup. It doesn't claim to, by the way, I just thought I would bring that point to your attention. If you want something to help your makeup last, the other Smashbox primers are unquestionably some of the best – the Hydrating Primer is one of my all-time favourites.
I like to use this in the evenings or for events, when I'm not all that concerned with longevity and I just want to glow.
Retails for R450.00 and launches in February 2016.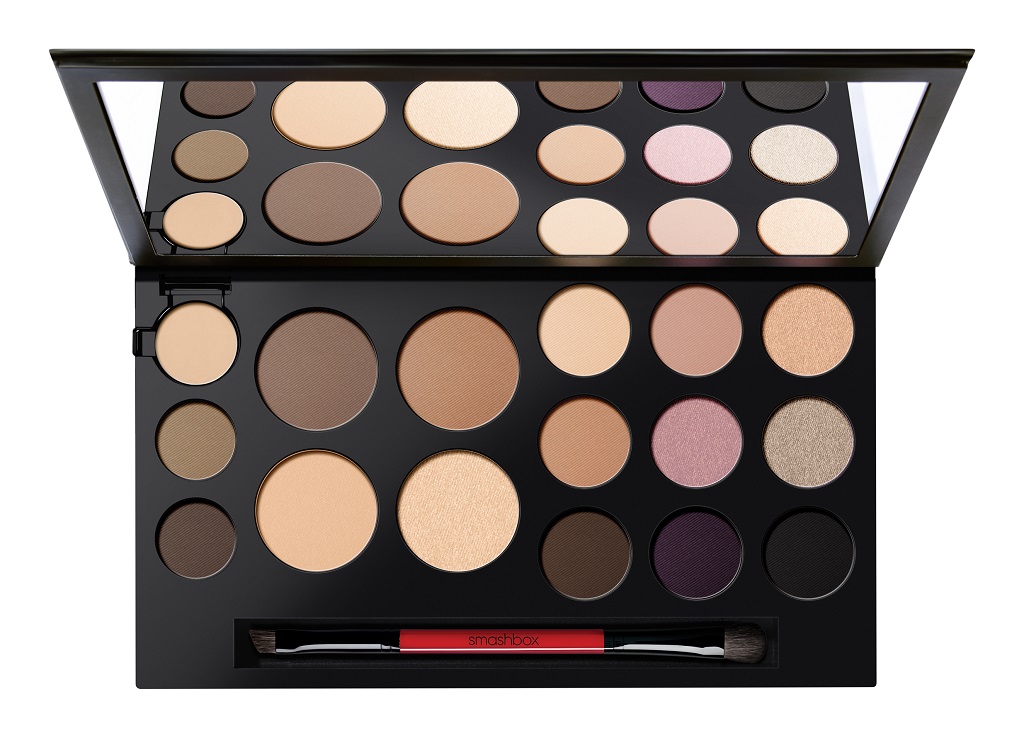 #SHAPEMATTERS Palette: If you love contouring, look no further. This three-in-one offering contains 16 shades to ensure seamless shading of eyes, brows and face. The kit contains 1 brow wax, 2 brow powders (Taupe and Soft Brown), 1 highligher, 1 illuminator, 1 bronzer, 1 contour powder and 9 matte and shimmer Photo Op Eye Shadows, together with a dual-ended brush.
What sets this palette apart from its competitors is that it's got a pretty nifty add-on: this palette comes with state-of-the-art, Interactive Get The Look Cards embedded with special t-ink technology that instantly activates how-to videos on your phone. Simply login to the special URL found on the cards and place the card to your phone to learn how to identify your brow, face, and eye shape (using the video) and enhance your unique features (with the face chart that can be saved to your Camera Roll). Genius!
Retails for R1,200.00 and launches in February 2016.