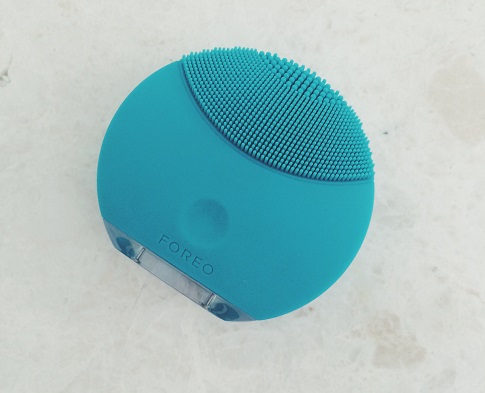 A few months ago we were sent a Foreo LUNA Mini ("Luna") to test, but we didn't want to review it until it was available for purchase in South Africa (which has only happened recently). The Luna is a facial cleansing device which uses transdermal sonic pulsations to provide an extremely deep, but gentle, clean. The pulsations rid the pores of impurities, which in turn reduce the likelihood of any blemishes coming to the surface of the skin. The pulsations also help refine the texture of your skin, leaving it softer and smoother. The Luna is made up of 1,300 touch-points, all of which are coated with smooth silicone. They are specially configured into 3 zones, so whatever your skin type, it's got you covered. Initially, Jules started testing it, but found that she couldn't gauge how well it was working (because her skin is already perfect – shame), so I decided to give a go and see if it would improve the condition of my decidedly un-perfect skin. I would please ask that you bear my skin type in mind when you read this review/comparison: dry, dehydrated, sensitive and prone to redness/breakouts – what works for me may not work for you. Now that that's out of the way, lets get started…
I thought it would be easiest to first highlight all the things I love about the Luna (before you ask, there is nothing I don't like about it), before I start comparing it to the Clarisonic. So, in no particular order:
The silicone touch-points are incredibly soft and gentle; and
It's hygienic and easy to clean; and
It's completely waterproof, so you can use it in the shower; and
A full charge will last you up to one year; and
It's light, compact and easy to travel with; and
It comes with a 10-year quality guarantee.
So now let's get down to the nitty-gritty: how does it compare to the Clarisonic?
As someone with very sensitive skin, even the softest Clarisonic brush head can, at times, feel too abrasive. With the Luna, the touch-points are so soft and gentle, they don't scratch or pull at my skin in the slightest. It feels comforting to use, as opposed to the buffing/polishing feel of the Clarisonic, which can at times be a bit much for me. The first thing I noticed after I used the Luna was that my skin wasn't red. At all. This is sadly not the case with the Clarisonic, which can leave my skin feeling a bit irritated.
I have found that I can use the Luna more frequently than I can use the Clarisonic – if I use my Clarisonic more than once a week, my skin reacts. However, I have been using the Luna three to four times a week and my skin has been absolutely fine. In fact, it looks the best its looked in a very long time.
Clarisonic recommends that the brush heads be replaced every 3 months – which, if you are using it daily, sounds about right (I don't know how you could use it daily and still have skin left, but whatever). With the Luna, there are no replacement brush heads to worry about, which is a massive cost saving.
The Clarisonic requires regular charging and the brush heads require regular cleaning. One charge of the Luna will last you up to one year (ONE YEAR), and cleaning it is a total breeze – simply spritz on some of the antibacterial cleanser which comes with it, rinse it off, and you're done.
After using the Luna, which is extremely light and compact, I found the Clarisonic to feel quite heavy and cumbersome by comparison.
The cheapest Clarisonic will set you back R2,499, whereas the Luna retails for R1,900.
The one thing I can't really comment on is how they compare on make-up removal because I've only ever used both of them for my second cleanse. I don't like using cleansing tools for my first cleanse – I far prefer the idea of swiftly removing my make-up with a face cloth, as opposed to rubbing it all over my face for one minute using a cleansing tool.
I think you know by now what my verdict is going to be: the Luna is a far superior cleansing tool for my skin type. After using it, my skin looks plumper and healthier, and feels incredibly soft and smooth. It does not aggrevate my skin in the slightest, and every time I use it, it feels like I'm giving myself a nice little facial massage – it's such a treat. This does not, however mean that the Clarisonic is a redundant tool – I know many people who swear by theirs and would sooner sell their mothers than part with it. All I'm saying is that for my skin type, the Clarisonic is simply too harsh. If you have skin like mine, and you're trying to decide whether or not to invest in a cleansing tool, I highly recommend that you consider a Luna.
 Available online from Zando and in selected Stuttafords stores.