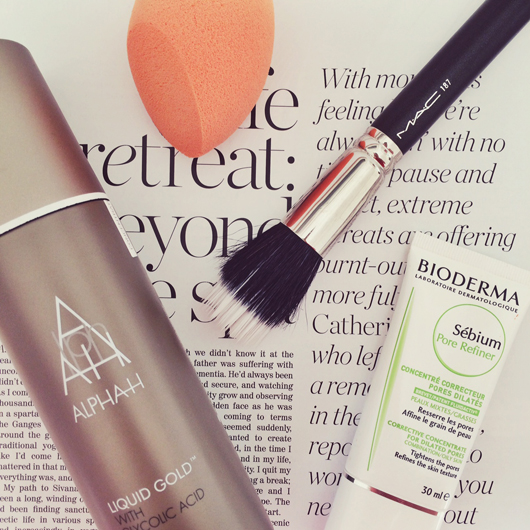 I'm trying to make a concerted effort to use up more of the products I have rather than constantly buying new things. I don't always (hardly ever) succeed but it's the thought that counts, right?! Recently I've dug out a few gems though so I thought I'd share them with you:
Real Techniques Miracle Complexion Sponge
Every time I pick this up and start using it again, I wonder what ever made me stop. It's often touted as a cheaper alternative to the BeautyBlender and while I've never tried the latter, I can't see how it could possibly work more than twice as well, since that's what it costs. Using the RTMCS produces an absolutely flawless finish – foundation is perfectly blended and totally invisible, pores disappear and skin feels plump and hydrated. The rounded shape is ideal for applying foundation, while the pointed tip works concealer into the eye socket and the flattened edge blends out highlighter like a dream. It's also really easy to clean; I just soak it in soapy water for about 5 minutes and then squeeze it a few times and rinse under a running tap. I'll definitely be repurchasing a few new ones the next time I'm in the UK.
Price: £6
Stockists: Boots, Look Fantastic, Feel Unique, HQ Hair
Bioderma Sébium Pore Refiner
You can add this to the enormous pile of things I've bought because of Lisa Eldridge. This particular product has been featured in a few of her videos and appealed to me because of the lightweight, oil-absorbing formula that specifically helps to tighten pores and refine skin texture. It feels very similar to the Smashbox primers and sinks in completely so there's no residue or sticky feeling on the skin. It definitely prolongs the wear of my foundation and while there's nothing in the world that will stop my T-zone from turning into a disco ball by lunchtime, this primer at least helps to limit the damage.
Price: R209
Stockists: Dischem and Clicks
Alpha-H Liquid Gold
I was inspired to drag this 5% glycolic acid treatment out from the back of my cupboard after seeing Caroline Hirons' recent interview with Alpha-H founder Tom Ogden. Liquid Gold has something of a cult status among beauty lovers for being an amazing resurfacing treatment that has been proven to effectively diminish wrinkles, pigmentation and sun damage. I don't particular suffer from any of those problems (yet!) but I've seen the before and afters, and they're amazing. My skin doesn't enjoy being exfoliated too much so I packed this away when I stopped chemical exfoliation about a year ago but I gave it another try recently and loved it! It doesn't perform miracles on my skin (but to be fair, it's not very problematic) but I do find that a weekly sweep of this at night before bed (no moisturiser on top) leaves my skin very smooth and soft the next day. Great for mature, sun damaged, prematurely ageing and/or acne-scarred skin.
Price: £33.50 (100ml)
Stockists: BeautyBay, Cult Beauty, Look Fantastic, HQ Hair
MAC 187 Duo Fibre Face Brush
Until last week, I think I had used this brush about three times my entire life (I have a problem with dirtying white makeup brushes. It's a thing) but then Camilla whipped it out while we were filming a forthcoming tutorial and I was mesmerised. The duo fibre bristles (a combo of goat hair and synthetic fibres) allow you to apply cream and powder products in sheer layers which results in an incredibly light, luminous effect on the skin. I've been using it to apply bronzer which looks really soft and natural. It's also really handy for going over the complexion to make sure everything is blended perfectly when you're finished your face make-up as it doesn't move the product underneath it. It can even be used wet to amp up highlighter on cheekbones which looks particularly pretty on end-of-summer skin.
Price: R530
Stockists: MAC Stores/Counters and Online
You can see our previous Shopping the Stash posts here and here.