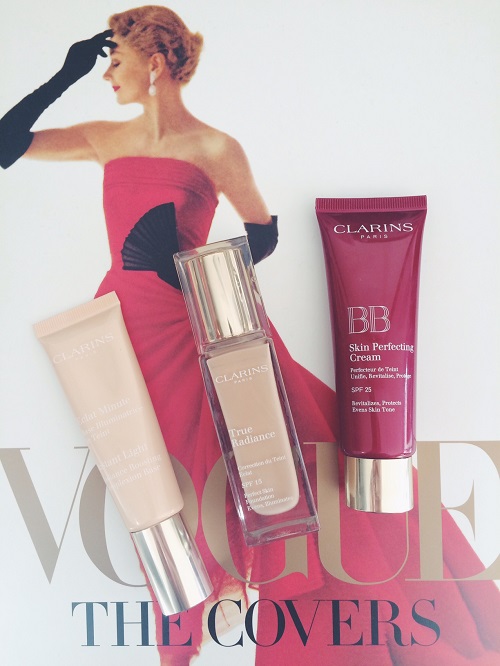 Today is all complexion-focused, courtesy of some lovely new goodies from Clarins…
I did a lot of research about this product because I couldn't quite figure out its purpose: is it a primer? Is it a highlighter? Can it be worn on its own? After testing it solidly for the past week, I can confirm that the answer is 'yes' to all of the above, and I cannot imagine how I lived without it until now. The colour, 'Champagne', is a lovely iridescent peach, and it complements my complexion perfectly. I like to apply it all over my face, as I would a primer, and apply my foundation/BB cream on top – I find that it adds a real glow (but not in a sweaty way, as some highlighters do) and makes my skin look happy and healthy. If you have good skin, you could definitely get away with wearing this on its own – it doesn't provide any coverage, but it does subtly even out your skin tone and will leave you looking fresh and dewy. You can also use it as you would a normal highlighter – simply pat it onto the high-points of your cheeks, down your nose, and onto your Cupid's bow and you'll be supermodel-esque in no time.
Retails for R345.00. Available in three shades: Rose (to brighten all skin tones), Champagne (to correct redness) and Peach (restores lustre to medium and matte skin).
This foundation is lightweight and moisturising, yet it provides a good amount of coverage. The result: luminous, even-toned, radiant skin. It contains Moringa seed, which reduces the adherence of polluting molecules to the skin, so if you're running around in the city all day, this foundation will help protect your skin from all the nasty smog and fumes. Although the coverage is good, your skin still shines through, which I really like (as much as I worship foundation, I never want to look like I'm wearing any…you feel me?). I find that it wears well on my skin, I would say I get a solid 8 hours of wear before it starts to fade away – but if you set it with some kind of translucent powder, I am sure you could eke out a little more wear.
I have been using this pretty much non-stop since I got it – I like to apply it over the Instant Light Radiance Boosting Complexion Base for maximum glow, and the effect is really gorgeous. Highly, highly recommend.  
Retails for R415.00. Available in nine shades.
For those of you who aren't fans of medium/full coverage foundations, this BB cream will be right up your alley. It is nice and light, and provides a sheer wash of coverage to even out the skin tone. It is also incredibly moisturising, so it's a great option for those of us with drier skins. This is my preferred 'weekend' base, as it's substantial enough to cover what needs covering, yet still light enough to look like I'm not wearing anything. It leaves you looking polished, but not made-up, if that makes sense. The colour 'Light' is a tad too dark for me (although not noticeably so), so if you are pale, I would suggest you give 'Fair' a try instead.
Retails for R415.00. Available in 4 shades.
As with all Clarins products, these are all quite fragranced, so if you are prone to sensitivities, ask for samples before you buy. I have very sensitive skin and have experienced no reaction whatsoever.
*PR Samples