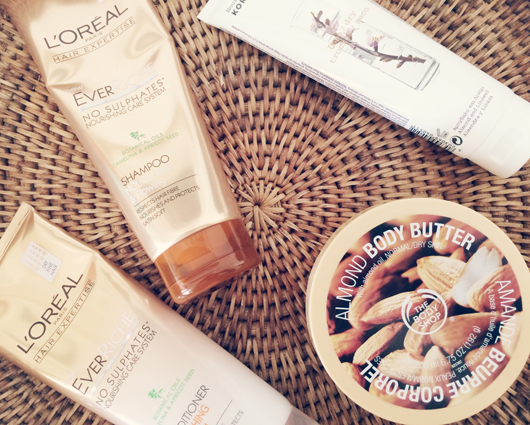 I've recently discovered that I absolutely love the smell of sweet almond oil. It started when I picked up a tub of Almond Body Butter from The Body Shop winter sale a couple of months ago and it's become a full-blown obsession. I find the warm, nutty fragrance has just enough sweetness to be feminine without being sickly, and is tempered by a vanilla-like creaminess.
Sweet almond oil is one of the most versatile, multipurpose skin care oils out there. It is rich in protein, vitamins and minerals and is therefore extremely nourishing and revitalising, especially for dry skin. It absorbs quickly and soothes skin irritation while helping to maintain moisture levels. The omega-3 fatty acid, vitamin E and magnesium contained in sweet almond oil are also great for your hair.
Here are the favourite sweet almond products in my stash:
The Body Shop Body Butters really are the unsung heroes of my bodycare routine. I always have a tub or two hanging around and at the moment I alternate the Almond one with my Lipidol After Shower Oil. I think they are incredibly good value (especially if you score them in the sale for R55 like I did yesterday!) and come in a massive variety of scents, although Almond is my all-time favourite. It sinks in quickly but still leaves my skin feeling really supple and moisturised, even at the end of the day.
Camilla bought this when we were in Greece last year and mentioned it in her October 2013 favourites, so I had my eyes peeled for it when I went back in August. A tube soon made its way into my basket at Athens airport and I've used it about once a week since. It works very quickly (you only need to leave it on for 3-5 minutes), softening and nourishing the hair without weighing it down or leaving a residue. It contains almond and linseed extracts (obviously) along with shea butter which helps the hair retain moisture, while increasing its resistance against breakage and split ends.
The last time I visited the Korres counter at Edgars in Canal Walk they didn't stock this product, which is a real shame because it's one of my favourites in their range.
I have no idea whether this stuff contains sweet almond oil but it certainly smells like it does! These two variants from the brilliant EverRiche range (which, for some inexplicable reason, isn't available in SA) inject extra moisture and softness into dry, fine hair, with zero sulphates or waxes. The shampoo lathers up amazingly well and the conditioner is really intensive, plus the scent hangs around all day which is just fine by me!
If you're interested, you can buy this very affordable range from Feel Unique who offer free worldwide delivery on orders over £10.
Do you have any sweet almond products to recommend?