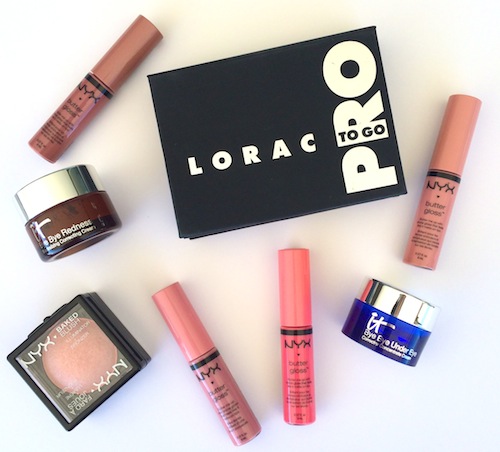 My boyfriend goes to America a lot. So, as emotional compensation, he brings make-up back for me. I think it's a fair trade, don't you? He got back from his latest jaunt about two weeks ago, and although I was very excited to see him, I was equally excited to get stuck into the goodies I'd asked him to bring back for me. I thought about photographing everything straight away but I wanted to try them first so I could review them for you, and honestly (the real reason), I didn't have the willpower to wait – I'm too impatient. Anyway, I digress. I'll bet you're ready to have a little look-see, so let's get cracking…
Jules ordered to Lorac Pro Eyeshadow Palette a few weeks ago and although I agree that it is stunning, I have about one million eyeshadow palettes and couldn't justify another one. HOWEVER, the Lorac Pro To Go Palette contains eyeshadows and two blushes and a bronzer, which makes it perfect for my gypsy lifestyle as I ferry between my boyfriend's home and my own. I can literally pack this palette, a foundation, a brow pencil and a mascara and I'm all set (in theory – we all know I'm not capable of packing that lightly). It's neat and compact, but also folds out completely so you can see all the colours at once. It also contains a nice big mirror and two mini brushes – one domed eyeshadow brush and one angled brush, both of which are excellent.
The colours contained in the eyeshadow portion of the palette aren't paricularly remarkable – just nice, basic neutrals (three mattes and three shimmers). I have them all already, of course, but the convenience of having them all housed in a single palette completely won me over. Jules had already told me about the incredible quality of the eyeshadows – pigmented, buttery soft and easily blendable. You only need a teeny tiny bit to get great payoff, and you can really pack on the colour to create more impact. 'Chai', in particular, is gorgeous and makes blue/green eyes (please excuse me while I use the most loathed word in beauty) 'pop'. 'Pearl' is also beautiful as an inner corner highlight. The shimmer shades are subtle and sheeny, and the matte shades impart great colour without looking flat. Perfect.
I found that without a primer, the colour disappeared within 2-3 hours, however I have incredibly oily eyelids – nothing stays put on me without a primer. Just something to bear in mind.
The blushers and bronzer are fabulous. I like to swipe my blush brush through both blushes (a matte pink and shimmy coral) and apply a mix onto my cheeks – the colour is too beautiful and injects some much needed life into my pallor complexion. The bronzer is the perfect match for me – it warms up my face and leaves me looking nice and healthy.
 If you want to see some swatches, you can have a look here.
I first learned about It Cosmetics Bye Bye Redness Neutralizing Correcting Cream on Beautezine. Jessica went so far as to proclaim it as one of her favourite foundations of all time and after I watched the tutorial of her applying it, I was sold.  It comes in one shade, which I must admit, I don't think would be suitable for all skin tones – if you are very light or very dark this won't work for you. It comes in a pot, which I'm not wild about, but it's not the end of the world. You also only get 11ml of product, which, compared to usual 30ml, seems doesn't seem like a whole lot for the price (approx R355).
The formulation is thick and creamy and completely covers redness – it does what it says on the jar, that's for sure. You do only need a tiny bit to cover your whole face, so I suppose I should calm down on the whole 'only 11ml of product' thing. It has great staying power and the finish is glowy and healthy (my preferred finish). All in all, I'm pleased as punch.
I bought the Bye Bye Under Eye on a whim – I don't need it, but figured 'why the hell not'. This comes in three shades, and I got the lightest one. The colour is nice and peachy and it counteracts any blue/purple undertones in the under eye area, just as the Bobbi Brown Corrector does. However I might just prefer this to Bobbi Brown because it's lighter and creamier, and it blends like a dream. It sets nicely and doesn't dry out my skin, and it doesn't crease/settle into fine lines. Very happy with my impulse buy.
Jules bought a couple of these a while back and I never really paid much attention. It was only after seeing her on multiple occasions, asking what lipgloss she was wearing, and being told 'NYX Butter Gloss', that the penny dropped. All of a sudden, my need for these was overwhelming. I hopped onto the NYX website and chose 4 colours – Vanilla Cream Pie, Creme Brulee, Tiramisu and Peaches and Cream (in order as per the picture). You guys. The formulation is incredible, honestly – creamy, pigmented and extremely comfortable. You can also re-apply throughout the day and it won't ball up or settle into any flakes/cracks in your lips. I am really obsessed with these and haven't worn anything else since I got them. My favourite shade so far is Tiramisu – a nice deep nude, perfect for everyday wear and a total 'my lips but better' shade. Vanilla Cream Pie and Creme Brulee are a bit light for me at the moment because I am so pale – but they will be perfect for the summer when I've (hopefully) got a bit more colour. Peaches and Cream is a nice, bright, juicy pink – just in time for spring! I don't know why these aren't available here, but hopefully the good people at Clicks will make it happen soon.
Last, and sadly, least. I had heard great things about NYX Baked Blushes, so I had high hopes for this. Sadly it just doesn't have enough pigment for my liking. The colour looks similar to my beloved Milani Luminoso, but doesn't have the same payoff unfortunately. I think I'll use it as a highlighter from now on, as it does have a nice, subtle shimmer, but it just doesn't leave enough colour on my cheeks. Bummer.
So that's it! It goes without saying that I have already started compiling my next USA Lust List – I have a sickness, I know.
All images by me.