In order to get the best from your make-up, it is essential to use good quality brushes. Trying to differentiate the essentials from the non-essentials can be tricky – there's so much to choose from and it can sometimes be a little overwhelming. As someone who has done the ground work, I thought I would give you a run down of my top 10 essentials – I have tried to include alternatives where possible, so hopefully there will be something for everyone. All of these brushes are either brushes that I own or have tried, so I haven't included brushes that I am still lusting after (looking at you, Charlotte Tilbury Powder and Sculpt Brush). Just a quick warning, this is quite a MAC-heavy post, but I bought all of the brushes myself, so I promise there is no secret affiliation!
1. Foundation Brush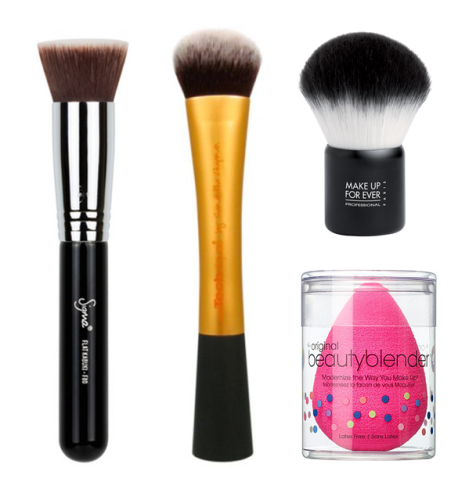 How you choose to apply your foundation is of course a personal preference – some women love sponges, others loves brushes, and some love using their fingers. I prefer not to use my fingers, but only for the simple reason that I can't be bothered to get up and wash my hands after I've applied my foundation (shockingly lazy). My two favourite foundation brushes are both buffing brushes: the Real Techniques Expert Face Brush and the Sigma F80 Flat Top Kabuki Brush. As the name suggests, they buff your foundation into your skin, helping to create even, natural coverage. I also enjoy using the Make Up Forever Kabuki Brush from time to time, but I actually find it works best for cream bronzers.
I am also partial to a Beauty Blender, which honestly creates the most flawless finish I have ever seen. You moisten the sponge slightly and then use a pressing/bouncing motion to work the foundation in. I don't know how it works, but it seems to blanket out all imperfections while still allowing the skin to show through. An absolute miracle worker.
2. Eyeshadow Blending Brush
The MAC 217 Blending Brush will change the game for you, no doubt about it. Jules did a post on the MAC 217 vs the Sigma E25 Blending Brush recently, so you can read about the merits of both of them here. The beauty of the 217 is that you can use it for blending anything, not just eyeshadow. I use mine to apply under eye concealer, blemish concealer, highlighter and eyeshadow – it really is a very versatile tool and although the initial cash outlay hurts a little (R265), if you take care of it and wash it regularly, it will last you years. I still have my first 217 which I bought about eight years ago, and it's still working like a dream.
I also own the MAC 224 Tapered Blending Brush (an alternative would be the Sigma E35 Blending Brush), which although I like, the bristles are longer and more flexible so it's not the best for more precise eyeshadow application – I predominantly use it to blend eyeshadows in my socket.
3. Pencil Brush
Pencil brushes help to smudge liner into the lash line and create a subtle, smokey effect. I own two pencil brushes, and I use them both daily: the MAC 219 Pencil Brush and the No. 7 Smokey Eyeliner Brush (sadly not available in SA, but you can order online from Boots). The picture above isn't all that accurate because the No. 7 brush is much smaller than the MAC 219 – the brush head, although small, is packed with dense, soft bristles that gently smudge your liner along the lash line to create a softer effect.
The MAC 219 is also fantastic at softening liner, but I prefer it for highlighting the inner corner of my eye and my browbone – it fits perfectly into the little inner-eye-nook and helps to create a more wide-awake look. The domed shape of the brush also fits perfectly along the arch of my brow, making it the perfect choice for the application of lighter shades in that area.
4. Eyeliner Brush
If you are going to be using gel or powder eyeliners, a dedicated eyeliner brush in absolute must. My three favourites are the MAC 210 Precise Eye Liner Brush,  Bobbi Brown Ultra Fine Liner Brush and the Sigma E05 Eyeliner Brush (although a special mention must go out to the MAC 266 Small Angle Brush – the perfect brush for creating winged liner. Also excellent for eyebrows). The bristles on the MAC brush are long and flexible which helps you draw lovely, neat, fluid lines. I use the Bobbi Brown brush on my waterline mostly, but it does a great job of lining the lashes if you're after a thicker, more dramatic effect.
5. Shader Brush

The MAC 239 Shader Brush is fantastic for applying heavier shadows or pigments. The flat, compact bristles make it easy to pack a lot of product onto the eyelid and create a solid wash of colour. I also use it to run eyeshadow along my bottom lashline when I'm doing a smokey eye as it creates just the right amount of smudginess under the eye.
6. Concealer Brush

I use a multitude of brushes for concealing, namely: MAC 242 Shader Brush, MAC 217 Blending Brush and the SpaceNK Concealer Brush (sadly not available in South Africa). I like the MAC 242 on larger areas of redness, and for applying concealer around my nose. I use the MAC 217 for concealing bigger blemishes as it buffs the concealer on top of the spot without creating any tell-tale lines/edges – it does all the blending work for you. For more targeted, pinpoint concealing, I use the SpaceNK brush, as the pointed nib of the brush allows me conceal even the smallest of spots.
7. Stippling Brush

If you use cream products, you need a stippling brush. The composition of the brush is such that it picks up just the right amount of product, so it's very difficult to make mistakes. I use the Real Techniques Stippling Brush for applying cream blushers and highlighters, and it works like a charm – it presses the colours into the cheeks, leaving them looking impossibly glowy and youthful. I have never used it to apply foundation, but I know Jules does and says that the results are equally fantastic.
8. Blush Brush

Finding the right blush brush is key – I have used many in my time, but I was always disappointed. Funnily enough the biggest disappointment was the Bobbi Brown Face Blender Brush – it shed its bristles almost immediately and left me with grandpa-esque whiskers all over my face. I don't enjoy. What I do enjoy, however, is the Eco Tools Tapered Blush Brush! As with the Stippling Brush, it picks up just the right amount of product, and deposits the lightest dusting of blusher onto the cheeks. The bristles are nice and soft (and don't shed), it's comfortable to use, and it's very affordable.
9. Powder Brush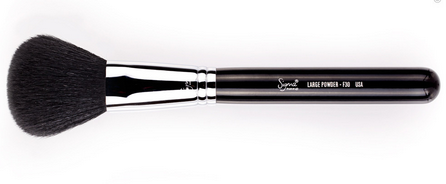 This brush is only really a "must have" if you use powders on the daily. I historically never used powders because my skin is dry enough – I don't have any natural shine which needs combatting. However I changed my tune when I got my hands of the Ambient Lighting Powders from Hourglass and realized that I had nothing suitable to apply them with – sacrilege! I decided to get the Sigma F30 Large Powder Brush and it really lovely – well-weighted with long, soft, flexible bristles, it feels gentle on the skin and creates a very even finish.
10. Spoolie
An eyebrow essential – you need a spoolie if you have any hopes of ever perfecting sculpted, full brows. There's no need to go out and buy one either – next time you're at any cosmetics counter, just ask the sales attendant if you can have one. I get my stash whenever I go to MAC – I usually buy something (I can't help it, ok) and then ask for the spoolies as an added extra…they never say no!
MAC brushes are available online or in store
Real Techniques brushes are available online and worldwide shipping is only $2
Sigma brushes are available online from Turquoise Studio
Eco Tools brushes are available from Clicks and Dischem
Bobbi Brown brushes are available from selected Edgars Red Square stores
Make Up For Ever brushes are available online from Metropolitan Cosmetics