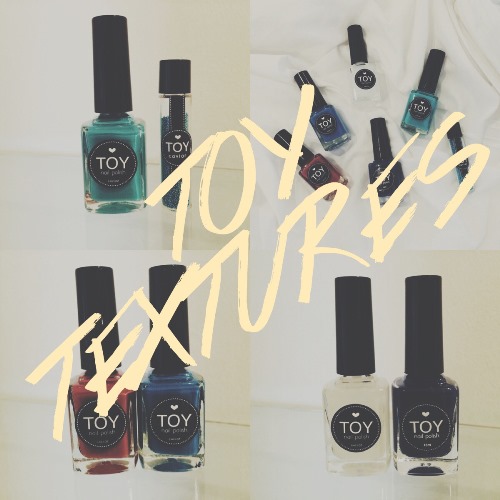 TOY Nail Polish is a Colombian brand which recently launched in South Africa. Jules reviewed some of their polishes a while ago and was very impressed by the formulations – you can read more here. Following on from their successful launch, we were lucky enough to be sent some polishes from the latest collections to try.
The Leather Crush polishes were really interesting and were definitely my favourite – the effect is unlike anything I have ever tried before. The polish applies smoothly and evenly, and after two coats you are left with a completely opaque, leather-effect finish. I personally preferred the burgundy colour to the blue (I don't like to really venture beyond the realms of reds and pinks – Jules is far more experimental than I am), but the blue did look pretty fabulous too, I have to admit. This is a total winter must have as far as I'm concerned.
The Arctic Matte polish is, as the name suggests, a top coat which mattifies whatever colour is underneath. It works incredibly well, and if you're a fan of matte nails, I would suggest you give this top coat a try.
The Nail Caviar was fun to play with – you sprinkle the little baubles on top of your wet nails and, et voilà, you've got yourself some party nails! The Caviar is intended for "one night only" wear, as it won't stay put for longer than that unless you use some kind of nail glue (which TOY advises against, as it could damage your nails).
If you're looking for a fun way to spice up your winter nail polish collection, look no further than TOY – they have got something for everyone (even the fussiest of customers, like me) and the quality is fantastic. For stockists and more about re-selling TOY to your friends, read this. You can also follow TOY South Africa on Twitter and Facebook where they post regular updates and promotions.