When it comes to my beauty routine, I generally have a short attention span; I tend to try out lots of different products and my top shelf is on continuous rotation. There are, however, a few things that I do on a more regular basis than contribute to the maintenance of my nails, skin and hair. Here's the list:
At-home manicure
I recently did a post on my DIY manicure essentials so you're probably familiar with the tools I use to keep my nails in good nick. I go through this routine about once a week, usually at my desk so that if I paint my nails, they have time to dry properly while I type away on my keyboard. My favourite colours at the moment are suitably moody and autumnal; Essie "Sole Mate", Revlon "Beguile" and Topshop "Dark Knight".
Detox mask
As someone prone to an oily t-zone, I have quite the collection of purifying and detox masks that help to control sebum and cleanse pores deep down. The list includes Superfacialist by Una Brennan Tea Flower Deep Clean Pore Purifying Clay Mask (not available in SA), Korres Pomegranate Cleansing Mask and LUSH Mask of Magnaminty.
By far my favourite one and my go-to mask when I have an angry breakout, is the Origins Clear Improvement Active Charcoal Mask. It zaps zits and reduces inflammation instantly, working quicker and more effectively than anything else I've ever tried. Quick note: clay masks can be very drying so I always follow up with a hydrating treatment or lotion; my current favourite is The Body Shop Vitamin E Sink In Moisture Mask.
Overnight exfoliator
Glycolic acid makes an appearance in my skincare routine by way of Alpha H Liquid Gold, which I sweep over my cleansed face and leave overnight to resurface and smooth my skin. Regular use helps to visibly reduce the appearance of fine lines, wrinkles, age spots, hyper-pigmentation, sun damage, acne, scarring and breakouts. Read Ruth Crilly's review for more details. A good, locally-available alternative which delivers similar results is the REN Resurfacing AHA Concentrate.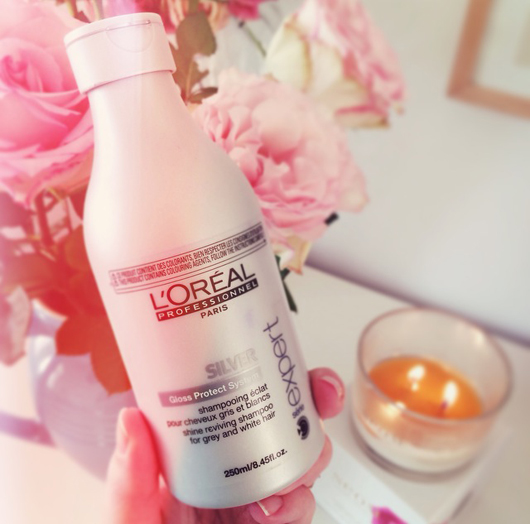 Purple shampoo
As a chemically-assisted blonde, it's important to maintain the cool tones in my highlights with a silver shampoo (that is, in fact, purple. Confusing, right?). These specialist cleansing products help to tone the hair and eliminate brassiness, impart shine and improve the lasting power of the colour. I use L'Oréal Professionnel Serie Expert Silver Shampoo for grey and white hair – but trust me, it's for blondes too! More affordable alternatives include LUSH Daddy-O shampoo, and the Lee Stafford Bleach Blondes and John Frieda Sheer Blonde Colour Renew ranges. Read The Beauty Department's blog post for more on silver/purple toning shampoos.
Deep clean my make-up brushes
I might be slightly lying when I say I do this once a week… the truth is I probably clean my most-used brushes (foundation, eyeshadow, concealer) on a weekly basis but the rest of them only get the full treatment about once a month. I use the MAC Brush Cleanser to spot clean when necessary but for the main event my cleanser of choice is Elizabeth Anne's Special Baby Shampoo. It does a great job of breaking down make-up while leaving the bristles soft and sweet-smelling afterwards. Baby shampoo also doubles up as an eye make-up remover and shaving cream so it's something that gets plenty of use in my house, considering there aren't any babies to use it on!
Go make-up free
I'm a great believer in giving your skin a break from make-up and the stress of removing it. No matter how lightweight and organic your foundation, concealer, bronzer, blush, etc, you're still layering products on the skin that clog pores and dull the complexion. Taking it off can also be damaging to the skin, even if you don't notice is straight away. I recently asked Sophy, the 57-year-old housekeeper who has looked after me my entire life, why she hardly has any wrinkles and her skin is so smooth. Her reply was that she has never worn make-up and, more importantly, has never had to remove it. It's a very good point and one I keep in mind while I'm scrubbing mascara off at the end of the day.