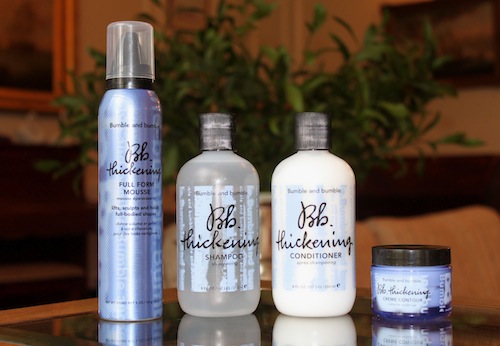 I cheated…but I'm not sorry! Whilst my beloved Pureology will always have a place in my heart, and my shower, I have to admit I have really been enjoying using my new Bumble and bumble Thickening shampoo and conditioner. I have quite fine hair so I like to ramp up the volume a bit, and I've found that if I use all my Thickening products, and style my hair in a particular way, I get really great results.
The shampoo and conditioner are both very lightweight (well, they'd have to be) so my hair doesn't feel weighed down at all, yet it still feels properly cleansed, conditioned and hydrated. The conditioner contains a silk powder which adheres to the hair strands and separates them for fullness – so fancy! Once the shampooing and conditioning is done, I start prepping my hair for styling. For this I use the Full Form Mousse, which I mentioned in my August Favourites. I start by applying an orange-sized amount through my hair, focusing on the roots and adding a little more to the ends just to make sure I maintain fullness. The reason I love this mousse so much is that it doesn't leave your hair sticky or crunchy (which has been my experience with mousses so far) and once your hair is dry, there is no sign of it – it absorbs into your hair, puffs it up, and shows none of the usual tell-tale signs. I then proceed to dry my hair – and I actually learnt some new tricks from watching these videos on the Bumble and bumble website:
So I start by hand-drying the top section, flipping the hair from one side to the other to create volume at the crown. Once that's done, I will do one of two things, depending on how lazy I'm feeling: either I will use a round brush to blow-dry my hair section by section for a smooth finish, or, if I want something a bit messier, I"ll turn my head upside down and use a paddle brush to dry and then straighten with a GHD.  By the time I'm finished my hair is already looking pretty full, but I'm not done! Sadly I don't have Dryspun Finish yet (it will be mine one day) so my last step is to apply some Crème Contour to add definition and, you guessed it, more fullness! I take a small amount and warm it up between my hands and scrunch it into the lengths of my hair, and I also massage a little into the roots for good measure too. This is the finished result…what do you think?