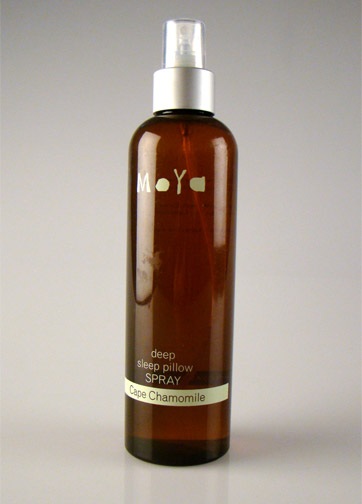 I have been a bit stressed out recently and as a result I haven't been sleeping well. I am trying not to take melatonin, which is my usual go-to solution when I can't sleep, and so have been on the hunt for other alternatives. I have been dying to try the This Works Deep Sleep Pillow Spray, which is hailed as the most effective pillow spray around, but sadly it's not available in South Africa (*feigns surprise*). The gods must have heard my prayers though because I have discovered a local alternative that has really knocked my socks off…Moya! Moya is a South African brand that have used fynbos and other indigenous botanicals to create a range of natural, therapeutic products. The range includes body washes, lotions, essential oils, bath oils and homecare products – all of which use the essence of fynbos to calm and soothe.
Their Deep Sleep Pillow Spray is infused with the essential oil of Cape Camomile and it really does smell heavenly. Camomile is a natural sleep aide and so when I spritz it onto my pillow before I get into bed I feel instantly more relaxed. The smell is very calming and using it has definitely helped me drift off faster. It's not very long-lasting and wears off after about 30 minutes, but by that point I'm usually fast asleep so I'm not particularly fussed.
Retails for R76 and is available from selected Woolworths stores or online here.
Image via