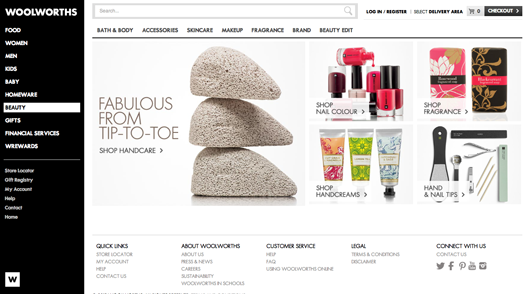 As you may know, Woolies recently relaunched their website, along with a snazzy new ecommerce section. We love an online store so I had a little snoop around their virtual shop window and picked my favourite products.
The new interface is much improved and makes the whole shopping experience easier. It also has some great features like being able to quick view products, shop by skin type, see recently viewed items and pick your delivery time. I used to find the old site really difficult to navigate because it never displayed all the products within a category; you had to search specifically for whatever you were looking for. The new site solves that problem by making it easy to see everything on sale and then you can filter by brand, price or colour.
I made a little shortlist of the products I've had my eye on that you can now buy through the website:
REN ClearCalm 3 Anti-Blemish Clay Cleanser – A purifying, antibacterial cleanser that combats the 3 key causes of breakouts and blemishes: excess sebum; build up of dead skin cells and blemish-causing bacteria.
Read Caroline Hirons' review.
QVS 2-pack Easy Squeeze Tubes – I'm off to Greece in a month's time so I need a few more travel-size bottles to transport all my skincare and hair products. I absolutely live for minis and although I have quite a collection of small tubs, bottles, pots and jars, these 70ml easy squeeze tubes would be great for shampoo and conditioner.
Smashbox Photo Finish Light Primer – I'm obsessed with primers at the moment and have been dying to try this one. Perfect for oily, acne-prone, or sensitive skin, this oil-free, 60% water based primer refreshes on contact while oil absorbers provide a smooth, matte finish all day. YES PLEASE.
Woolworths Facial Complexion Perfector – Camilla recently reviewed the Smashbox Photo Finish Color Correcting Primer which I obviously then wanted to buy. Then I spotted this "complexion perfector" cream which claims to help hide redness, blemishes and spots for an even tone and it's a fifth of the price, so I'm very keen to see how it compares.
Clarins Pure Melt Cleansing Gel – I've recently found myself in a very loving relationship with Clarins skincare and am really enjoying their products. It's the first luxury skincare brand that I've invested in and I've been particularly impressed with their Hydra-Matte range for combination skin. This cleansing balm goes on as a gel, massages in as an oil and rinses off as a milk and quite frankly, sounds delicious!