Saturday dawned wet and miserable, but nothing could dampen our spirits as we were off to a Royal Baby Shower! Mama Mio hosted us at the brand new Langaro Lifestyle Centre in Camps Bay for a morning of games and pampering in honour of (our friend) Princess Kate's impending motherhood. We were treated to manis and pedis from Langaro's team of expert primpers and taken on a tour of their facilities which include a hair salon, nail studio, fitness centre, beautiful treatment rooms and a luxury boutique. I plan to go back and try out one of their massages very soon so I'll do a separate, more detailed post on Langaro then – suffice it to say that the place is on another level! One of the most beautiful and relaxing spaces I've been in and reasonably priced to boot!
Anyway, back to the baby shower! We played a few games, like matching people's baby photos to their grown-up selves, testing our knowledge with a Kate-themed trivia game (which Camilla won, what a champ) and coming up with outrageous baby names for the little one. I usually find that sort of thing a bit cringey but it was actually a ball getting to know some other beauty and lifestyle bloggers while stuffing our faces with scones and cucumber sandwiches.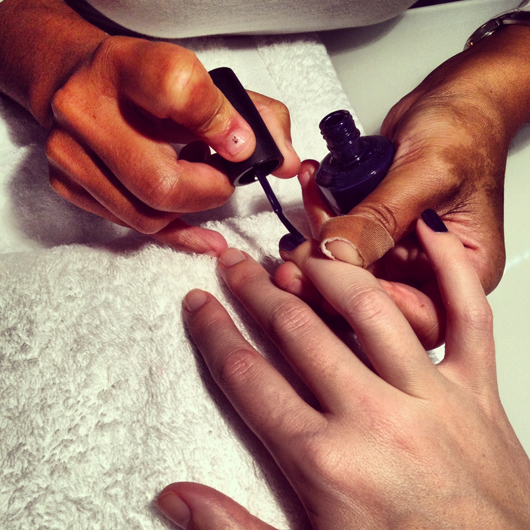 I particularly enjoyed learning more about the Mama Mio range. There were a few pregnant ladies and new moms in the group who RAVED about products like the Tummy Rub Stretch Mark Butter and Get Waisted Body Shaper. We were introduced to a few unfamiliar products, like the Skin Tight Toning Serum and See-No-Scar Solution, and some items already on our bathroom shelves like the Clean Slate Cleanser and OMega Body Oil (both of which featured in our May Favourites).
Apart from trying out the products and learning why they work (and trust me, they do!), I especially appreciate the honesty in the brand's approach – they don't promise miracles-in-a-bottle or creams that will guarantee weight loss. They know that keeping your skin healthy is as much to do with your lifestyle as the products you put on it and that's something that a lot of brands like to conveniently ignore for the sake of a quick sale. Even though Camilla and I have only been using Mama Mio's skincare for a relatively short space of time, we can confidently recommend them and are wholehearted supporters of their skincare philosophy.
Ok, enough talk – it's COMPETITION TIME! We have a Try Me Trio from Mama Mio to give away, which is a great high protein face care starter kit comprising their best-selling Clean Slate cleanser, Mighty Moisture day & night cream and Eye Know moisturising eye serum. I've been using all three for a couple of months now and don't have a bad word to say about them. The products are simple, effective and free of chemical nasties – that's the skincare golden triangle right there.
To enter, all you need to do is:
Follow @AllDolledUp_SA on Twitter; and
Follow @MamaMioSA on Twitter; and then
Leave a comment below telling us which of the products from the range are your favourites or you are most excited to try
Competition ends at midnight on Sunday 16 June 2013. Only one entry per person. Open to entrants living in South Africa only. Winner will be announced on or before Tuesday 18 June 2013.
Special thanks to Tracy, Janine, Duncan & the team for a lovely morning.