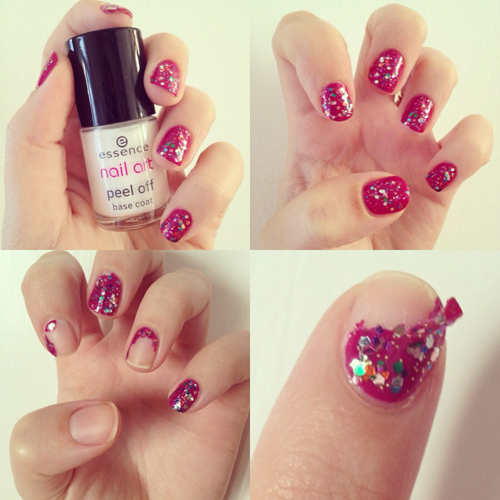 Went and bought this nifty-sounding base coat on the recommendation of Michaela, one of our lovely readers, but was sadly disappointed with the results. I was hoping that it would make glitter polish much easier to remove by allowing you to simply peel away the polish in one piece but it didn't seem to work that way for me. I had to pick at my nails so that the polish came off in flakey bits, tearing my thumbnail in the process.
I was really hoping it would be like the Tinkerbell Brush On Peel Off stuff I had as a little girl. Did you guys have that? I was obsessed with it, and it smelled AMAZING!
Have any of you tried the Essence base coat? Maybe I didn't use it correctly, although I followed the instructions on the bottle which include allowing the base coat to try completely before applying the first layer of colour. Let me know if you think I should try again!
Images via me and 2.