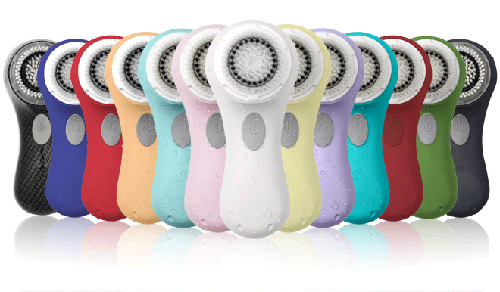 The Clarisonic is a sonic skin cleansing tool which promises to clean the skin 6 times more effectively than manual cleansing alone (by that I mean using your hands only, instead of a washcloth or sponge, for example).
Clarisonic have 5 different systems – the Mia, the Mia 2, the Aria, the Plus and the Pro. They also come with 5 different brush head options – normal, sensitive, delicate, acne and deep pore cleansing.
I'm not going to list the differences between all the systems and brush heads now – you can learn more here.
How does it work? It uses a sonic frequency of more than 300 movements per second to gently, yet thoroughly remove 6 times more make-up and 2 times more dirt and oil than cleansing with your hands alone. This results in the skin feeling and looking smoother, and it reduces oily areas, dry skin patches and blemishes. It also claims to minimize the appearance of visible pores.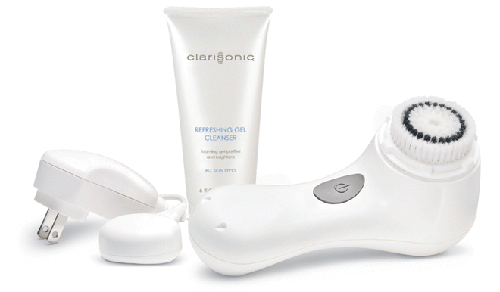 Something I never gave any real thought to, until I started researching the Clarisonic, was that without proper cleansing, pollutants, oil and bacteria accumulate on the skin, closing pores and causing blackheads (well, that I knew, to be fair). But also, this build-up prevents serums and moisturisers from performing to their full potential. SAY WHAT NOW? So all the expensive lotions and potions I've been putting on my skin haven't been able to penetrate because of all the dirt that's built up on my skin? Eeeeew.
I first heard about the Clarisonic while I was living in London, and I became almost obsessed by it. I read every trial, article, and customer review I could find, and I have yet to find one negative comment – everyone who used it sang it's praises. I wanted one. Bad. However, at that time it was prohibitively expensive, so I had to shelve it for a while. Eventually the time came when I could afford one, and I decided on the Mia, together with the sensitive and delicate brush heads. I have very sensitive skin, so I thought the most basic version would be best – I don't need 4 different speeds or any of the other bells and whistles.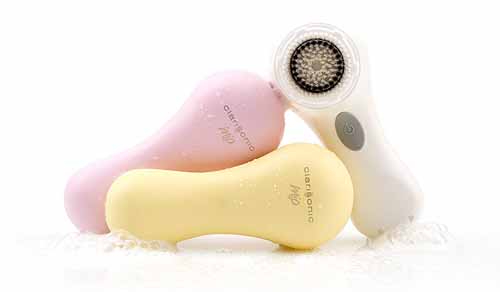 Well, it finally arrived in November last year: I AM DELIGHTED. I would strongly encourage every woman to own one of these. It has obliterated my dry patches and has helped clear the congestion around my forehead, nose and cheeks. The congestion around my chin hasn't cleared completely – rosacea isn't so easily defeated – but there is a definite improvement. My skin feels softer, smoother and cleaner. I only use it sporadically (I cannot say that word without thinking of Clueless. Ooh, Snickers.), because I don't want to run the risk of aggravating my skin. Three times a week seems to be a right balance for me.
What does give me the sads is that we can't buy Clarisonic in South Africa (obviously). I got a friend who lives in the UK to order one and bring it back for me. If you have friends in the UK or US, and they owe you a favour, now is the time to cash in. You won't be sorry.
If you want to learn more about Clarisonic, visit their website here.
Images via.