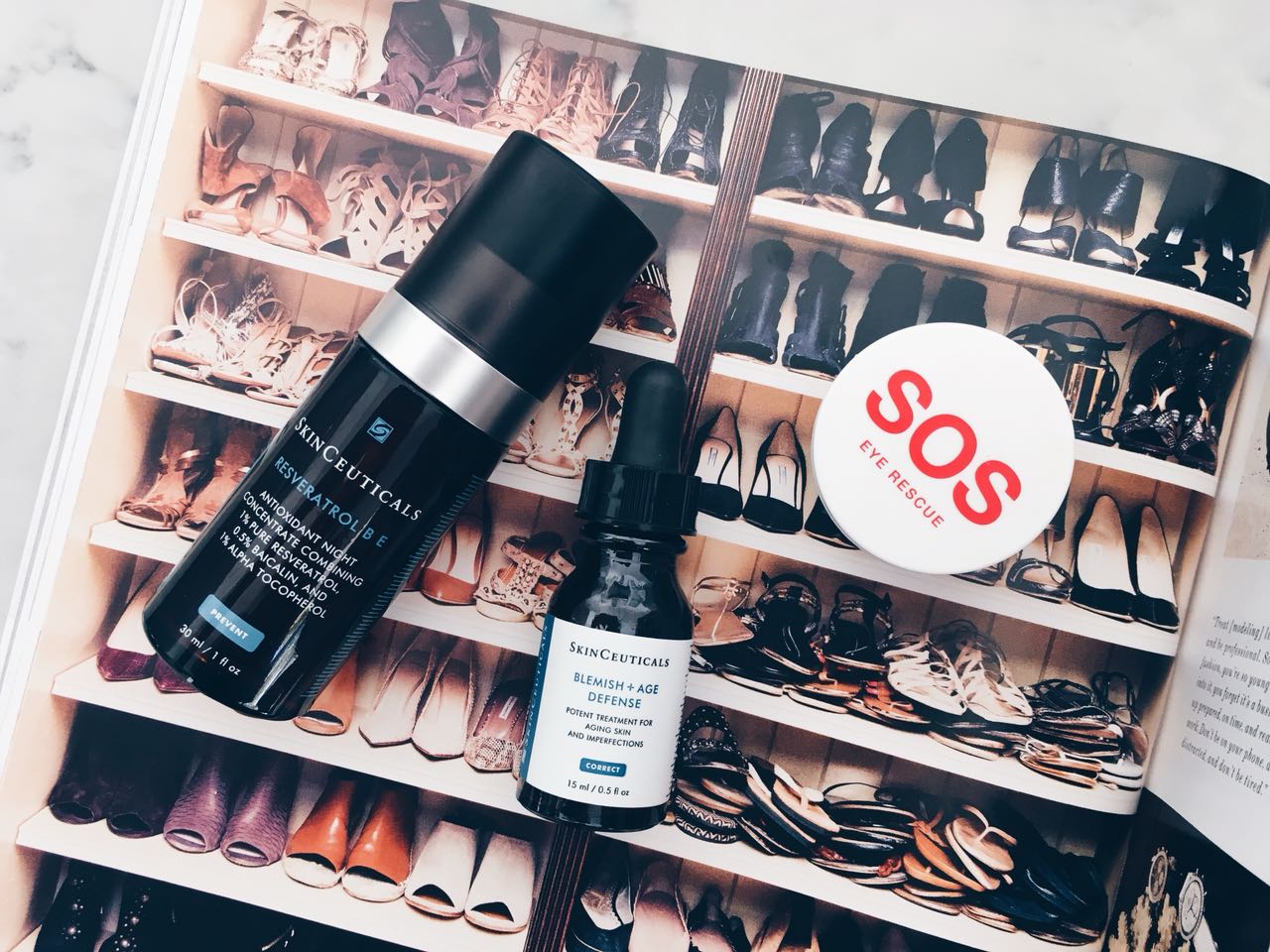 I tested these three products over the festive season and honestly, I was so impressed: an antioxidant to help protect your skin from the harsh South African sun, a serum to help zap those nasty blemishes which tend to pop up after weeks of indulgence, and an eye cream to help minimise the tell-tale signs of too many late nights. A dream team, if ever I saw one!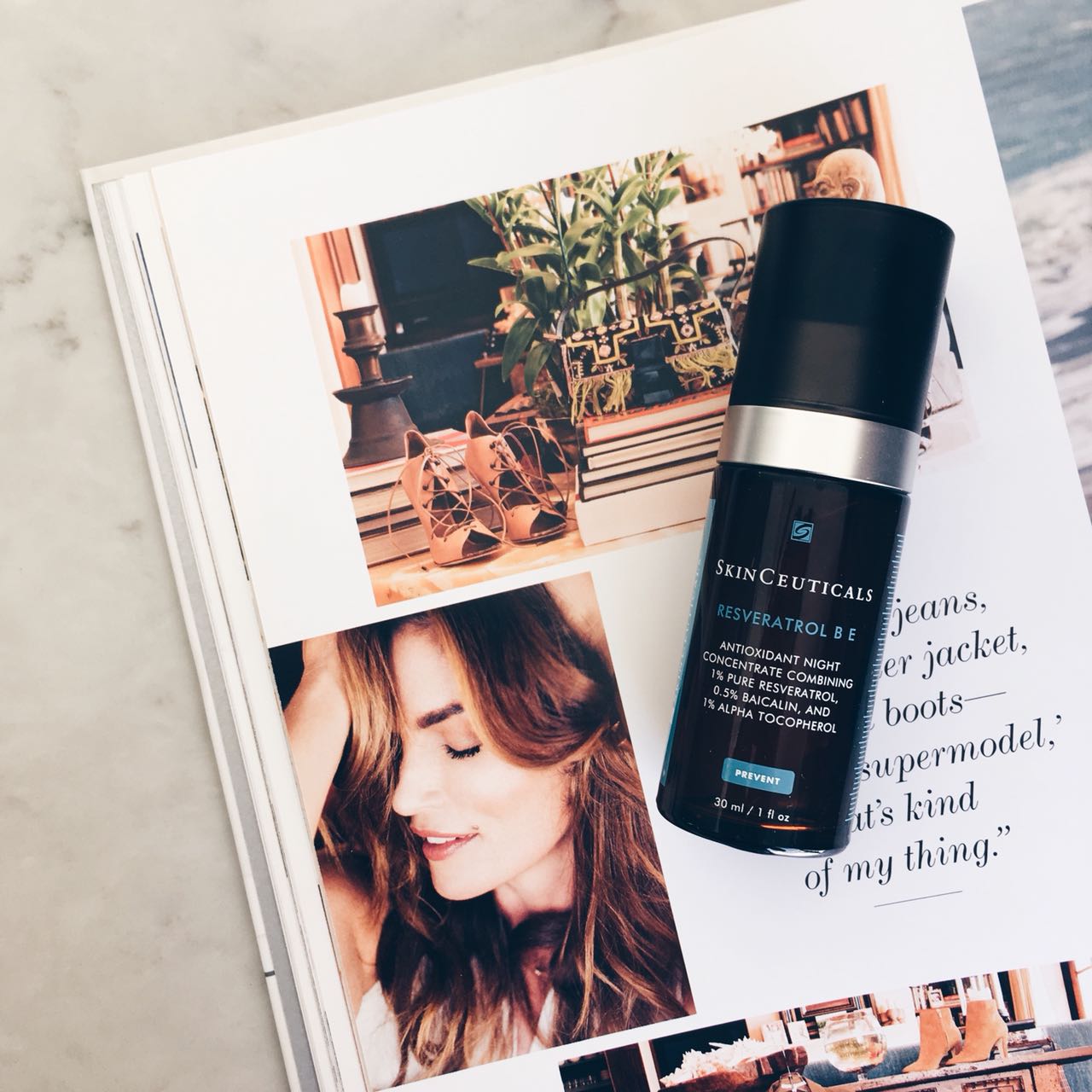 If you're not familiar with antioxidants and how/why they should be incorporated into your skincare routine, then have a read of this post that Jules penned a while ago – that will help get you up to speed before you read this review.
As we've said before, SkinCeuticals is one of those brands that inspires the utmost confidence and trust. The extensive amount of research and development that goes into each product, combined with the scientific endorsements of the formulas mean, that we will happily slather on anything and everything they create. Jules and I had both been wanting to try Resveratrol BE for ages, so when it landed on our desk, we were delighted.
SkinCeuticals calls Resveratrol the "longevity molecule" due to its potency and ability to help neutralize free radicals. The inclusion of Baicalin (a plant with antioxidant and anti-inflammatory properties) and vitamin E help to boost the skin's own antioxidant defence system and aid the skin's natural repair cycle.
What makes this product unique is that it is designed to be used in the evenings. Typically antioxidant products are applied in the morning to actively help your skin protect itself from the sun/pollution/life in general. While this serum will of course function in that way as well, it ups the ante by including ingredients which aid the skin's repair cycle while you sleep. This means that in addition to strengthening the skin's ability to resist new damage and to undo the effects of historic overexposure, it will also increase radiance, elasticity and skin density.
This serum is extremely concentrated, and took seven years of research and development before it was launched. Due to its concentration, I use it every second or third night, depending on how my skin is feeling. My usual rotation is a retinol one evening, this antioxidant serum the next, and then on the third evening I typically won't use any actives at all.  Remember that antioxidants are a long-term investment, so you won't necessarily see the quick results you'll see with acids or retinols, but your future skin will thank you for your diligence and patience!
Retails for R2,400/30ml.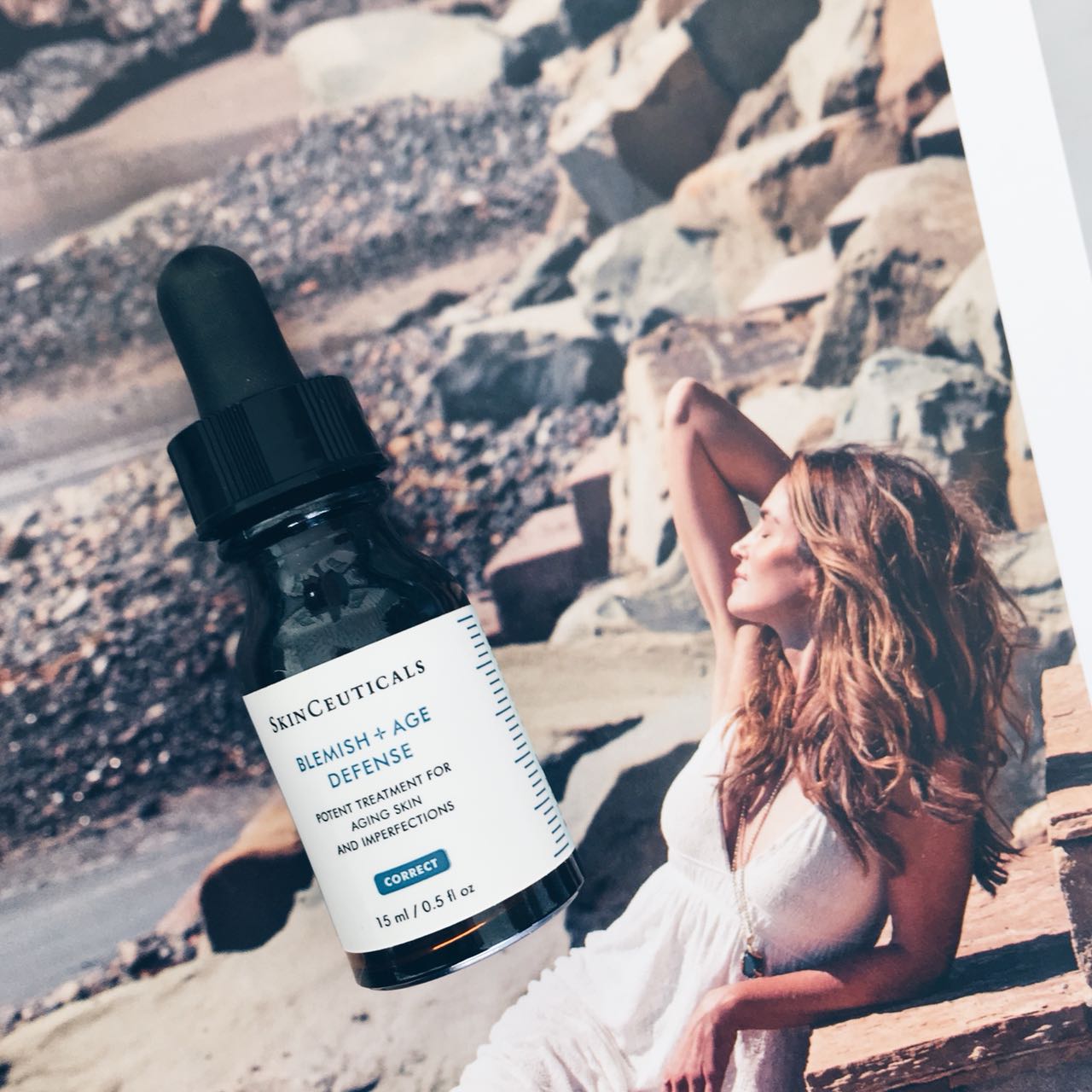 The Blemish + Age Defence Serum from SkinCeuticals is designed for those who want to manage imperfections and ageing simultaneously (most of us, then). It ticks several boxes: it targets blemishes, evens the skin tone, fades brown marks and reduces signs on ageing in oily/combination skins (my skin is dry and I had no issues with this, although I don't use it consistently, so bear that in mind). It contains a unique acid blend which reduces sebum, controls bacteria, helps post-inflammatory pigmentation, exfoliates and decongests the pores, and prevents further breakouts.
I used it quite a lot over December when overindulgence was the story of my life, and I can tell you that this stuff works. Not only did it shorten the life-cycle of existing blemishes (so much so that they were over before they even really began), but the scarring left behind by previous spots faded much faster than normal. In fact, this week I felt that low-level face-ache which usually signals the arrival of a whopping spot, but I managed to (mainly) avoid it by applying Blemish + Age Defence morning and night. Look, it still surfaced, but it's a lot more manageable than it would have been under normal circumstances, believe me.
At the moment I apply it locally as and when I need it, but it is designed to be used every day (even twice a day), so if you're having issues with your skin, then I suggest you give this serum a try. It's pricey, but as with all SkinCeuticals products, it's worth every penny.
Retails for R1,325/30ml.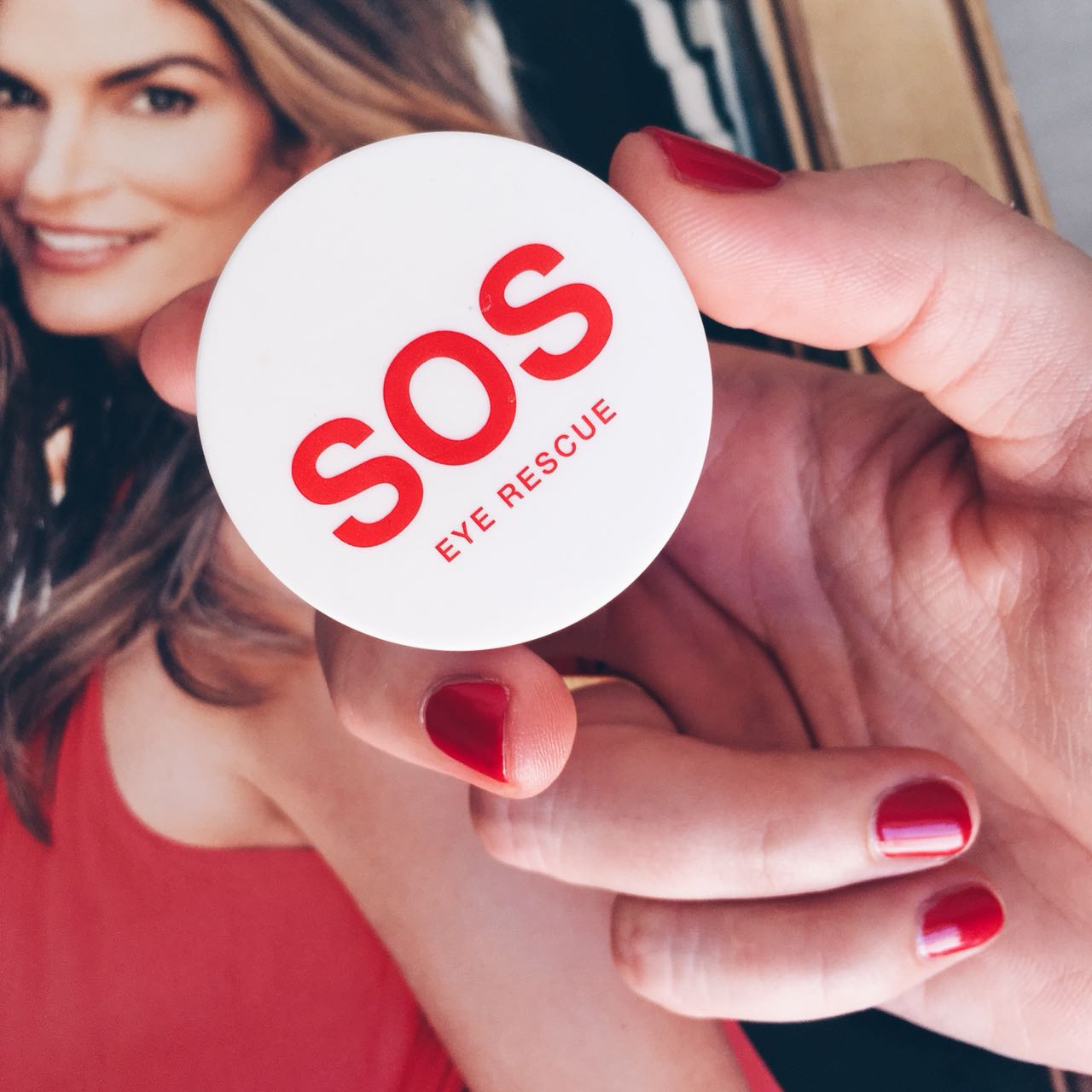 I had heard a lot of great things about pHformula, so I was incredibly excited when this eye cream arrived courtesy of Dermastore. It claims to assist in reducing the appearance of fine lines, wrinkles, puffiness and dark circles using its unique peptide blend. Sounds pretty promising, doesn't it? Well, dear reader, I am delighted to tell you that not only does this product deliver on its claims but it is also, without question, the finest product I have ever used under my eyes.
It has a soft, almost mousse-like, texture that melts into the skin and leaves the under-eye area looking plump, brightened and youthful. This plump, bouncy effect is thanks to the skin-identical ceramides which improve skin elasticity and hydration, and the brightening is down to the light-reflecting formula. The first time I used it, I thought "this is like a luxury polyfilla" (an oxymoron if ever there was on), and by that I mean that it filled in and lifted the area in a way I've never experienced – it's truly remarkable. It minimises the appearance of my fine lines, whilst simultaneously imparting a glowy and fresh effect, I honestly can't rave about it enough! It also leaves the skin perfectly prepped for makeup, and I have noticed that my concealer has been creasing a bit less since I started using this product.
If you're interested in the specific ingredients and how/why they work, I will leave it to the expert, Dr Webster, to explain:
Key ingredients include a powerful combination of two peptides namely, Palmitoyl tripeptide-1 and Palmitoyl Tetrapeptide-7 which act as a cell messenger to stimulate the healing process. They provide a smoothing effect on expression lines and dismisses eye-puffiness and dark circles, reducing signs of tiredness. Skin Identical ceramides provides superior skin protection by assisting to restore the compromised lipid barrier function, preventing and improving dehydration. Chrysinimide helps improve dark circles. It also has an anti-inflammatory effect and reinforces firmness and tone of the eye area. Vitamin E, an important lipid-soluble antioxidant protects cell membranes from oxidation but also has excellent moisturizing, anti- inflammatory and healing properties.
When I emailed Sandy Webster to tell her how much I loved the product (I have already purchased a back-up), she agreed and told me that she thinks the pHformula SOS Eye Rescue is the most elegant and effective formulation that she's ever tested. Dr Webster confirmed that it is one of the most popular eye products in his practice and on Dermastore. Get on it!
Retails for R655.00.
*All products reviewed in this post are PR samples.