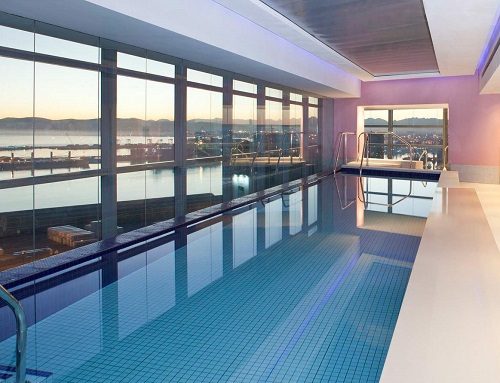 A few weeks ago Jules and I were invited to enjoy a treatment at the Heavenly Spa at the The Westin, followed by a meal in their ON19 restaurant and a night in one of their suites. I don't think we have ever accepted an invitation so quickly in our lives – as two busy working women, the thought of a pampering night away was positively dreamy.
Jules and I both selected the Aspire massage, which is a 60 minute treatment (there is also a 90 minutes option) which uses aromatherapy oils specially tailored to how you want to feel. We arranged to have our treatments late on Friday afternoon so that we could have dinner soon after and roll straight into bed (we know how to live). I had a particularly stressful day at work that day and almost had to cancel my treatment as a result, but I am so glad it didn't come to that because the treatment was exactly the tonic my tired soul needed. I raced into the spa at breakneck speed with about a minute to go until my treatment, quickly changed into my robe and then proceeded to meet the lovely Colleen in my treatment room.
She sensed how tense I was feeling and immediately set about putting me at ease, and we had a quick consultation where we chose the oils I wanted to use. The Heavenly Spa uses Aromatherapy Associates oils, a firm favourite of both mine and Jules'. There are several options within the range, including Deep Relax, De-Stress, Revive, Support, Nourishing, so there is something suit every need. I am a huge fan of the Deep Relax Bath & Shower Oil and used it a lot when I lived in London – until now I hadn't been able to find it in South Africa so I am thrilled that Heavenly Spa stocks it (it retails for approx R750.00). Colleen mixed together two combinations of oils and asked me to choose the one I liked best – I chose the relaxing option which was enriched with vetivert, camomile and sandalwood. Before the treatment started she encouraged me to take full advantage of this quiet time and to really clear my thoughts and relax – this might sound like an obvious/trivial thing, but it was great because it forced me to forget about work.
The massage itself was excellent – I would even go so far as to say it might be the best massage I have ever had. Colleen started by placing a bowl of warm water with frankinsense underneath the massage table so I could inhale the fragrant aroma during the treatment. She then placed warm blankets over my feet and my head so that I was extra cosy (this may sound like it was claustrophobic but it wasn't in the slightest – instead it felt deeply comforting). Her pressure was spot on for me and within minutes I felt all my stress lift away – I even fell asleep at one point (and woke myself up with one of those embarrassing piggy-snores). By the time the treatment was over I was so deeply relaxed I could have fallen asleep right then and there and slept until the next morning. Sadly that wasn't an option, so instead I shuffled into one of the sleeping rooms to meet Jules – it was there that I discovered a thing so glorious, I could barely believe it existed: a heated water bed.
I KNOW. It's like lying on a hot water bottle, surrounded by fluffy pillows and snuggly blankets, all while overlooking the bustling evening traffic below (the spa is located on the 19th floor, so the views are spectacular). If that's not your idea of heaven then I don't know what is. After spending about half an hour trying to have a conversation with one another and failing miserably, we floated to our rooms to drop our bags before dinner. I am proud to tell you we were finished with our meal by 8pm, in our PJ's by 8:05pm and asleep by 9pm – we were both so blissed out after our massages that we couldn't think of anything better than an early night.
The next morning, refreshed and revitalized, we got up early to explore the spa a bit more before breakfast. This spa is actually geared towards guests who prioritise fitness – there were people in the gym and in the pool at first light, basically. It was great to see the facilities actually bring used, as opposed to being more ornamental, as they might be in other hotels. The views were equally as breathtaking in the morning light –
We then went and enjoyed a delicious breakfast, said our goodbyes and went home feeling very lucky indeed.
If you feel like pampering yourself, or someone you love, I can highly highly recommend the Aspire massage at the Heavenly Spa (followed OF COURSE by a cat nap in the sleeping room). A big thank you to Positive Dialogue for arranging the evening for us, we absolutely loved it.